NEWS
JFA President TASHIMA Kohzo takes part in a commemorative lecture at Japan House Sao Paulo
17 June 2019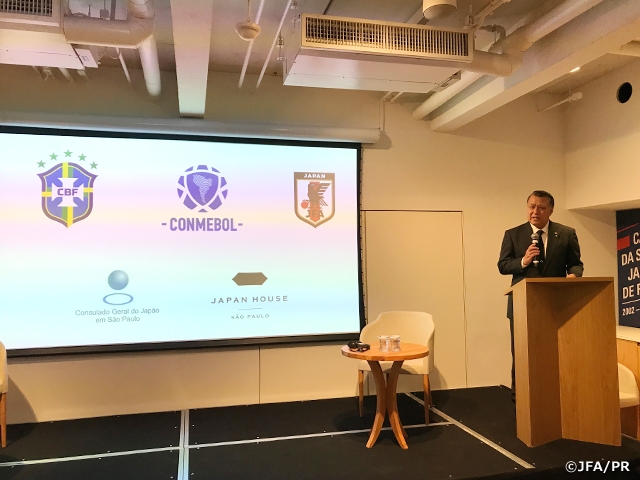 CONMEBOL Copa America Brazil 2019 kicked off on 14 June 2019. On 16 June, one day before the first match of Japan National Team, a commemorative lecture titled "Japanese-Brazilian Exchange and Nurturing of Human Resources in Football" was held at Japan House Sao Paulo and Japan Football Association (JFA) President, Mr. TASHIMA Kohzo, attended as a guest.
The lecture, hosted by Consulate-General of Japan in Sao Paulo in conjunction with Copa America, was organised for the purpose of reflecting on the international contribution of sports and developing the relationship between Japan and Brazil to a new level.
The event was organised by Japanese Consul General of Sao Paulo, Mr. NOGUCHI Yasushi, and was attended by special guests including Mr. Walter Feldman, General Secretary of Brazilian Football Confederation (CBF), and Mr. Cesar Sampaio, former Brazilian international who also made tremendous contributions while playing for Japan Professional Football League (J.League). Close to 100 participants consisting of guests from CONMEBOL, Sao Paulo football club members, and local municipality officials as well as media representatives gathered for the lecture.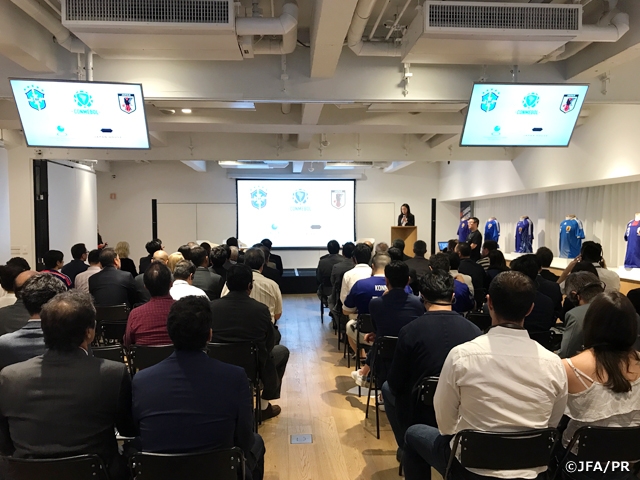 Mr. NOGUCHI was the first to give a speech: "Japan House Sao Paulo was built two years ago as a hub aiming to deepen understanding of Japanese modern culture, cuisine and technology. I am very delighted that Japan House was able to host an event on Japanese-Brazilian exchange in football." The President of Japan House Sao Paulo, Mr. Araujo, took the floor next and gave a few words about the roles of sports in international relations.
Mr. TASHIMA, who also took the stage as a guest speaker, expressed his gratitude in his speech towards the fact that from the times of Japan Soccer League (JSL, i.e. the precursor to the current J.League), Brazilian players and coaches had come to Japan to teach high technical skills and professionalism to Japanese players. He also got the audience excited saying: "We want to get stronger by digging deeper in the values of "Japan's Way" and to play against Brazilian team in the World Cup's Final in the near future, repaying our obligation by a victory."
A panel discussion also took place between Mr. Feldman and Mr. TASHIMA with Mr. Sampaio acting as a moderator. They had a fruitful discussion regarding the strategies of "Brazil, the Football Empire", the aims of Japanese football, the exchanges between the two countries, and social contributions through sports.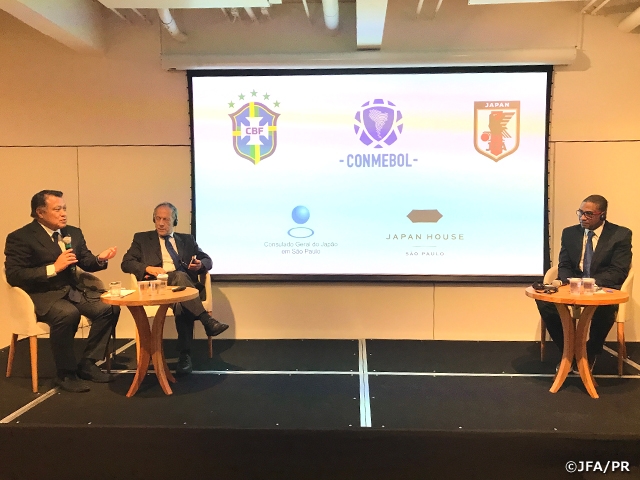 The speech of Mr. NOGUCHI Yasushi, Japanese Consul General of Sao Paulo (Summary)
The history of Japanese immigration to Brazil goes back to 111 years ago. Japanese immigrants have had a good reputation in Brazil by playing an active role in various spheres of life, including agriculture, health care, education, engineering, sports, and art. I am proud of such Japanese immigrants, and at the same time I am very grateful to the people of Brazil for kindly accepting them.
From the 1990's, Brazil started dispatching distinguished coaches and players to Japan. As a result, the football skills of Japan have been growing steadily. Japan has grown to a team capable of competing at an international level, first qualifying for the FIFA World Cup France in 1998 and managing to advance to Round of 16 at the World Cup in Russia last year. I am looking forward to the panel discussion regarding the football exchanges between Japan and Brazil.
The speech of TASHIMA Kohzo, President of JFA(Summary)
Since 1967, prominent Brazilian players brought a new impetus to Japanese football. When the J.League was launched, world-class players, such as the pioneer Mr. Zico, and Mr. Cesar Sampaio, who is here with us now, came to Japan one after another, and taught high technical skills and professionalism to Japanese players. Of course, there are plenty of coaches as well, such as Mr. Falcao and Mr. Zico, both of whom used to be Japan National Team coaches, and other Brazilian coaches who have led J.League clubs.
Since our first appearance in 1998 at the FIFA World Cup France, Japan has qualified for the World Cup for 6 times consecutively. Last year at the FIFA World Cup in Russia, Japan played an intense game with Belgium, one of the world leaders, and was only one step away from defeating them. Undoubtedly, the reasons why Japan has come this far lie in the contribution of Brazilian coaches and players, who have given their passion to the game during their tenure in Japan, and the assistance we have received from the Brazilian Football Confederation and other CONMEBOL member associations.
Football, as a sport loved all around the world, has a great social influence and gives us a chance of various exchanges on a private level which is impossible in politics. In the rapidly changing modern world, the social value of sports as a vehicle of uniting people, giving them a sense of purpose and building a community will increase even more and will become an essential part of people's lives. Today, I would like to learn more about the strategies of the Brazilian Football Confederation and exchange opinions on the roles of sports.