NEWS
JFA renews partnership with United Arab Emirates
02 December 2016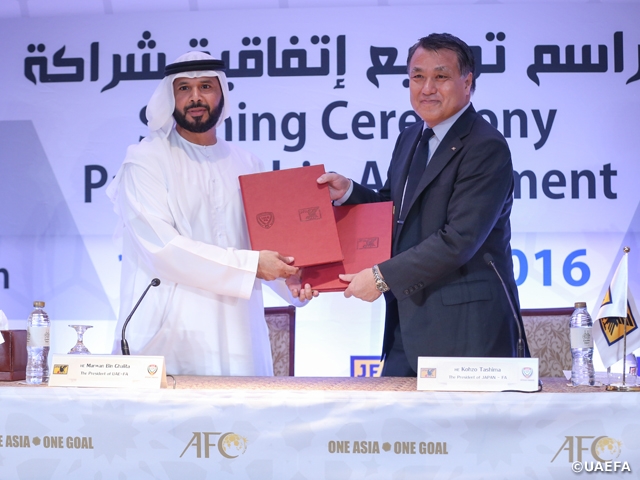 Japan Football Association (JFA) has extended a Memorandum of Understanding (MoU) with UAE Football Association (UAE FA) today, 1 December, in Abu Dhabi. This renewal agreement in between the football governing bodies reconfirms the mutual relationship and continuous cooperation for a further development of football in both UAE and Japan.
JFA President TASHIMA Kohzo expressed his appreciation of such an important occasion. "I strongly believe that this meaningful partnership deepens the ties of friendship and trust between the two football families. During the first 3-year term, we succeeded in achieving exchanges such as U-19 National Team friendly matches and dispatching of the coaching instructors. This partnership will help both of us to advance to a higher level in technical aspect as well as administrative aspects."
The MoU between UAE FA and JFA continues to cooperate with each other in the following areas:
a. Coaching education, including coaching for goalkeepers and physical coaching
b. Referees' education
c. Vitalising the women's football
d. Friendly matches, camping for National Teams of each age category
e. Youth development program
f. Exchanges of experience and expertise in training in sports science and sports medicine
g. Exchange of information on marketing issues
h. Exchange programs for technical personnel, administrative and management staff
i. Exchange of experience and expertise in the construction and management of sports installations, materials, sports equipment and scientific equipment
Until today JFA has signed MoU with England, France, Germany, India, Iran, Jordan, Mongolia, Singapore, Spain, and Vietnam.