NEWS
Guam football president Lai and coach White visit JFA House, look to give impact in Asian World Cup qualifying
28 August 2015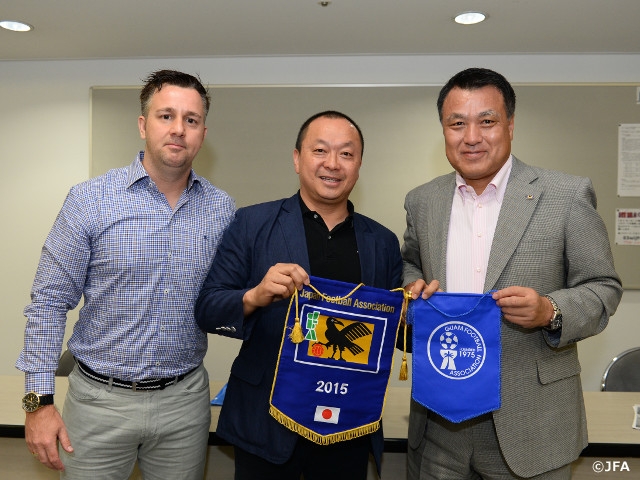 A total of 15 matched for the 2018 FIFA World Cup in Russia will start on 3 September around Asia. SAMURAI BLUE (Japan National Team) will kick off their training from 31 August toward their second game against Cambodia.
SAMURAI BLUE isn't the only team who hold a training camp in Japan. The Guam squad, who will take on Iran on 3 September as their third contest, have begun their camp at J-GREEN Sakai from the 25th.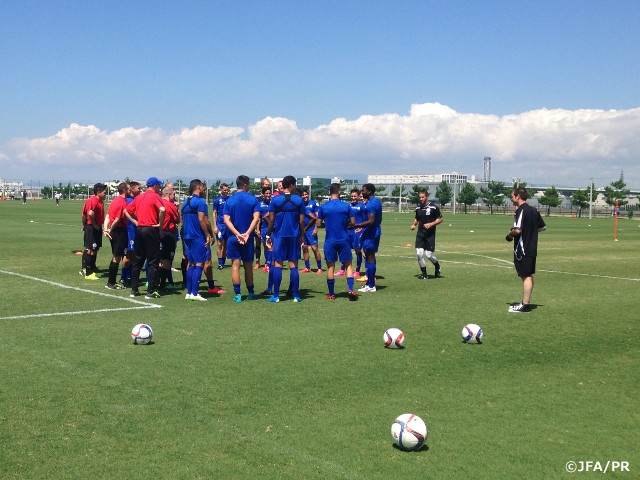 Richard Lai, the president of the Guam football association, has also visited Japan to observe the training camp. He, along with coach Gary White, greeted Japan Football Association vice president TASHIMA kohzo at the JFA headquarters.
This is the second time ever for Guam to participate in an Asian qualifier, first since the 2002 Japan/Korea World Cup. In the previous qualifying, Guam was completely devastated by Iran 0-19 and Tajikistan 0-16.
But this time, they edged Turkmenistan 1-0 in their first Group D game and then defeated India 2-1 to be on top of the group standings. With the victories, they moved up in the FIFA rankings (as of 6 August) to the 146th spot from the 174th spot of the one before (4 June).
After a meeting with the JFA executives, Lai, White and Tashima attended a news conference. Lai spoke about the reason why the team is currently on top of the Group D and the long-time relationships with Japanese football.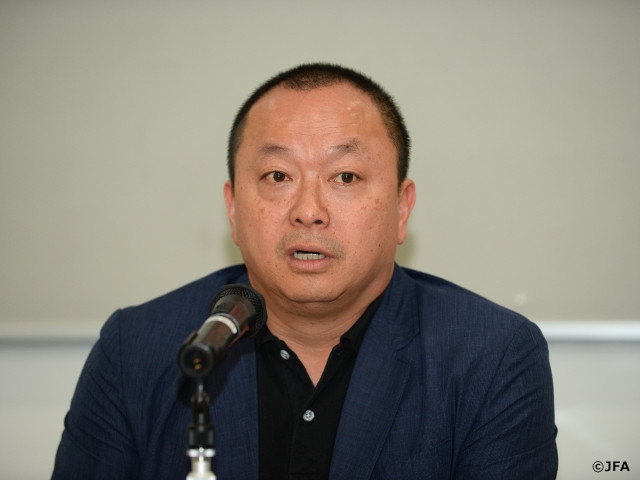 The Guam football association and JFA have actively exchanged friendships since the 2002 FIFA World Cup, when the then-president OKANO Shunichiro invited Lai, who just assumed as the president. Lai recalled the time, saying, "I was thinking that football was just a fun sport between 11 men. But I fully realized the scale of the presence."
In 2003, KANBE Sugao was dispatched as the Guam coach (2003-2005) and since then the two sides have deepened their bonds even closer. When Kanbe took the job, he suggested the Guam association, which didn't have a technical director that time, a 10-year plan, saying, "Let's not think of the national team and U-23 squad, but try to start from the U-10 generations." It was the fourth year after TSUKITATE Norio replaced Kanbe as coach that all those steady effort began paying off.
In 2009, Guam post a win over Mongolia in their first game in the East Asia Championship qualifying. That was their first-ever international victory. "When we competed in the 2003 tourney, we gave up more than 50 goals and weren't able to score a single goal. So I was pleased that we had some outcome," Lai recalled.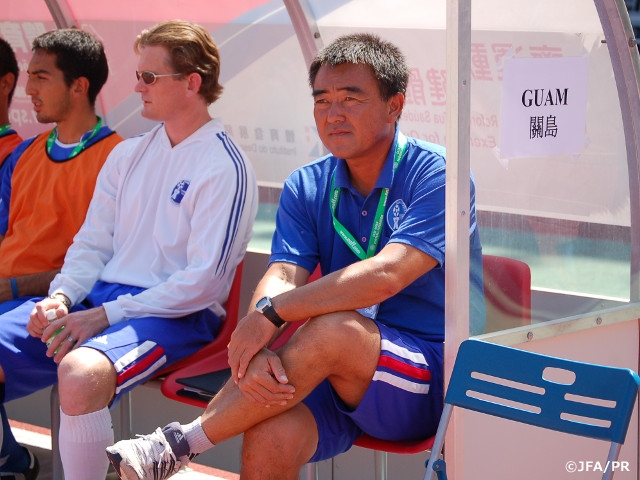 Lai vividly remembered that the then-JFA chairman OGURA Junji told him, "If Guam goes up to the middle of the rankings in Asia, it would push countries like Japan, Australia and Korea to be better teams." Lai expressed his deep appreciation to Japan's various support.
"Lai said of his appreciation to Japan, but it's just us who are supporting them," Tashima said. "For J. League clubs' training camps and individual players' training, we own Guam a lot, giving us good circumstances. It's only three hours away from here, so we would like to look to give more opportunities to young players to home-stay and study English in Guam."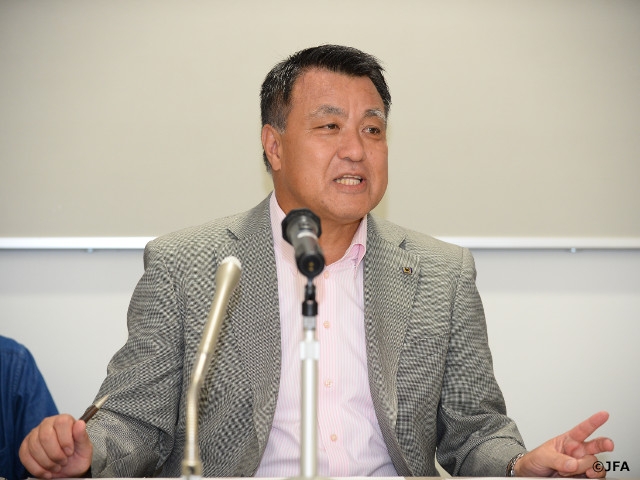 Coach White is currently taking lectures for becoming a JFA-certified S-class coach. During the lectures, he stays in Japan and exchange with other participants who also look to earn the license. He seems to be studying the Japanese language as well.
"The personnel exchanges between Guam and Japan are hot," White said. "I'm excited about seeing Mr. Tashima during this camp." Asked about his spirits toward the Iran game on 3 September, White responded by saying, "We'd declared before the qualifying that we'd take the top spot in Group D. Iran is a competitive opponent and it's going to be a big challenge for us. But I think Iran are feeling some pressure too, so I don't think we don't have any chances. It's an important game, so we want to play aggressively."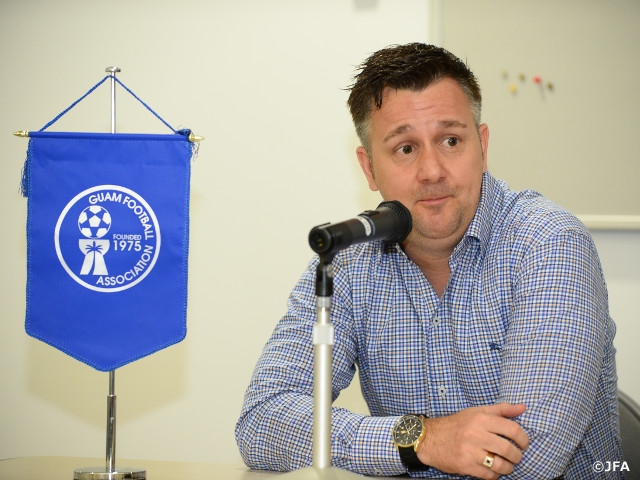 The Guam squad continue to train at J-GREEN Sakai until the 31st, and then fly to Iran at night of the same day. As both will play in the second qualifying of Asia, let's cross our fingers for each other.