NEWS
JFA Academy Sakai joined in the "J-GREEN SAKAI Lady's Festival U-15"
03 February 2015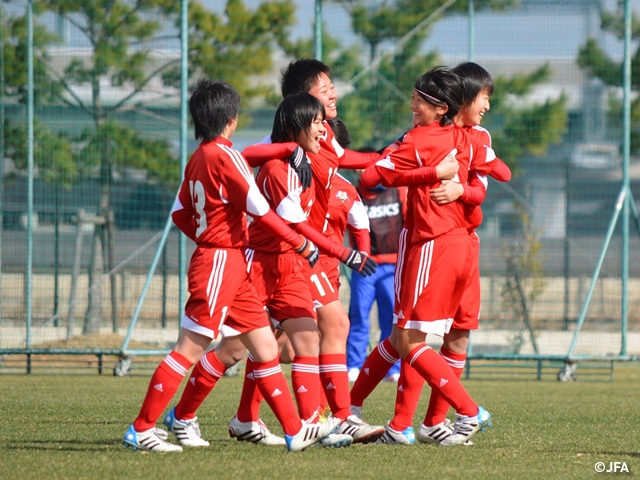 JFA Academy Sakai joined in the "J-GREEN SAKAI Lady's Festival U-15" on 31 January and 1 February.
Since the players of JFA Academy Sakai go back to their home on weekends, the JFA Academy doesn't play in any official matches as a team. This time, the players stayed in Sakai to play in this event as "JFA Academy Sakai". The team was divided in to 2 smaller teams and showed to their parents and supporting staff of J-GREEN Sakai and DREAM CAMP their best from what they have learned in their day-to-day trainings.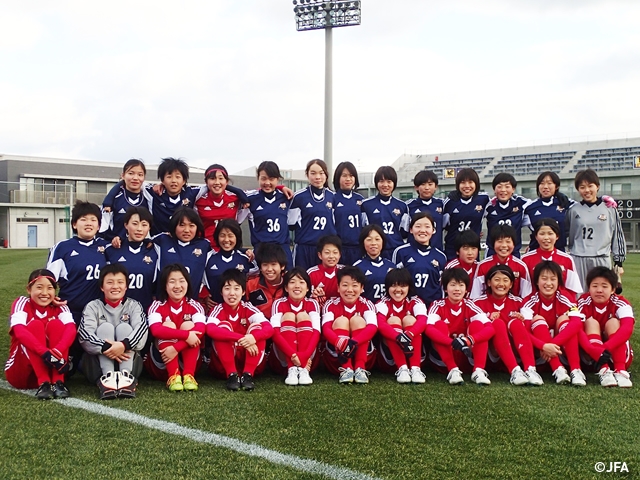 Comments
TAKARADA Saori(First term・Third-year junior high school student/Cerezo Osaka Sakai Ladies)
This was the last match of the players of the first term of the Academy. For the match in which all the players were from the first term, we could maintain our level of play and beat the opponent. I think we could make the most of what we learned in Last November's U.S.A last November. This time, I played in a different position to where I usually play. It was a good experience for me since I wanted to be able to play in any position. Under the pressure and excited feeling to get the consecutive victory since last year, we could do it. I'm sure my teammates worked very hard for the each other.
TANIGUCHI Sayaka(Second term・Second-year junior high school student/Kusunoki Club Ladies)
I have found many things that I want to improve on during these 2 days. I found some issues such as our passing works' being intercepted by opponents and our long pass's being blocked by heading, so I want to work on speeding-up our passing play and on improving quality of our passing. Also, I want to gain more physical strength, paying more attention to my core since I find myself physically weaker than other players. I will keep these issues in my mind and work hard to improve myself.
WATANABE Rin(Third term・First-year junior high school student/All South Ishiyama SC)
On the first day we had a match against Cerezo Osaka Sakai Girls and came from behind to win the match. From this experience, I learned the importance of not giving up and working hard. It was the most difficult match for us, but this victory changed the air of our team to be more positive. In the end, we could move on to play against JFA Academy Sakai A team. It was what we had wanted and in fact playing against them was very good experience even though we didn't win. I will keep this experience of these 2 days and work hard on daily training to get the victory next year.