Dormitory Life
The facility next to Uki City Fureai Sports Centre (Kumamoto Prefecture Football Centre) is used as students' dormitory.
Our dormitory is regarded as a place where students can make communications and interactions as well as receive education and learning opportunities, and take a rest.
It results in leaving family at the period when they need it closely, but they can return home on every weekend.Regarding their overall life including weekdays, we cooperate with their school to support them.
We make a programme a place where each of the students work actively by collaborating with coaching staff, schools, and local community to provide adequate care as well as by keeping close contact with parents, offering mental support and preventing dropouts.
In case of disease or injury, we have adequate medical treatment ready in conjunction with the Sports Medical Committee and local medical institutions. But if it is critical, we treat the patient separately.
Several coaching staff members are responsible for students' dormitory life, staying at the building during night.
Dormitory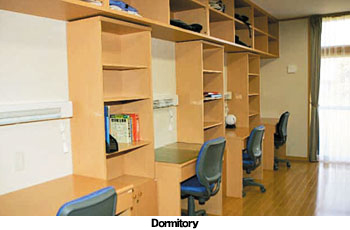 Player bedroom (six persons), study room, meeting room, dining room, communal baths, toilets, medical room, players' locker room, laundry, etc.