NEWS
"I want children to chase their dreams without ever giving up" 10 years since the Great East Japan Earthquake – Relay Column Vol.11
30 March 2021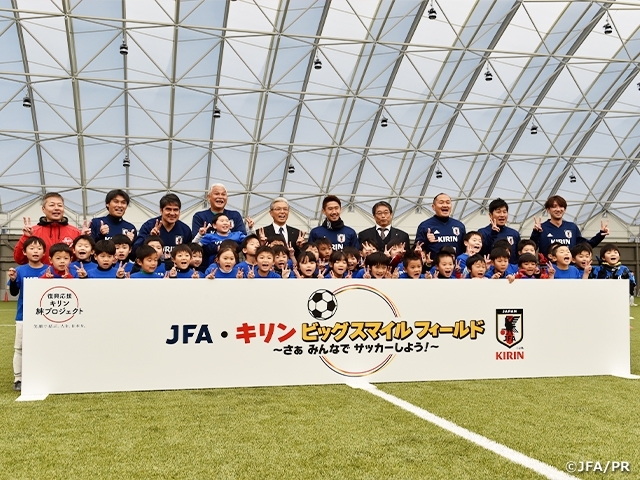 It has been 10 years since the Great East Japan Earthquake. While the restoration has progressed with a ton of support from home and abroad, there is still a long way to go for a full recovery. Here we will deliver essays and columns of people involved in football, reflecting on their own experience and perspective on the Great East Japan Earthquake.
In the 11th column, we will look back on the Great East Japan Earthquake based on the story of Mr. NAKANISHI Eisuke, who was involved in the "JFA-KIRIN Smile Field" and "JFA-KIRIN Big Smile Field" as a coach.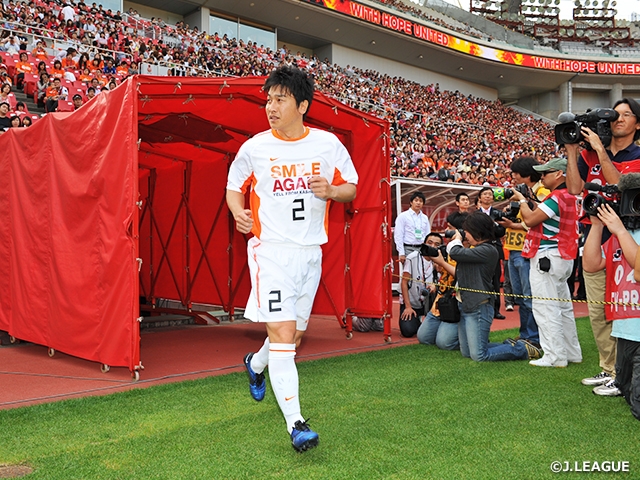 Suddenly, an unusual vibration was felt from the motorcycle he was riding. At first, Nakanishi thought it was an engine failure. On 11 March 2011, he encountered the earthquake on his way back home. He saw the highway overpass shake and bend like never before. Intuitively, he thought, "It would be dangerous if the highway collapsed," so he stopped the motorcycle right away. Once returning home, he turned on the TV and saw unbelievable images shown on the screen. This may sound inappropriate, but it was like watching a scene from a movie. It was that much surreal. The Tohoku region was severely damaged by the tsunami and the nuclear power plant accident.
The "JFA-KIRIN Smile Field" is a reconstruction support event carried out by JFA and the Kirin Group, where former Japan National Team players take active roles in holding football clinics. When the event was first launched in September 2011, clinics were held for primary school students in Iwate, Miyagi, and Fukushima prefectures, but from September 2017, the programme was renamed as "JFA-KIRIN Big Smile Field" and expanded its target area. It was also renewed as an event where adults can participate in. Nakanishi has participated as a coach seven times, which is the most among players who have attended the event. He focused on regions that were severely damaged, such as Ishinomaki and Minamisanriku. Until he visited the site, he had only saw images of the aftermath of the earthquake, but he was still aware that the affected areas were in terrible state. However, he soon came to realise that the reality was far worse than what he saw on TV. "Even after seeing it with my own eyes, I still couldn't believe that the tsunami had reached the second floor of this school building. The areas that were heavily struck by the Tsunami had been completely demolished. I cannot imagine how scared the locals were when the Tsunami came. It is something that wasn't depicted in the footages we saw on TV."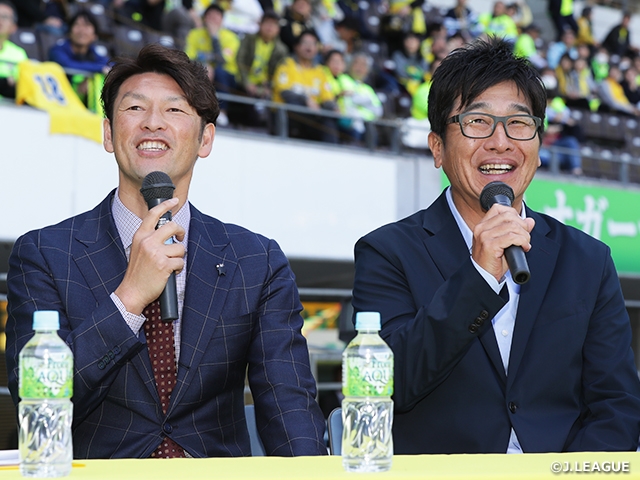 Upon visiting the affected areas, he heard many stories from school-teachers and other adults and learned that the children carried different types of emotions towards the natural disaster. It also differed depending on the environment in which the child was placed at the time of the earthquake. Some children had lost their parents. He paid close attention when speaking to the children. In addition, children were not the only ones affected by the event. The adults also agonised when dealing with children who went through traumatic experiences. There are scenes where teachers need to discipline their students. However, he heard many teachers have become hesitant to say things towards them. "I couldn't help but understand the feelings of such teachers. However, I am here to educate these children through football. While children can be obedient, there are times they act immaturely and break the rules. If they can't follow the rules, then adults have to guide them to the right path. That is why I try to treat the children as naturally as possible. I did not give them special treatment because they were from the affected area. I praised good behaviours while punishing bad behaviours."
The environment in which football clinics were held varied. Temporary housings were built on the training sites, which limited the space for the clinics. In some places it was hard to imagine that children could use the site to exercise in a daily basis. In particular, the children of Fukushima, who did not play outdoors due to the effects of radiation, had a common characteristic. Compared to other areas, many of these children were out of shape. "Some of the children were hesitant to play football, so I focused on setting up training menus that incorporated body movements while using the ball. Some children were out of breath as soon as they moved their bodies. Even so, I was very happy when a child came up to me and said that he was able to continue with the clinic because he was having so much fun." Even when their teachers introduced him as a former Japan National Team Player, he was just another stranger to them. When he first coached a football clinic, he noticed many children looked very nervous. That is why Nakanishi treated the children as if they were his friends. And by the end of the session, most of the children were smiling. Exercise can make people forget about their painful experience for a moment. That is what Nakanishi has seen over the years.
"Children are our future. They have so much potential. Adults must not seize their possibility. Helping them find what they want to do and what they are interested in. That is what we must do as adults. I want children to have dreams. One big dream, which is a collection of small dreams. By achieving each of their small dreams, they can eventually reach their big dream. I want children to chase their dreams without ever giving up." It's been 10 years since he started the activity. The 5th and 6th graders who he first coached are now all adults. Are they on the path to their dreams? That thought alone gives him chills. At the same time, he also thinks that the reconstruction is still in progress. It's a perspective unique to Nakanishi, who saw the aftermath of the earthquake and had been in direct contact with the victim's feelings for many years.