NEWS
U-24 Japan National Team score three goals in shutout victory against Argentina at the SAISON CARD CUP 2021
30 March 2021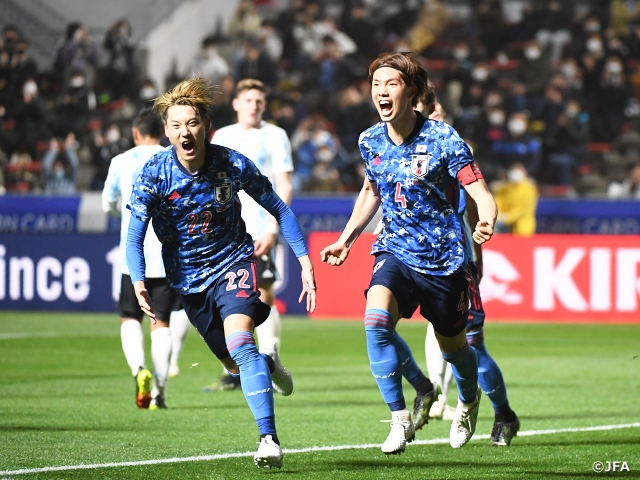 On Monday 29 March, the U-24 Japan National Team faced the U-24 Argentina National Team for the second time in the SAISON CARD CUP 2021, where they scored three goals to earn a shutout victory over the South American powerhouse at Kitakyushu Stadium.
Following their 0-1 loss at Tokyo Stadium on Friday 26, the team travelled to Fukuoka to face the Argentinian side once again. In the second fixture, TANI Kosei (Shonan Bellmare) started in goal with HARA Teruki (Shimizu S-Pulse), SEKO Ayumu (Cerezo Osaka), MACHIDA Koki (Kashima Antlers), and KOGA Taiyo (Kashiwa Reysol) forming the four-man defence line. TANAKA Ao (Kawasaki Frontale) and TAKURA Kou (FC Groningen) were placed in the defensive midfield position, while MESHINO Ryotaro (Rio Ave FC), KUBO Takefusa (Getafe CF), SOMA Yuki (Nagoya Grampus) served as the attacking midfielders with HAYASHI Daichi (Sagan Tosu) placed up top.
The match started with Japan taking the initiative, as Itakura later reflected, "We really wanted to win against strong opponents like Argentina, and that desire really showed in this match." With the team showcasing high intensity to win the ball, Japan managed to collect the second balls and took control over the ball possession.
The home side created numerous opportunities to threaten the Argentinian goal, eventually leading to the opening goal scored in the 45th minute. With Japan moving the ball in their defence line, Seko delivered a pass behind the opposing defence line, allowing Hayashi to break through and convert a one-on-one against the GK to give his side a 1-0 lead at halftime.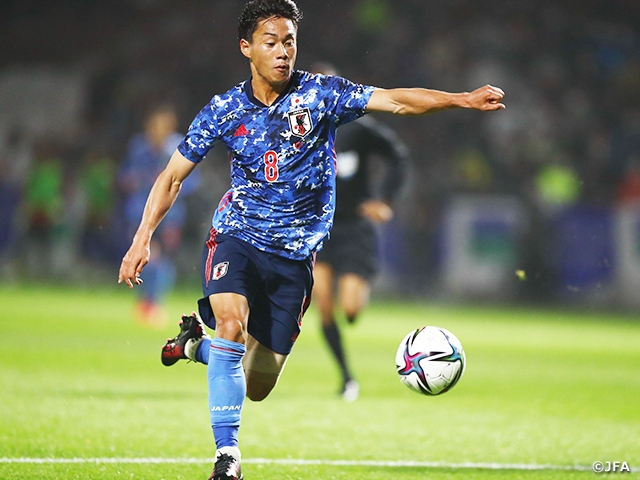 In efforts to change the dynamics of the match, Argentina utilised their substitutes in the second half, but the Japanese side continued to show great composure in defence while also anticipating for their chance to extend their lead.
With momentum on their side, Japan scored back to back goals in the 68th and 73rd minute, both times scored by Itakura, who struck powerful headers off of two CKs delivered by Kubo.
Despite the late efforts made by the Argentinian side, Seko, Machida, and Tani showed great composure to keep the clean sheet intact, giving Japan a 3-0 victory.
Following the match, Coach YOKOUCHI Akinobu commented, "This win will give us great confidence moving forward. However, we must not sit on our laurels, as we still have plenty of room to improve."
Draws to determine the fixtures for the Tokyo Olympics will be held by FIFA on 21 April, while the next team activity scheduled for the U-24 Japan National Team will be in June. The players will return to their clubs for now, as coach Yokouchi shared his hopes towards the players, "We are looking forward to seeing an improved version of our players to build an even stronger team once they return."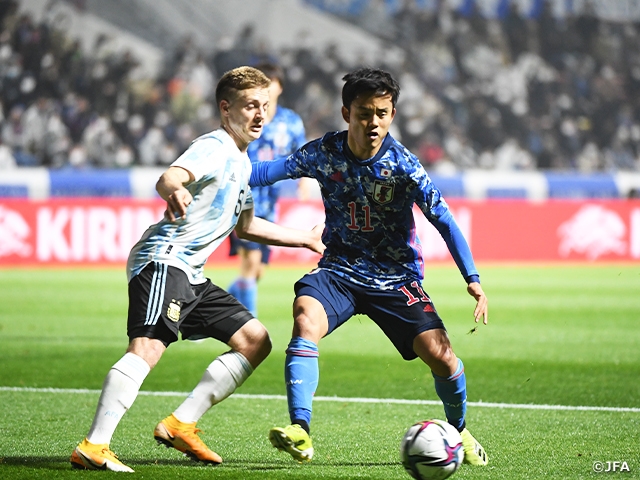 Coach and Players' Comments
YOKOUCHI Akinobu, Coach
Kitakyushu is my hometown, but we didn't have such a wonderful stadium like this when I lived here. This is a really nice stadium, and it really felt like the stadium gave our players extra energy today. As a team, we focused on winning the duels, while keeping the possession of the ball, and our players did a great job executing our game plan.
GK #23 TANI Kosei (Shonan Bellmare)
This was my first start with this team, so I entered the match with the intention to give my best effort. I had confidence in my abilities, so I kept an aggressive mind while communicating with my teammates to organise the defence line. Playing for the national team is different from playing for my club, so I focused on staying vocal and tried to keep everyone on the same page. I am glad that we were able to keep a clean sheet today.
DF #4 ITAKURA Kou (FC Groningen)
The entire team is focused on winning the gold medal at the Tokyo Olympics, and I personally wanted to showcase that we are capable of competing against strong teams like Argentina. I feel like our intention was on display from the very beginning of this match and the fact that we were able to win the one-on-one battles really helped us win the match. Kubo has been delivering great set-pieces every match, so I am glad I was able to convert them today.
DF #22 SEKO Ayumu (Cerezo Osaka)
After losing the first match, this was a very important match for us. When I learned that I was starting, I was determined to help the team win the match. We knew our opponent was going to fight hard to win the ball, but our coach has told us not to lose those battles. The fact that we managed to win the ball by showing high intensity, led to this victory. Personally, I was able to showcase my passing ability by assisting a goal, so I hope to showcase more of those in our future matches.
MF #11 KUBO Takefusa (Getafe CF)
We couldn't afford to lose to the same opponent in back to back matches at home, especially after losing the way we did in our first match, we were fully determined to win the second match. After losing the first match 0-1, we were still tied in aggregate score at halftime, so it was great that we managed to score two more goals in the second half. In terms of personal performance, I am glad I was able to assist the second and third goal during the crucial minutes of the match.
MF #17 TANAKA Ao (Kawasaki Frontale)
I had been preparing myself for this match, so I was eager to showcase a good performance today. I had high expectations for myself, while I knew others also expected great things out of me, and I feel like I was able to use that pressure to my favour. I am not fully satisfied with my performance on the pitch, but I am glad I was able to contribute for the team's victory.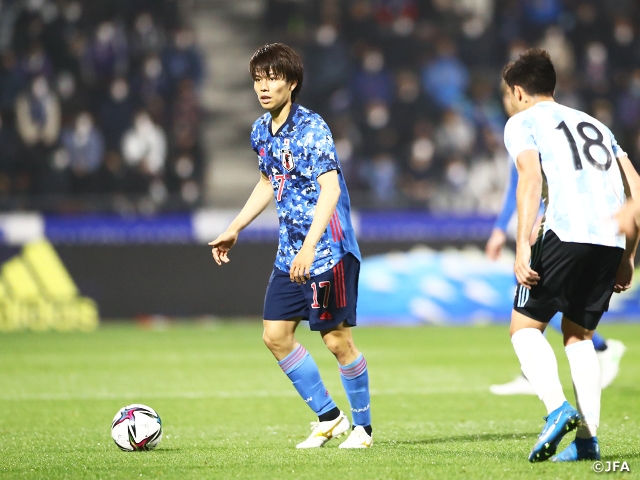 FW #8 HAYASHI Daichi (Sagan Tosu)
I entered the match with the intention to make runs for the team. In the scene where I scored the goal, Seko delivered a wonderful ball. Those are the types of passes you must score as a striker, so I am glad I was able to convert that. My strengths lie on my ability to possess the ball in tight spaces, and I hope to use that to help the team win more matches.



U-24 Japan National Team vs U-24 Argentina National Team
Date: Mon. 29 March 2021 [19:45]
Venue: Kitakyushu Stadium (Fukuoka)