NEWS
【Ahead of the Tokyo Olympics】Interview with WATANABE Tsuyoshi
06 April 2020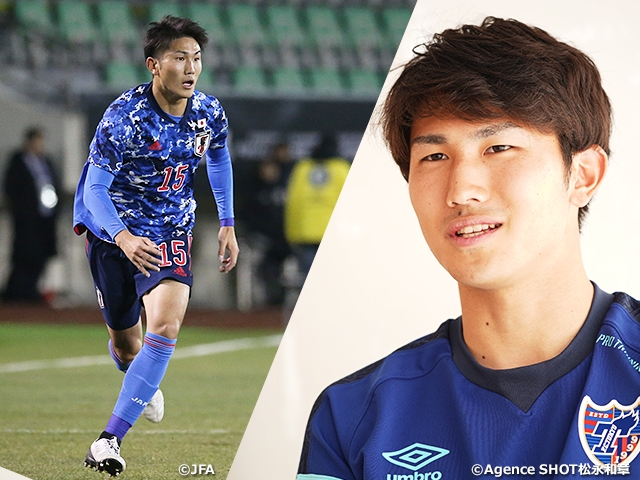 In response to the current outbreak of the novel coronavirus, the U-23 Japan National Team has cancelled all activities in March. With the International Olympic Committee determining to postpone the Games of the XXXII Olympiad (Tokyo 2020) to July 2021, the team will reschedule their activities in accordance to the state of affairs. Here we will share the interview conducted with WATANABE Tsuyoshi (FC Tokyo), who made his U-22 Japan National Team debut during last year's Brazil tour and also participated in this January's AFC U-23 Championship Thailand 2020.
――After joining FC Tokyo from Chuo University last season, you earned a starting position to propel the club in contention for the league title. You were also named into the U-22 and the senior team of the Japan National Team. It must have been a hectic year for you?
Watanabe It certainly was. Everything went by so quickly, I didn't even realise how I got myself to that stage. When I first started to earn minutes with my club, I was having so much fun, but as the season progressed, we were in contention for the league title, and I started to feel the pressure from our fans. My call-ups to the U-22 national team and the senior team both came as a surprise, so I wasn't fully prepared for the call-ups.
――Your club lost to Yokohama F.Marinos in the final game week to miss out on the opportunity to win the league title.
Watanabe We were simply not good enough, and it was probably the most disappointing moment of my life. However, I was able to embrace that bitter experience positively. The fact that we missed the title gives us motivation for the next season. One of my teammates mentioned to me, "It took me several years to reach this stage, but you were able to experience this in your first year. I really envy you, because you can feed off of this experience to become a better player."
――Your close friend and teammate from the U-23 Japan National Team, ENDO Keita, outplayed you to score Yokohama's third goal of the match. That scene must have left a strong impression for you.
Watanabe Of course (with a bitter smile). That was so typical of me to concede a goal at the very end. Even though I had a dazzling year, it reminded me that I must not take anything for granted.
――You then played for the Japan National Team at the EAFF E-1 Football Championship, and for the U-23 Japan National Team at the AFC U-23 Championship. In both occasions, the team ended with a disappointing result.
Watanabe I marked my first cap during our second match of the E-1 Football Championship against Hong Kong, but our final match against Korea Republic left the strongest impression for me. I started on the bench in that match, but I was able to feel the opponent's energy from the bench. They showed strong determination to win the match and played with great aggression. It really made me realise what it's like to represent a country and the strong rivalry between Korea and Japan. Some of my teammates were overwhelmed by the opponent's intensity level and I'm not sure how I would have reacted if I was on the pitch. Being able to feel that vibe in first-hand was a great learning experience for me.
――The team was eliminated from the AFC U-23 Championship at the group stage with a record of one draw and two losses.
Watanabe It wasn't like we lacked motivation. We were constantly communicating with each other and gave our utmost efforts, but we weren't able to obtain the result we were looking for. I think that is part of football. In situations like that, we need to make necessary adjustments to break off the bad momentum. However, we weren't able to make those adjustments and ended up getting eliminated at the group stage. I feel responsible, especially because I was given the armband during this tournament. It made us realise that we must all improve ourselves at the individual level to strengthen the team ahead of the Olympics.

――So you are saying that you must heighten the individual level to build a stronger team?
Watanabe Precisely. Players from the Middle East created many attacking threats from individual plays, and it made me realise that I must improve my one-on-one skills. This tournament gave us the opportunity to acknowledge our weaknesses, so we must now work on those areas at our own clubs. There were some harsh criticisms regarding our performance, and we accepted each one of them. However, knowing that I am now the subject for these criticisms gives me more motivation and a sense of responsibility to do better.
――During last year's Brazil tour with the U-22 Japan National Team, you played with players like NAKAYAMA Yuta and MIYOSHI Koji, who plays for European clubs. What was on your mind when you were playing with them?
Watanabe They showed great confidence in their ability on the pitch. They knew exactly what they wanted to do and were capable of conveying their thoughts to others. It made me think that those are some essential qualities in order to play for clubs overseas.
――You previously mentioned that you were hoping to make the final cut for the Olympics team. Now that you have started against Brazil and wore the armband in two matches of the AFC U-23 Championship, did your perspective towards the Olympics change at all?
Watanabe I've always considered myself as a border line player for the national team, so I was actually surprised to get called-up at that timing (last October). However, now that I have earned my first call-up, I need to work hard to remain on the team. I feel like my performance against Brazil earned me the second call-up, and that match really gave me the confidence that I can compete at the world stage. So, in that sense, that match against Brazil strengthened my feelings towards the Olympics.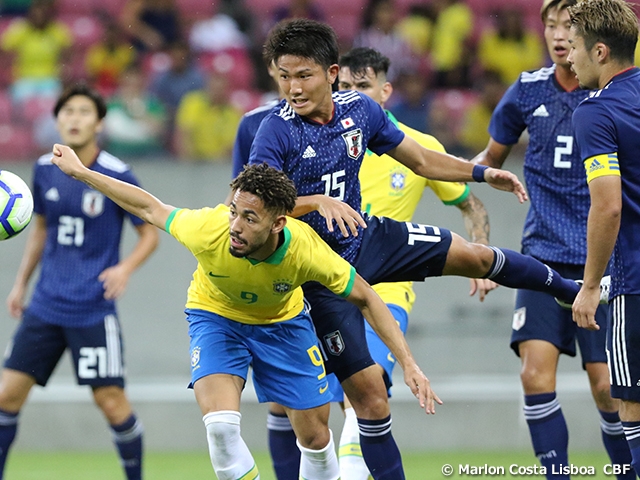 ――Since when did you become conscious about the Tokyo Olympics? Was it when you turned professional?
Watanabe No, either during junior high (FC Tokyo U-15 Fukagawa) or high school (Yamanashi Gakuin High School).
――That early?
Watanabe My generation was always referred as the Tokyo Olympics Generation, so when I was selected into the high school select team, I wrote my goal as "Tokyo Olympics."
――Although you took a detour, you have made forward progress towards that goal.
Watanabe In that sense, joining FC Tokyo was a necessary step for me. In order to make the roster for the Tokyo Olympics, I had to first earn a starting role for FC Tokyo and leave an impact.
――You had to earn a starting role from players like MORISHIGE Masato and JANG Hyun-soo.
Watanabe When I joined the team, many of my teammates told me that I joined the toughest team in the J.League for a centre back, but that was part of the reason I chose FC Tokyo. During high school, I simply wanted to make a return to FC Tokyo, but that idea became a concern for me as I got closer to turning pro. I started to concern over the decision to join FC Tokyo, where they had centre backs like Morishige and Hyun-soo. I felt like I could join a different team where I would have a better chance to earn playing time. However, I made up my decision to join FC Tokyo with the idea that, if I can earn a starting role for this team, I can get a step closer to making the roster for the Tokyo Olympics.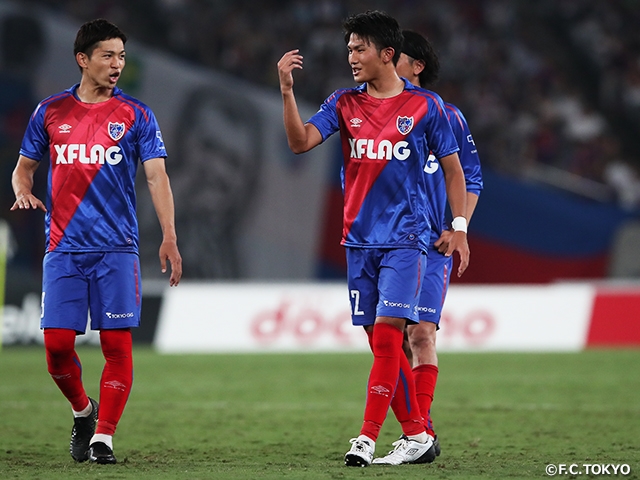 ――That is why you were so eager to learn from Jang Hyun-soo?
Watanabe Hyun-soo took care of me like I was his little brother. He mentioned that I was the first person to ask him so many questions. However, Hyun-soo transferred to a team in Saudi Arabia during the summer, leaving a vacant for me to fill, so in that sense, I was fortunate to be in that spot.
――By earning a starting role at your club, you have now made a forward progress towards your goal, but the national team's activities were cancelled in March.
Watanabe It was unfortunate that the friendly matches scheduled in March were cancelled, but I am not too worried about that. Being negative over a done deal doesn't change anything. Even if the Olympics does get postponed and if I don't meet the age limit, I don't think I will stress over it. If that's the case, I will just reset my mind and work to win titles with FC Tokyo while striving to earn a starting role for the Japan National Team.
(This interview was conducted in mid-March)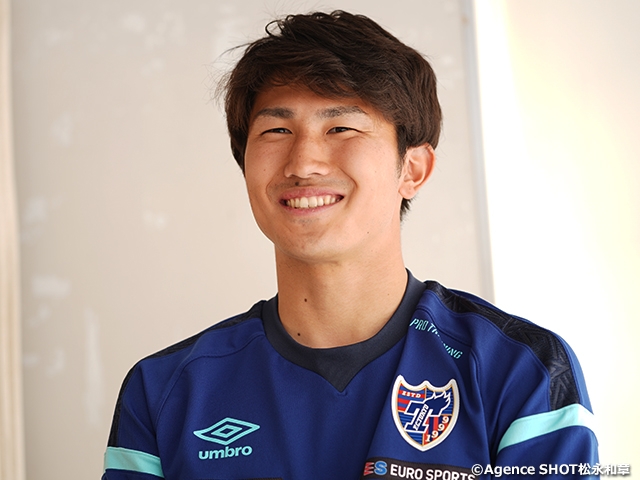 Games of the XXXII Olympiad (Tokyo 2020)
Football Competitions: 22 July 2020 - 8 August 2020 *Postponed