NEWS
【Ahead of the Tokyo Olympics】Interview with OGAWA Koki
27 November 2019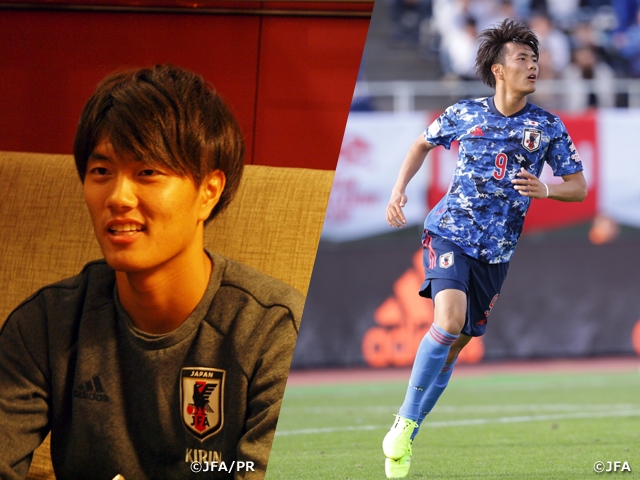 Ahead of next year's Tokyo Olympics, the U-22 Japan National Team held their first international friendly match in Japan on 17 November. We conducted an interview with their striker OGAWA Koki (Mito HollyHock), who helped the team become the runners-up of the Toulon International Tournament in June.
――In eight months, the Summer Olympics will be held in Tokyo. What does the Tokyo Olympics mean to you in context of your career?
Ogawa Simply put, it's just a passing point. Of course, I want to play in it, and I made my decision to transfer to Mito HollyHock for that very reason. However, with the FIFA World Cup Qatar coming up in 2022, I am considering the Olympics as a passing point.
――You have always mentioned that you are feeling a sense of urgency when playing with the U-22 Japan National Team.
Ogawa That is true. The competition to win the starting position at the national team is intense and the fact that I haven't scored many goals at Mito gives me more reasons to feel urgent.
――Seven goals since joining the team in July is not a bad figure.
Ogawa My goal was to score more than 10 goals and lead Mito into the J1, so this is not enough. I need results that are clear and obvious to everybody.
――By moving to J2, you are getting consistent playing time. What are the merits of playing in J2?
Ogawa I was able to regain my game intuition, especially in front of the goal. It was a sense I had nurtured during high school but wasn't able to showcase while I was with Jubilo. The seven goals I scored came in various ways, with my right foot, header, connecting with crosses, and off spin moves. The fact that I was playing at J2 gave me a sense that I had my back against the wall, which allowed me to swallow my pride and give my utmost efforts in any given situation. I feel like I am paying my dues right now. Many players in the Japan National Team have also played at J2 in their career.
――KAWASHIMA Eiji, ENDO Wataru, and NAKAJIMA Shoya are good examples. KAGAWA Shinji and INUI Takashi have also played in J2.
Ogawa The time spent at J2 has brought them to where they are now, so I will continue to work hard despite the adversities I may face. I have a strong and competitive mentality, so will never give up.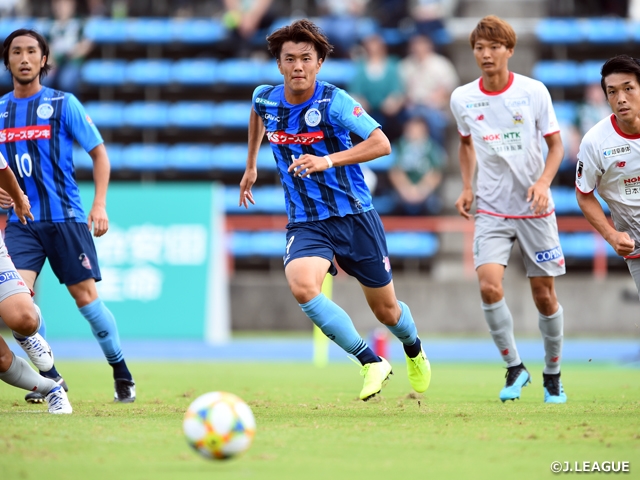 ――You entered Jubilo Iwata as the number one striker from the high school category, and you were the ace striker for the U-20 Japan National Team, but you also have the resilience to fight against adversities?
Ogawa I have never considered myself as an elite player. I struggled greatly during my high school career and sustained a major injury in my second year. I was always behind someone and I have never thought that my football career was on the right track. I am never satisfied, and I am always playing with a sense of urgency.
――When did you nurture this sense of resilience?
Ogawa I think its from my high school days. I learn so much not only as a football player, but as a human being. I was always getting yelled at from my coach, we couldn't win matches, and I suffered an injury. It was a tough three-years, but it helped develop a mature mentality. All those experiences have allowed me to face the reality when I got injured at the U-20 World Cup two years ago.
――As a football player, it is best if you don't get injured, but what did you learn from the injury you sustained two years ago?
Ogawa It really changed the way I look at my meals. I am more conscious to take care of my body and I am always taking note of the nutrition of my meals. Since arriving to Mito, I am getting more playing time, so I am more focused on how I recover my body after matches. I was also given the opportunity to go through my rehabilitation at the JISS (Japan Institute of Sports Sciences), where I met many athletes from different sports. I also met KIYOTAKE Hiroshi there and heard many stories from him as well. A skier once told me that ACL injuries are very common in winter sports, and it's so common that it's like a jammed finger to them. That story left a strong impact and allowed me to think more positively. The experience I gained through my rehabilitation process has given me great inspiration and new findings.
――Let's go back to the subject of the U-22 Japan National Team. After the 3-2 victory over the U-22 Brazil National Team in October, you also mentioned that you were not satisfied with the result. Can you explain what you were feeling?
Ogawa I made numbers of runs to force the opponent to drop their defence line, which allowed us to score three goals from distance, but I wasn't able to capitalise on my own opportunities. Although I was happy for the team's victory, I was not satisfied with my own performance.
――In a one-top system, the striker is asked to cover many tasks, but their main job is to score goals.
Ogawa Of course. Scoring goals must be the top priority. I recently read an article pointing out the U-22 Japan National Team's inability to score goals. In reality, the strikers have not scored many goals and it may force the coach to summon players from the over-age category. However, we still have opportunities to change that public opinion. A forward can change the entire perspective with a single goal, so I have not given up yet.
――I had the impression that you were primarily a goal scorer, but you have showcased more supporting plays at the U-22 Japan National Team, leaving the impression that you have now developed into a more versatile player.
Ogawa I think so too. During my time with Jubilo, coach NANAMI (Hiroshi) has stressed the importance for me to improve my supporting plays, but I wasn't given enough playing time to incorporate them into my game. Now that I am given plenty of playing time at Mito, I have been able to showcase my new abilities at the national team.
――Former members of the U-20 Japan National Team and current Japan National Team members, DOAN Ritsu, KUBO Takefusa, and ITAKURA Kou, joined the U-22 Hiroshima camp in November. You looked delighted to have them back on the same team with you, but do you feel rushed or have mixed feelings towards their success?
Ogawa Yes, I do have mixed feelings with them. Especially with (Doan) Ritsu, because I am good friends with him, and we scored many goals together during the U-20 days. He gives me great inspiration and I am happy for this opportunity to play football together, but at the same time I am disappointed that he has gone way beyond me, in terms of where we stand in our football career. I have been exchanging many conversations with Ritsu during this training camp and I have a feeling that he can give me great inspiration to reach higher levels.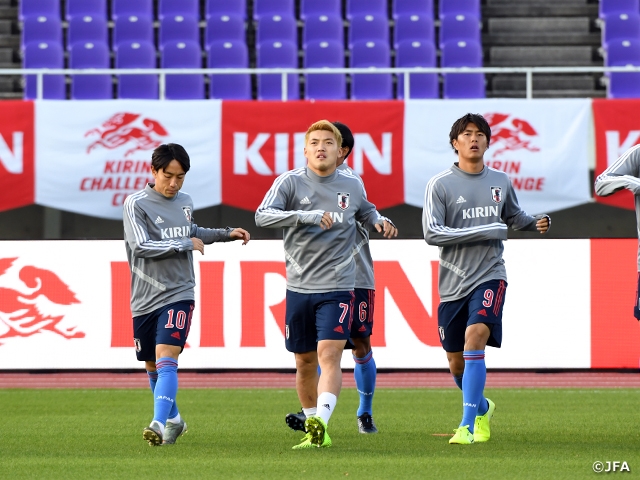 ――You mentioned about the competition for the starting position. What is your strong point, when compared to the other strikers like UEDA Ayase and MAEDA Daizen?
Ogawa I am confident in my abilities to post up in front of the goal, and to score goals in variety of ways. I also take great emphasis on how I am getting perceived by the opponents and my teammates. Only those who are competent can shine at the world stage, and I believe that I have what it takes to shine at the Tokyo Olympics.
(This interview was conducted in mid-November 2019)
Olympic Football Tournament Tokyo 2020
Tournament Dates: Wed. 22 July - Sat. 8 August 2020