NEWS
The "Shizuoka Derby" ends in a draw at the 8th Sec. of the Prince Takamado Trophy JFA U-18 Football Premier League EAST
01 July 2019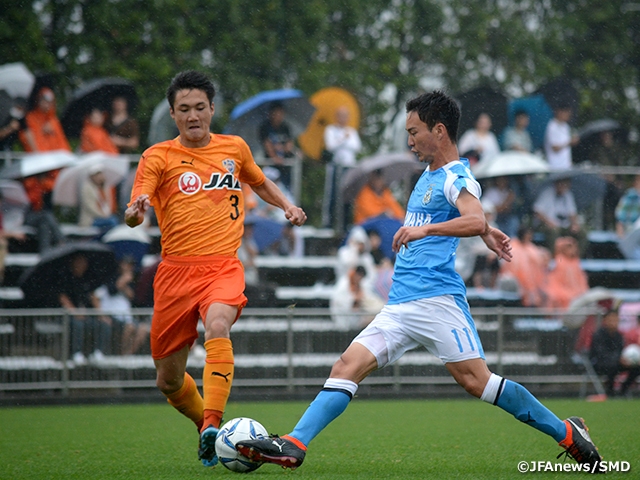 On Sunday 30 June, the eighth Sec. of the Prince Takamado Trophy JFA U-18 Football Premier League 2019 EAST took place, as the two Shizuoka sides, eighth place Jubilo Iwata U-18 (Shizuoka) and third place Shimizu S-Pulse Youth (Shizuoka), clashed at Iwata city, Shizuoka.
Pick-up Match
Jubilo Iwata U-18 2-2 (1-1, 1-1) Shimizu S-Pulse Youth
With this being the third ever Shizuoka derby played at the Premier league, Shimizu has won the previous two matches over Iwata. In the match that kicked off under rainy conditions with strong wind blowing over the pitch, it was Shimizu who took the initiative. In the ninth minute, Shimizu's midfielder AOSHIMA Taichi (#11) delivered a superb delivery into the penalty area, allowing TANAKA Yoshihiro (#2) to strike a header into the net to score the opening goal.
Despite taking control of the ball possession, Shimizu couldn't find ways to capture the second goal. While their opponents struggled to extend the lead, Iwata managed to equalise the match just before the end of the first half, when their forward SATO Mitsuaki (#9) converted a penalty kick.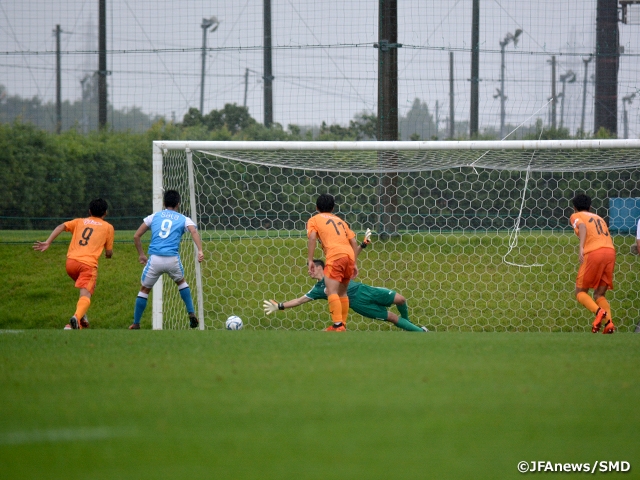 As Shimizu's coach HIRAOKA Hiroaki later reflected, "We conceded a goal from a penalty kick in three consecutive matches, and that goal gave Iwata a new life," it was the home side who took control of the match in the early minutes of the second half, through their revitalised offence that applied aggressive pressure from the front line.
The match remained tied for most part of the second half, but the deadlock was broken in the 84th minute, when NORIEGA Erick (#4) struck a powerful header off a corner kick delivered by MARUYAMA Yutaro (#7) to give Shimizu the lead. However, Iwata didn't back down easily, leading to the equaliser scored by HASEGAWA Yusaku (#8) in the third added minute of the second half. After both sides gave their absolute best efforts, the Shizuoka derby ended in a 2-2 draw.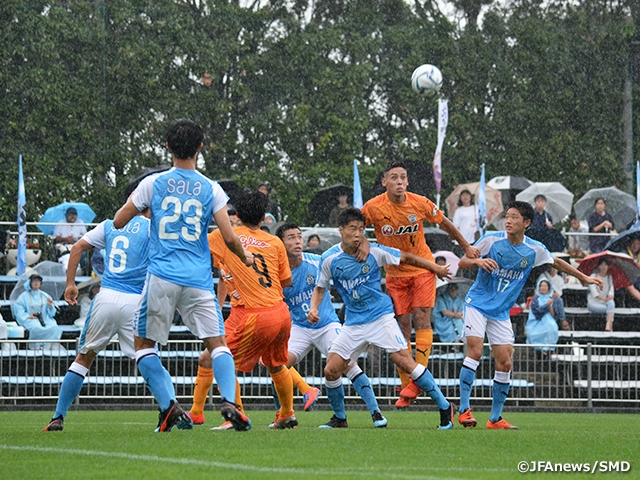 Coaches and Players' Comments
SETO Taiji, Coach (Jubilo Iwata U-18)
With this being a derby match, it was a match we couldn't afford to lose, and that is why I asked my players to show their passion in this match. After we conceded the second goal, we didn't have much time left, but the players showcased their strong will to score back a goal and played with great intensity. Our players showed great strengths, persistency, and mental toughness in the closing minutes of this match, which might have been our best performance of this season.
DF #8 HASEGAWA Yusaku (Jubilo Iwata U-18)
Before I scored the goal, I missed out on an opportunity to score from a cross in the previous play. Another cross followed that play, and I was able to convert the loose ball this time. With no time left on the clock, I was focused on scoring the goal, so I'm glad it went in. We encouraged each other during halftime by reminding ourselves that this is a derby match and it allowed us to showcase a better performance in the second half.
HIRAOKA Hiroaki, Coach (Shimizu S-Pulse Youth)
Iwata showed great intensity in this match, and rather than thinking we missed out on the opportunity to earn three points, we feel fortunate to pick up a point. Our players played well up to the point where we scored the opening goal, but after conceding a goal from a penalty kick in three consecutive matches, the tide shifted dramatically. It really showed that a single play can change the outcome of the entire match. If we can't keep our focus until the very end, we can't win matches. Our team consists with many talented individuals, but unlike last year's team, we still don't have the tenaciousness or the willingness to make the sacrifice for the team.
DF #4 NORIEGA Erick (Shimizu S-Pulse Youth)
We gave up the equaliser in the final minute of the match, so I am very disappointed. We thought we won the match, but we had to play until the final whistle. This was a derby match we had to win. We made many mistakes in this match, so we must train to get better ahead of our next match. In the scene where I scored the goal, the ball delivered by Maruyama was perfect, so I just had to tap the ball into the goal. I have scored all four goals from set-plays, and I hope to score more goals in the remaining matches.
Results of other matches
Funabashi Municipal High School 0-2 (0-0, 0-2) Ryutsu Keizai University Kashiwa High School
Shoshi High School 4-2 (2-0, 2-2) Omiya Ardija U18
Aomori Yamada High School 4-0 (1-0, 3-0) Kashima Antlers Youth
Kashiwa Reysol U-18 2-1 (1-0, 1-1) Urawa Red Diamonds Youth
Ryutsu Keizai University Kashiwa High School (Chiba) defeated their prefectural rival Funabashi Municipal High School (Chiba) to earn their first victory in six matches. Shoshi High School (Fukushima) won their first win since the season opener, with their 4-2 victory over Omiya Ardija U18 (Saitama). League leaders Aomori Yamada High School (Aomori) cruised past Kashima Antlers Youth (Ibaraki) with a 4-0 win, while Kashiwa Reysol U-18 (Chiba) edged Urawa Red Diamonds Youth (Saitama) in a close 2-1 victory.
Prince Takamado Trophy JFA U-18 Football Premier League 2019
League Duration: Sat. 6 April - Sun. 8 December 2019