NEWS
Avispa wins the "Fukuoka Derby" at the 8th Sec. of Prince Takamado Trophy JFA U-18 Football Premier League WEST
01 July 2019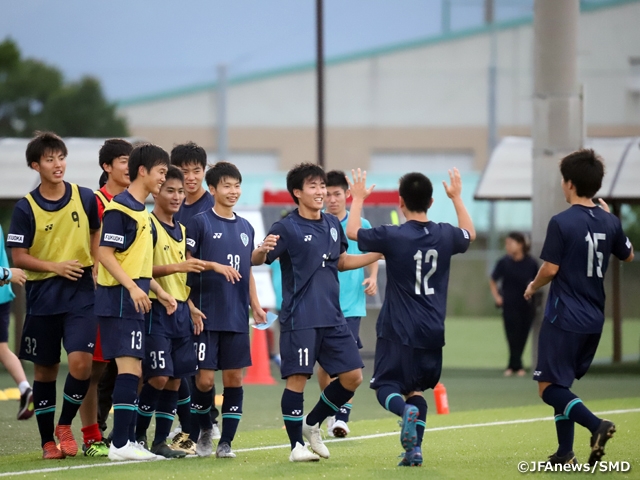 The eighth Sec. of the Prince Takamado Trophy JFA U-18 Football Premier League 2019 WEST took place on Saturday 29 and Sunday 30 June, where the two Fukuoka sides, Avispa Fukuoka U-18 (Fukuoka) and Higashi Fukuoka High School (Fukuoka) went head-to-head.
Pick-up Match
Avispa Fukuoka U-18 3-0 (1-0, 2-0) Higashi Fukuoka High School
As coach INOUE Takahiro mentioned after the match, "With this being the derby match, both sides were eager to win, and we had extra motivation because a win would put us atop of our opponent in the season standing," it was the Avispa side who took the initiative by applying aggressive pressure from their front line. Their aggressive approach proved to be effective, as Avispa's TAMURA Keito (#11) converted a freekick in the 19th minute to take the lead.
After recording just one shot taken in the first half, Higashi Fukuoka made two substitutions during halftime to change the dynamics of the match. Led by ARAKI Ryotaro (#10), Higashi Fukuoka started to rally back, as the midfielder later reflected, "Instead of just moving the ball at our defence line, I had to position myself in a higher position to collect the second ball and initiate our attacks." In the 61st minute, a golden opportunity was created for Araki when he responded to a pass delivered by SATO Soshi (#16), but his shot was blocked by the opposing goalkeeper. Despite creating numbers of chances, Higashi Fukuoka fell short from solving the Avispa defence line led by YOSHIMURA Ginga (#7).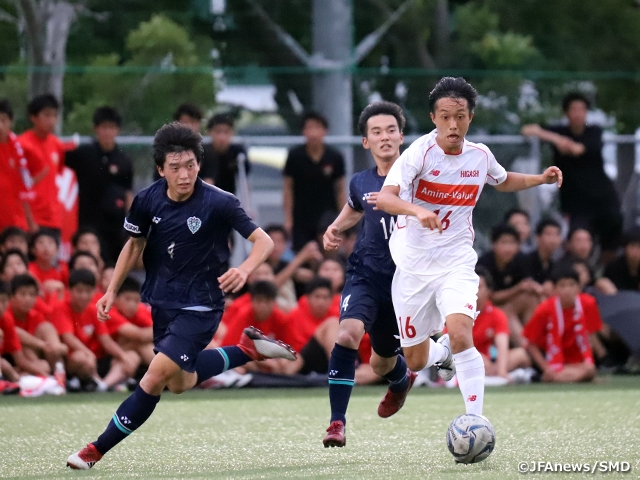 The perseverance shown by the Avispa defence prevailed towards the end of the match, as Tamura directly converted a corner kick in the 75th minute, followed by another goal scored from a corner kick in the 85th minute, this time with a header struck by ISHII Ryoma (#9), who later mentioned, "I missed a one-on-one situation in the previous play, so I was committed to score that goal."
The match came to an end with the club side earning a 3-0 victory, recording their first back-to-back wins of the season. After the match, Ishii shared his aspiration, "We've only won two consecutive matches. We still need to win two more matches to build a positive momentum before entering the Club Youth Football Championship."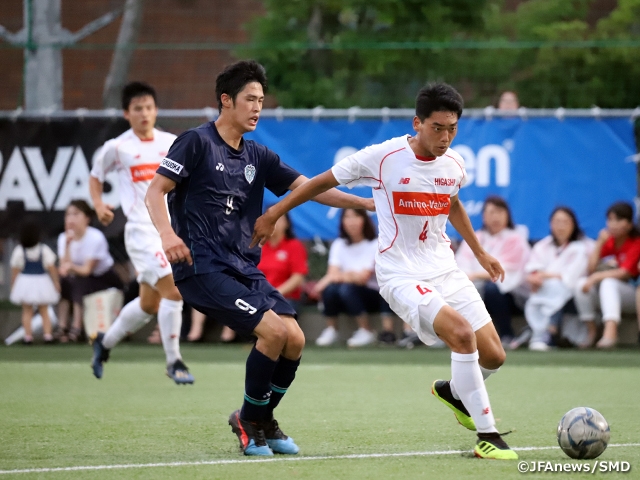 Coaches and Players' Comments
INOUE Takahiro, Coach (Avispa Fukuoka U-18)
Last week, we managed to score the opening goal by applying high pressure against Ehime FC U-18, so I told my players to start the match with the same approach. With our opponents penetrating the space behind our defence line, we faced some difficult stretches during the second half. We were fortunate that those set-pieces went in to give us more breathing room, but the final score did not reflect our overall performance, so I am not truly satisfied. However, I am proud of the fact we didn't concede any goals during that tough stint. Our patience is what led to the opportunities created towards the end of the match, and that's what I want my players to take back from this match.
GK #16 YOSHIDA Tsubasa (Avispa Fukuoka U-18)
In this derby match, I played against many of the players who I have played together at the National Sports Festival, and I really didn't want to lose against them. I entered the match with a strong intention to keep a clean sheet in this match. I feel like the team atmosphere is getting much better, and that is why we were able to win back-to-back matches. Until recently, we were hesitant to share opinions during our training sessions, but the players are now actively communicating to help motivate and inspire each other. Watching the team from behind, I can really tell that the team is communicating well with each other and that allows us to have a wider perspective in the match.
MORISHIGE Junya, Coach (Higashi Fukuoka High School)
In the first half, we weren't able to move the ball around while facing forward. While our defence weren't able to find the space upfront, our offence also failed to call for the ball, which made our offence non-existent. Following our loss at the Kyushu Inter-High School Championships and last week's loss to Ozu High School, the players lacked confidence today. Also, with players returning from injuries, the team looked out of sync compared to the first quarter of the season. We will just have to stay positive and move forward. We will make the adjustments on how we mark our opponents in set-plays and work on our approach to win the fifty-fifty balls.
MF #10 ARAKI Ryotaro (Higashi Fukuoka High School)
With this being the Fukuoka derby, our coaches reminded us not to lose against Avispa, so we entered the match with an even stronger motivation to win the match this week. However, the match exploited how powerless we were. We weren't able to make the adjustments against the opponent's aggressive approach and conceded the opening goal during the first half, which led us to carry a negative momentum into the second half. I had an opportunity to score a goal, but I failed to capitalise, and that is an aspect I must improve on. The same thing can be said for the entire team, and we must become more critical at the final third to win at the premier league.
Results of other matches
Ozu High School 0-1 (0-1, 0-0) Sanfrecce Hiroshima F.C Youth
Vissel Kobe U-18 3-0 (2-0, 1-0) Ehime FC U-18
Gamba Osaka Youth 3-5 (0-2, 3-2) Kyoto Sanga F.C. U-18
Cerezo Osaka U-18 (Scheduled on 9/28) Nagoya Grampus U-18
Sanfrecce Hiroshima F.C Youth (Hiroshima) held onto their early lead to win over Ozu High School (Kumamoto). Vissel Kobe U-18 (Hyogo) swept Ehime FC U-18 (Ehime) at home after scoring two goals in the first half. League leaders, Gamba Osaka Youth (Osaka) suffered their first loss of the season, after losing 3-5 to Kyoto Sanga F.C. U-18 (Kyoto). The match between Cerezo Osaka U-18 (Osaka) and Nagoya Grampus U-18 (Aichi) is scheduled to take place on Saturday 28 September.
Prince Takamado Trophy JFA U-18 Football Premier League 2019
League Duration: Sat. 6 April - Sun. 8 December 2019