NEWS
Iwata prevails in face-off between promoted sides in the 7th Sec. of Prince Takamado Trophy JFA U-18 Football Premier League EAST
02 July 2018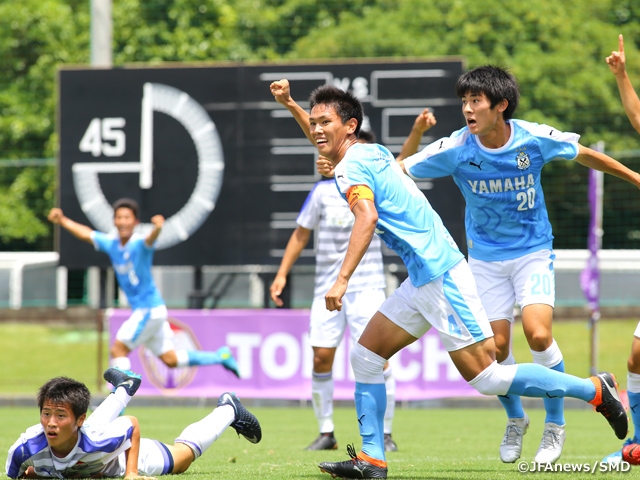 Pick-up Match
Jubilo Iwata U-18 (Shizuoka) 3-2 (2-2, 1-0) Toyama Daiichi High School (Toyama)
Sec. seven of the Prince Takamado Trophy JFA U-18 Football Premier League EAST took place on Saturday 30 June and Sunday 1 July as newly-promoted teams, ninth-place Jubilo Iwata U-18 (Shizuoka) and last-place Toyama Daiichi High School (Toyama), squared off against each other.
The opening goal came just two minutes into the match when Toyama's midfielder TAKAGI Toshiki (#17) redirected a long throw-in into the net with a header to help his side get off to a fine start.
"Because we've prepared ourselves to cope with their long throw-ins, we got rattled when we allowed a goal on their first attempt," said Iwata's Coach SETO Taiji. With the momentum on their side, Toyama Daiichi applied pressure from their front line to force turnovers and initiated quick attacks. In the 25th minute, forward SASAKI Taiga (#20) forced a turnover in the attacking third before breaking through the defence line to hammer in the additional goal. Iwata's midfielder TERAO Riku (#11) created a golden opportunity by getting passed the goalkeeper in the 26th minute, but Toyama's defender came running back into the box to clear the ball.
After going two goals down, Iwata's Suzuki Kaito later described that, "We were able to put everything aside and just play our game," and started to take control of the ball possession. Then in the 30th minute, midfielder HARAGUCHI Anji (#18) tallied a goal off of an error made by their opponent. After scoring in two straight matches, Haraguchi later reflected on his goal, "The first goal we allowed was from my own mistake, so I wanted to redeem myself." Haraguchi went onto to score the equaliser in the 36th minute when he deflected defender MAKINO Kosuke's (#15) mid-range shot as he shared that "The team has gained inspiration from watching the (FIFA World Cup Russia) match between France and Argentina," successfully putting themselves back in the game before halftime.
With both teams enthusiastically firing themselves up in the locker rooms, the battle intensified in the second half. Iwata utilised variety of attacks including long balls and side attacks, while Toyama Daiichi committed themselves in showcasing their persistent defence. Both sides subbed in offensive players to go more aggressively, but the score remained at 2-2 under a tense atmosphere where the two side's prides went head to head.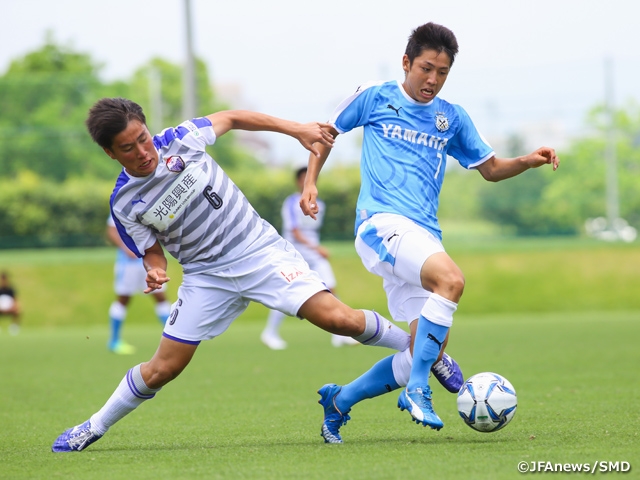 Just as the match appeared to finish in a tie, Iwata broke the deadlock in the 86th minute from a corner kick. Defender HIRAMATSU Wataru (#4) laid down a header to allow his fellow defender SUZUKI Kaito (#23) to tap in the ball into the net. After the long-awaited goal from Iwata, Toyama Daiichi continued to attack to score the equaliser, but their efforts came short from finding the net. The face-off between the promoted teams finished with Iwata's victory.
Coaches' and Players' Comments
SETO Taiji, Coach (Jubilo Iwata U-18)
In the last Sec. we managed to possess the ball but failed to break through the tight defence displayed by our opponents and lost the match. We made the adjustments from that match and utilised longballs, mid-range shots, and early crosses. We trained all week to aim our attacks from many angles in order to find the opponents' flaw. We had to win to stay out of the relegation zone, so we are glad we managed to grind out the three points today.
DF #23 SUZUKI Kaito (Jubilo Iwata U-18)
(Regarding the go-ahead goal) We wanted to push our way through what ever it took and that's how I got myself in that position. There were three Jubilo players in front of the goal and I think that reflects our mentality at that moment. We entered the match with a feeling that we cannot lose this match, so we might have been too tense. Once we lost two goals, we were able to put everything aside and just play our game. In our last Sec. we couldn't win the one-on-one battles and failed to cover each other, but today we showcased great coverage in defence. As for myself, my strong point shines when I face the opposing player, so I kept a strong intention to win those battles.
OTSUKA Ichiro, Coach(Toyama Daiichi High School)
This was a match we really wanted to win, so this result is quite disappointing. It all comes down to how we lacked quality in the final third. We had our chances to score the third goal but failed to convert. We applied lots of pressure from our front line and managed to score two goals early in the match. Everything was going according to our game plan as we converted our set-play and kept the pressure on, but the tides changed from our own mistakes. However, we have only played each team once thus far in the league, so we still have long ways to go. We must keep our chins up. It was the first time our side scored first in a match, so the way we enter the match has improved. We must now stay focused for the entire 90 minutes to display our football and win the match. We will feed off of this match and move forward.
DF #5 NAKATA Jyo (Toyama Daiichi High School)
This was a match we had to win. We created a good rhythm by scoring two goals in the first half, but we lost our concentration afterwards. We entered the match with the intention to deny the crosses and vertical balls, but our opponent's offence did a better job than us. The set-plays went just as we planned, but we needed to possess the ball more. We have practised to create more time with the ball, but once our opponents levelled the match, we rushed our plays and ended up just kicking the ball instead of possessing the ball. We knew a two-goal lead can be dangerous, so we should have kept ourselves more alert and talked to each other to make the necessary adjustments.
Results of other matches
FC Tokyo U-18 2-2 (2-0, 0-2) Urawa Red Diamonds Youth
Ryutsukeizaidai Kashiwa High School 0-1 (0-1, 0-0) Kashiwa Reysol U-18
Shimizu S-pulse Youth 2-1 (0-1, 2-0) Ichiritsu Funabashi High School
Kashima Antlers Youth 2-2 (1-1, 1-1) Aomori Yamada High School
FC Tokyo U-18 (Tokyo) welcomed Urawa Red Diamonds Youth (Saitama) at home and scored two gaols in the first half, but the visitor side scored two goals in the second half to finish in a draw. The Kashiwa-Derbey between Ryutsukeizaidai Kashiwa High School (Chiba) and Kashiwa Reysol U-18 (Chiba) saw the only goal scored in the 26th minute by Reysol's defender YOSHIDA Arata (#13), giving the club side their first win since the league opener. Shimizu S-pulse Youth (Shizuoka) conceded in the first half against the visiting Ichiritsu Funabashi High School (Chiba) but their forwards AOSHIMA Taichi (#17) and HIGASHI Shun (#9) scored a goal each to earn a come from behind victory. League leaders, Kashima Antlers Youth (Ibaraki) squared off against the third place Aomori Yamada High School (Aomori), where each side scored a goal apiece in each half to share a point each. Kashima's winning streak ended at six matches since the league opener.

Tournament Period:Sat. 7 April 2018 ~ Sun. 9 December 2018