NEWS
Coach Nishino of SAMURAI BLUE (Japan National Team) shares his aspiration to "Display Japan's style of football"
02 July 2018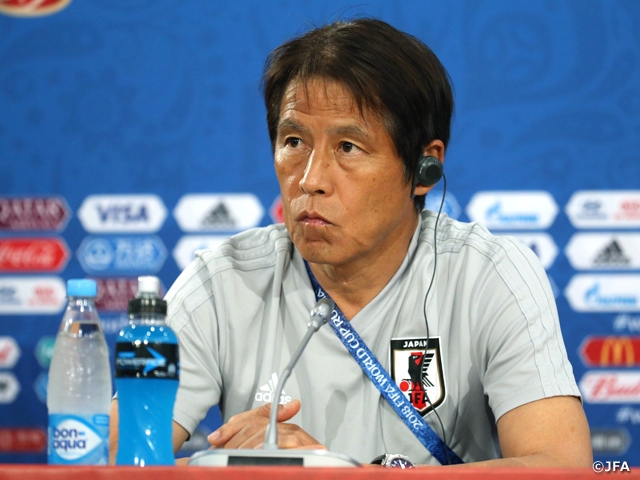 The SAMURAI BLUE (Japan National Team) who made their way through to the round of 16 at the 2018 FIFA World Cup Russia, held an official press-conference on Sunday 1 July at Rostov Arena in Rostov-on-Don. With their match against the Belgium National Team just one day ahead, Coach NISHINO Akira shared his aspiration as, "The chances are lying on the pitch. We would like to display a style of football that best represents Japan."
Japan clinched their third overall round of 16 appearance, first time since 2010, as the runners-up in Group H with a record of one win, one draw, and one loss. In comparison, Belgium has won all three matches in Group G to make their fifth overall advancement into the round of 16, and the team has made it to the quarterfinals in the 2014 World Cup. Belgium currently ranks third in the FIFA rankings while Japan ranks at 61st.
Coach Nishino described Belgium as, "They are an opponent where we must create and exert extra strengths that we may not have at this point." The coach went on to mention about the mentality of the international powerhouses, where many teams consider the knockout stage to be the real start of the World Cup, and shared his confidence ahead of their clash against such powerhouse, "I believe that we can share the same type of mentality with Belgium."
Belgium's Coach Roberto MARTINEZ on the other hand named a list of players including KAGAWA Shinji (Borussia Dortmund), HONDA Keisuke (CF Pachuca), YOSHIDA Maya (Southampton FC), and INUI Takashi (Real Betis) when asked regarding the Japanese side and mentioned that, "We must stay focused or else they will create problems for us." He continued by stating that "It is important to neutralise Japan's strengths," as he shared his intention to disturb Japan from possessing the ball.
On this day, both teams visited the match venue, Rostov Arena. However, in order to preserve the pitch condition, the official training session did not take place at this site, as the players of the SAMURAI BLUE took a brief walk on the pitch to check out the condition.
After checking out the match venue, the team was escorted by the police to Olimp-2 Stadium, the home stadium of a local club team, Rostov FC, where they held their training session behind closed doors.
OKAZAKI Shinji (Leicester City Football Club) who trained separately the day before due to precautionary measures taken for his injured right ankle, joined the team practice this day. The first 15 minutes of the session was opened to the media as many reporters from various countries appeared on site to watch on the players go through extra stretching, light jogs, and fundamental drills such as passing and dribbling.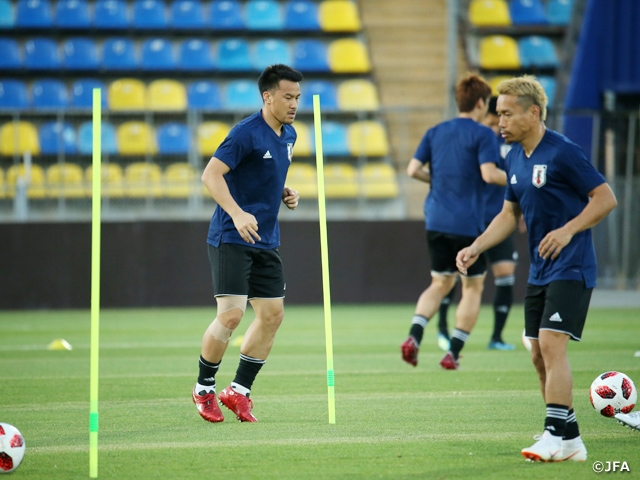 With Japan's first ever advancement into the quarterfinals at stake, Kagawa mentioned that, "The team managed to prepare well," and shared his strong commitment towards the match, "It will be a truly tough match. We must stay patient with the intention to play the entire 120 minutes, even if the match doesn't go in our favour."
Along with the coach, SHOJI Gen (Kashima Antlers) appeared in the official press-conference and shared his aspiration for the match, "We came here to create new history for Japan by making it through to the quarterfinals. There will be so much pressure, but we must play to our full potential."
In the knockout stage, matches will enter 15 minute halves of extra time if the match cannot conclude in the 90 minute regulation time. Penalty kicks will be employed if the score remains tied after the extra time, however, Coach Nishino stated that, "We want to finish the match without having to go through all that." As he continued to mention, "The opportunities are lying somewhere on the pitch. We just have to find them as a team. Through this tournament, we have created a chemical reaction and we would like to display a football style that best represents Japan."
The match is scheduled to kick-off at 21:00 local time on Monday 2 July.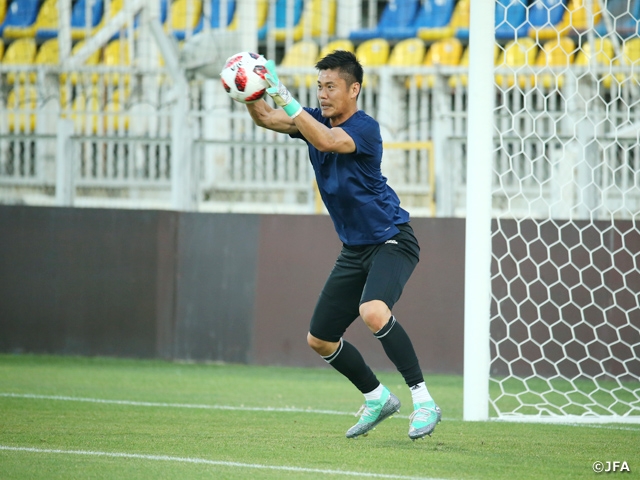 Coaches' and Players' Comments
NISHINO Akira, Coach of SAMURAI BLUE (Japan National Team)
We must challenge many things in the round of 16, where the losers go home. Belgium is an international powerhouse who ranks in the top three of the world, where as we are sitting in 61st place. We must challenge them in every way possible as they are an opponent where we must create and exert extra strengths that we may not even have at this point. The opportunities are lying somewhere on the pitch, and we just have to find them as a team. Through this tournament, we have built a chemical reaction. The knockout stage consists a different type of atmosphere than the group stage, but we would still like to display a football style that best represents Japan. Our nation has experienced the round of 16 twice in its history, but this time we have sufficient strengths to go through and we can generate the fighting power. We all must go out and produce such energy.
Even though some of the international powerhouses would consider the real World Cup starts from the knockout stage, we cannot think the same way, but we can create a similar mentality. I believe that we can share the same type of mentality with Belgium.
After playing our first two matches in the group stage, we felt that we can cope with the third match while we rotate the players and give some of the players time to rest. As a result, players are well rested and we can enter tomorrow's match in a good condition.
GK #1 KAWASHIMA Eiji (Football Club de Metz)
The Belgian players are very talented, and they have variety of types of attackers. To start with, we must focus on not giving them free space. I don't think my strengths lies on facing penalty kicks, but in those situations, I just have to believe in myself. We have a chance to achieve something Japan has never accomplished before. Making our way into the round of 16 is great, but our goal is set even higher.
FP #3 SHOJI Gen (Kashima Antlers)
Belgium has many wonderful players, so I am looking forward for our match. I may have to matchup with LUKAKU, and in those situations, I must go in with a strong heart to win the battles. Throughout the group stage, I kept believing that this team can make things happen, and I will enter tomorrow's match with the same kind of mentality.
FP #10 KAGAWA Shinji (Borussia Dortmund)
I am very calm right now, and I feel like I can enter the match as I always do. We only have one shot, so we want to win, and that is what we are preparing for. Our opponents will come out with three defenders at the back line, so if we can exploit the open space effectively, we might be able to create our opportunities. We are here to give everything we've got, both as a team and as an individual. We will like to win the match and advance through to the next stage.
Roberto MARTINEZ, Coach (Belgium National Team)
We have faced Japan in an international friendly last year. Their coach has changed since, but I think their style of football has not changed. They have lots of energy and techniques, while their fullbacks, SAKAI and NAGATOMO can press up high with their speed and agility. Japan has many players playing in the major European leagues and it will be a very difficult match to face them. We must stay focused or else they will create many problems for us. I am not so worried about them taking control of the ball possession. The most important thing is what you do with the ball, not how much you possess the ball. We must contain our opponents by neutralising their strengths.

Schedule
2018 FIFA World Cup Russia
Tue. 19 June
2-1
1st Match vs Colombia (Mordovia Arena)
Wed. 20 June
PM
Training
Thu. 21 June
PM
Training
Fri. 22 June
AM
Training
Sat. 23 June
PM
Official Conference・Official Training
Sun. 24 June
2-2
2nd Match vs Senegal (Ekaterinburg Arena)
Mon. 25 June
PM
Training
Tue. 26 June
AM
Training
Wed. 27 June
PM
Official Conference・Official Training
Thu. 28 June
0-1
3rd Match vs Poland (Volgograd Arena)
Fri. 29 June
TBC
Training
Sat. 30 June
TBC
Training
Sun. 1 July
TBC
Official Conference・Official Training
Mon. 2 July
21:00
Round of 16 vs Belgium (Rostov Arena)
*Local Time
*The schedule is subject to change due to the team condition, the weather, etc.
2018 FIFA World Cup Russia
Tournament Dates: 14 June - 15 July 2018

Round16
Mon. 02 July Kickoff at 21:00 vs Belgium National Team (Rostov Arena)
(Tue. 03 July 3:00 Japan time)