NEWS
Hiroshima wins Chugoku-Region Derby with five goals in the 7th Sec. of Prince Takamado Trophy JFA U-18 Football Premier League WEST
02 July 2018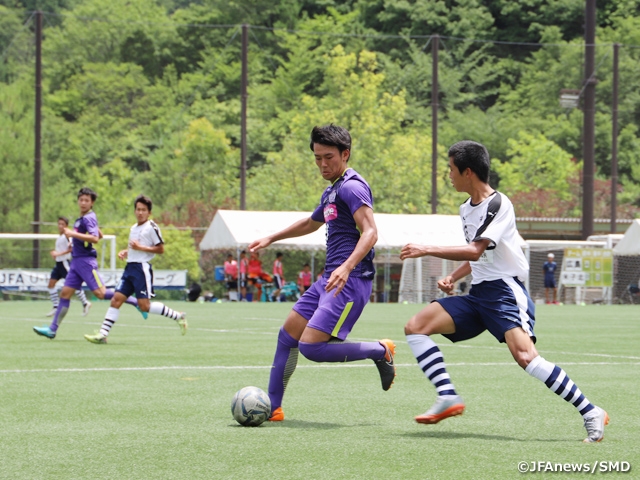 Pick-up Match
Sanfrecce Hiroshima F.C Youth 5-0 (3-0, 2-0) Yonago Kita High School
On Saturday 30 June and Sunday 1 July, the seventh Sec. of the Prince Takamado Trophy JFA U-18 Football Premier League WEST took place, where Sanfrecce Hiroshima F.C Youth (Hiroshima) squared off against Yonago Kita High School (Tottori).
Hiroshima Youth took the initiative of the match, as midfielder KATSURA Rikuto (#10) created a goal-scoring opportunity early in the match. Coach SAWADA Kentaro later commented, "His presence brings energy to the team." Katsura shared his though process of his approach, "The more I penetrate the space behind the defenders, the more space there will be created." Just as he anticipated, his runs created spaces for his fellow teammates, as midfielder OHORI Ryonosuke (#14) utilised the open space to initiate attacks.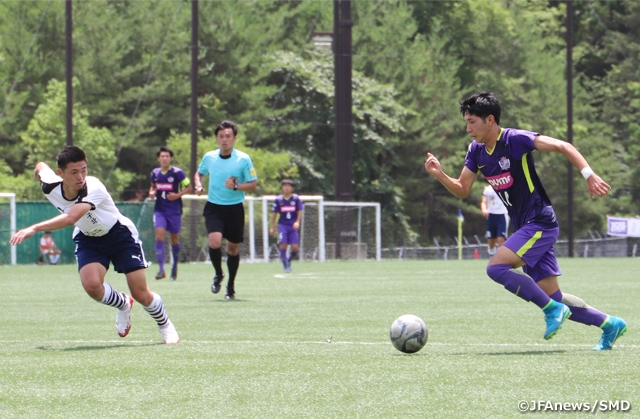 Although the team struggled against Yonago Kita's defence where they switched their marksmen seamlessly while utilising the offside traps effectively, Hiroshima managed to change the momentum after earning a free kick in front of the penalty area in the 22nd minute. Forward TANADA Hayate (#20), reacted to the cross delivered by Ohori, headed home the ball to give his side the opening goal. Hiroshima continued to show great ball movements, as they utilised the width of the pitch to anticipate for their opportunity. In the 28th minute, Ohori received a through ball from Tanada and scored the second goal. Ohori went on to score another goal in the 38th minute as he lobbed the ball over the goalkeeper's head, further extending their lead against Yonago Kita.
Despite Hiroshima's dominance in the first half, the team did not lose their concentration. Katsura later noted, "The game does not end in the first half. We entered the second half, as though the game just started from scratch." After seeing the Yonago side create an opportunity in the 23rd minute, where midfielder SANO Kaishyu (#7)delivered a long feed to their forward OKADA Yamato (#10), who launched a shot that shook the woodworks, Hiroshima made the adjustments in their defence in the second half. In the 54th minute, Hiroshima's hotline between Katsura and Ohori combined well together, allowing Katsura to strike the fourth goal of the team. Katsura later reflected that "It was a combination play we've been working on."
In the 73rd minute, following a water break, Hiroshima's midfielder MATSUMOTO Hiroya (#4) caught Yonago off guard and scored their fifth goal. Yonago Kita stayed eager to show off their pride, as Sano kept his aggression on and struck the cross bar with an effort from long-distance. However, the team could not find the back of the net before the final whistle. Hiroshima Youth won the Chugoku-Region Derby to mark their second consecutive win.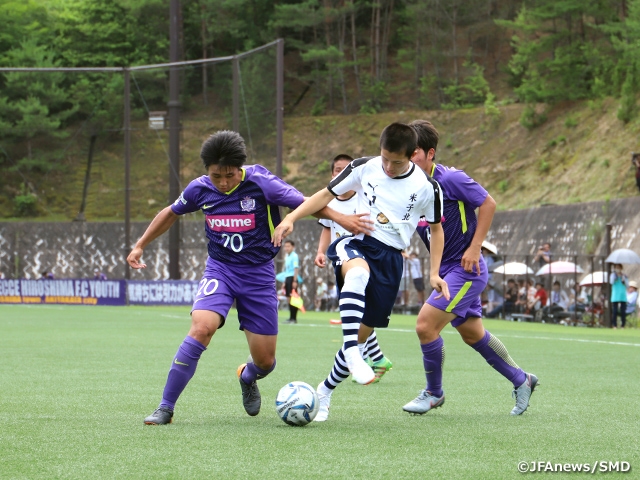 Coaches' and Players' Comments
SAWADA Kentaro, Coach (Sanfrecce Hiroshima F.C Youth)
It was good that we managed to score three goals in the first half, but there were still many scenes where our goal was threatened. That is why I urged my players to reset their mindset during halftime. Our opponents came close to scoring early in the second half, but we performed well overall. The team showcased great quality in their passes. With each match played, we've managed to shape up the team's foundation. There are still lots to work on in terms of quality of our plays, but we've seen more variations in our offensive and defensive plays. The players have shown their intention in their plays as well, so we just need to keep building up on this platform.
MF #10 KATSURA Rikuto (Sanfrecce Hiroshima F.C Youth)
The opponents utilised the offside traps effectively, so it was hard to penetrate the spaces behind the defence line, especially compared to the last Sec. However, I stayed persistent in attacking the space, which allowed my teammates to utilise the space created from my runs. We faced tough matches in our early matches of the league, but we have grinded to those matches to earn points. Our offence lacked creativity at first, but we have been able to showcase many combination-plays as of late. We are in contention for the league title, so we would like to win the two matches of this second period.
NAKAMURA Shingo, Coach (Yonago Kita High School)
The players of the Hiroshima Youth exploited our weakness in the match today. Even our substitutes weren't allowed to play freely, as we saw HARADA Kai (MF #11) being denied from initiating attacks from his dribbles. Our opponents were critical in terms of converting their opportunities and did a great job to contain our plays. They made it look easy in scoring five goals, but today I have to say that they were at a different level. The players gave all they've got, but we can't end it like this. We will work hard so that we can earn better results when we face them again.
FW #10 OKADA Yamato (Yonago Kita High School)
We have been conceding goals in our recent matches, so we entered the match with the intention to keep a clean sheet, but we conceded early in the match. We couldn't win the fifty-fifty balls, nor could we force turnovers from our collective approach. I have to admit that our opponents were much better than us. However, I could have changed the momentum of the match if I scored the opportunity in the first half. It reminded me the importance of taking each shot as if it is the deciding shot of the match. I am given this number 10 jersey from this year, so I must do a better job of leading the team. I will do my best to score as many goals so that I can contribute for the team.
Results of other matches
Hannan University Senior High School 1-2 (0-2, 1-0) Vissel Kobe U-18
Kyoto Sanga F.C. U-18 1-1 (0-1, 1-0) Gamba Osaka Youth
Higashi Fukuoka High School 0-3 (0-2, 0-1) Cerezo Osaka
Avispa Fukuoka U-18 1-2 (1-1, 0-1) Nagoya Grampus U-18
Second place Vissel Kobe U-18 (Hyogo) faced Hannan University Senior High School (Osaka), as their forward IZUMI Toya (#11) scored two goals to give them the win that took them into the lead of the league. Kyoto Sanga F.C. U-18 (Kyoto) and Gamba Osaka Youth (Osaka) both scored a goal apiece to share a point each. Cerezo Osaka U-18 (Osaka) squared off against Higashi Fukuoka High School (Fukuoka) in an away match where their midfielder MATSUMOTO Nagi (#20) opened the scoring in the 34th minute, which was followed by two more goals as Cerezo won with a convincing style. After losing their previous match, Avispa Fukuoka U-18 (Fukuoka) aimed to get back on track against Nagoya Grampus U-18 (Aichi) as they scored the opening goal but allowed Grampus to come from behind and lost consecutive matches.

Tournament Period:Sat. 7 April 2018 ~ Sun. 9 December 2018