NEWS
SAMURAI BLUE (Japan National Team) arrives at Rostov ahead of Belgium Match
01 July 2018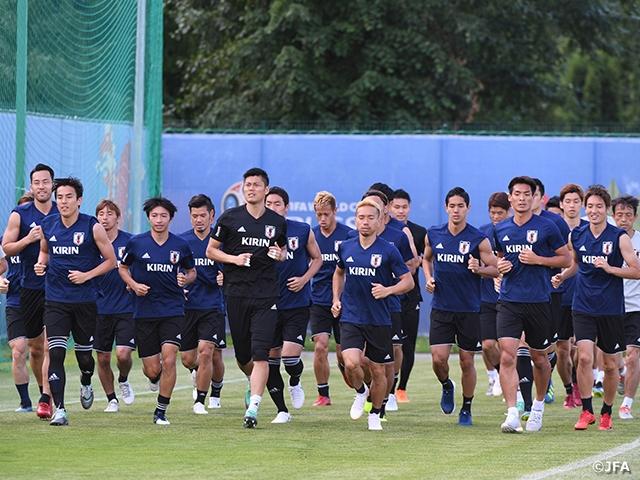 The SAMURAI BLUE (Japan National Team) who clinched their first round of 16 appearance in two years arrived at their next match site Rostov-on-Don on the evening of Saturday 30 June, following a training session held behind closed doors at their basecamp Kazan.
With competitions at the 2018 FIFA World Cup Russia entering the knockout phase, Japan will face their next challenge with a three-day rest following their final group stage match against Poland. Similar to their previous match site Volgograd, the temperature at Rostov-on-Don is also forecasted to be blazing hot.
Coach NISHINO Akira emphasised on the players' recovery and conditionings in their training session at the campsite.
Precautionary measures were taken for OKAZAKI Shinji (Leicester City Football Club), who injured his right ankle, as he trained separately from the team inside the facility. The remaining 22 players went through extra loads of running on this day, followed by stretching and core trainings held at the centre of the pitch. The session continued on behind closed doors, but the day saw a shorter session than usual.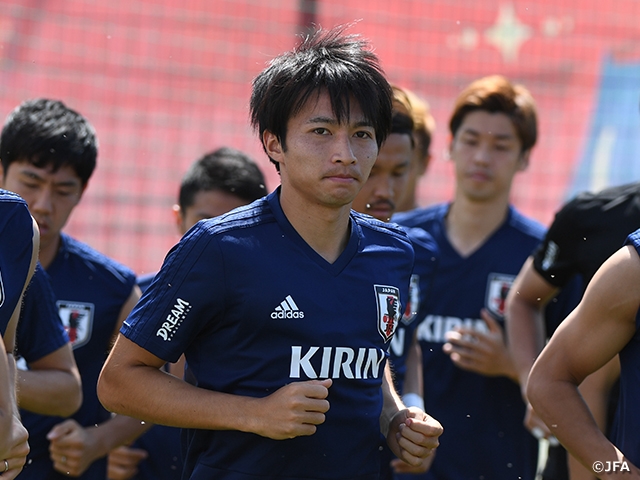 After the training session, Coach Nishino appeared in front of the media as he mentioned, "We just need to organise ourselves. We will make the necessary adjustments ahead of the match." The coach also shared that their tactical trainings simulating the Belgium match will be held in their official training session scheduled the day before the match at the match venue.
Regarding their next match's opponent, Belgium, the coach stated, "For them, this is their start in this World Cup." Expecting the Group G leaders who has won all three matches thus far to showcase a even higher quality at the knockout stage.
Japan has reached the round of 16 in the 2002 and 2010 World Cup but failed to reach the quarterfinals in both occasions. The coach shared his analysis that the previous teams has "Exhausted themselves" at the group stage. He continued that, "This team will have to approach the round of 16 with a different mental perspective."
The coach touched on the fact that the team ran down the clock in the last 10 minutes of the Poland match, "We chose to save our energy in that 10 minutes, so we should be able to run that much extra," hinting that the team will approach their next match with a more aggressive play style where both the players and the ball will be in constant motion.
YOSHIDA Maya (Southampton FC) has the experience facing the Belgian defender Toby Alderweireld who plays for the Tottenham Spurs in the Premier League. He alerted that the Belgium side "has dramatically improved their passes from their defence line. They are a much better team than last year."
OSAKO Yuya (Werder Bremen) also made it clear that their opponents will be a totally different team since Japan has faced them last November during their European tour. "We will face a different team under a unique atmosphere of the World Cup. You never know what happens at the World Cup. In order for us to win, we will have to challenge our opponents and try to exploit their flaws."
The match will kick-off on 21:00, Monday 2 July at the Rostov Arena.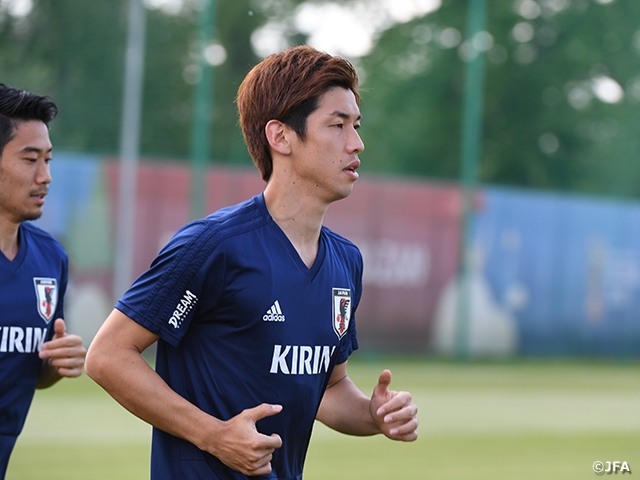 Players' Comments
FP #7 SHIBASAKI Gaku (Getafe C.F.)
It will be important for us to put up an equal fight against the players we match up with. We will all be assigned with a player to mark, for instance, in my case, I must contain the midfielders from taking the initiative of the match. I must do whatever possible to take control of the midfield area. If each one of us head into the match with that kind of intention, we should be able to gain our momentum in the match.
FP #15 OSAKO Yuya (Werder Bremen)
In a good way, we are not satisfied with our current state. Although the media and the fans were expecting us to lose out of the group stage, we have entered the World Cup with the intention to make it through to the quarterfinals. The fact we have managed to advance to the knockout stage is a result of us believing in ourselves. It seems like most of the people are expecting us to lose in the next math, but we still believe in ourselves to make it through. At this point, all we can do is to believe in ourselves and the team. I will give everything I've got in the next match.
FP #22 YOSHIDA Maya (Southampton FC)
Belgium is a very talented team who has managed to get through their group in a breeze. Every player on their squad has experience in major international tournaments. In a tournament like this, small details can produce a major difference. Our opponents consist players like DE BRUYNE, LUKAKU, and HAZARD. We must stay alerted for the entire 90 minutes of the match. We also must function as units or groups in order to defend their powerful offence. It will be difficult for us if the opponents send in simple balls to Lukaku and allowed to showcase his strength, so we must contain them before they make their move up front.

HONDA Keisuke (CF Pachuca/Mexico) Interview

SHIBASAKI Gaku (Getafe C.F./Spain) Interview
OSAKO Yuya (Werder Bremen/Germany) Interveiw

YOSHIDA Maya (Southampton FC/England) Interview
Schedule
2018 FIFA World Cup Russia
Tue. 19 June
2-1
1st Match vs Colombia (Mordovia Arena)
Wed. 20 June
PM
Training
Thu. 21 June
PM
Training
Fri. 22 June
AM
Training
Sat. 23 June
PM
Official Conference・Official Training
Sun. 24 June
2-2
2nd Match vs Senegal (Ekaterinburg Arena)
Mon. 25 June
PM
Training
Tue. 26 June
AM
Training
Wed. 27 June
PM
Official Conference・Official Training
Thu. 28 June
0-1
3rd Match vs Poland (Volgograd Arena)
Fri. 29 June
TBC
Training
Sat. 30 June
TBC
Training
Sun. 1 July
TBC
Official Conference・Official Training
Mon. 2 July
21:00
Round of 16 vs Belgium (Rostov Arena)
*Local Time
*The schedule is subject to change due to the team condition, the weather, etc.
2018 FIFA World Cup Russia
Tournament Dates: 14 June - 15 July 2018

Round16
Mon. 02 July Kickoff at 21:00 vs Belgium National Team (Rostov Arena)
(Tue. 03 July 3:00 Japan time)