NEWS
SAMURAI BLUE (Japan National Team) tunes up ahead of their match against Belgium
30 June 2018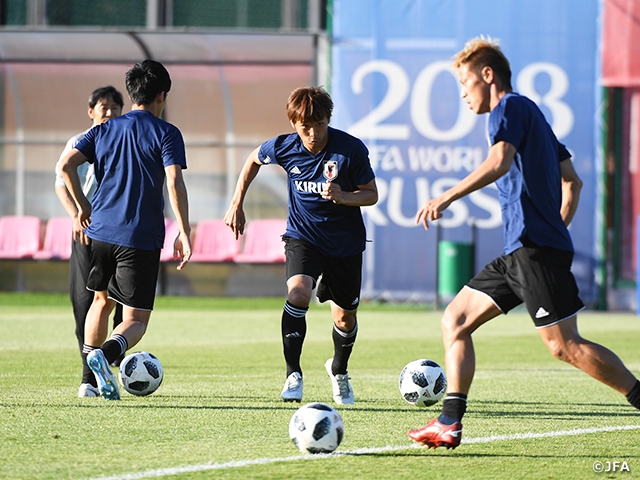 On Friday 29 June, one day after they clinched their spot into the round of 16 at the 2018 FIFA World Cup Russia, the SAMURAI BLUE (Japan National Team) held a training session at their basecamp in Kazan, ahead of their first match in the knockout stage against Belgium.
Following their match against Poland, the team left Volgograd in the evening on a charter flight to Kazan. After the players were given a half day rest, the team resumed its training in the evening.
Despite losing to Poland 0-1 in their final group stage match, with Colombia beating Senegal 1-0, Japan advanced to the next round with a slight advantage in the fair-play-points against Senegal. In their first match at the round of 16, Japan will face a Belgium side who topped Group G with three consecutive wins.
The first 15 minutes of the session was opened to the media, but the players who started in the Poland match, plus two of the three substituted players, HASEBE Makoto (Eintracht Frankfurt) and OSAKO Yuya (Werder Bremen), did not show up on the field, as they conducted a light recovery session inside the facility before wrapping up the session early.
All other players including INUI Takashi (Real Betis) who entered the match as a substitute, were seen stretching at the centre of the pitch and going through core trainings before conducting drills involving juggling, heading, and passing the ball. Both of the reserve goalkeepers, NAKAMURA Kosuke (Kashiwa Reysol) and HIGASHIGUCHI Masaaki (Gamba Osaka) were seen joining the drills as well. The session was then closed to the media as the team went through their tactics.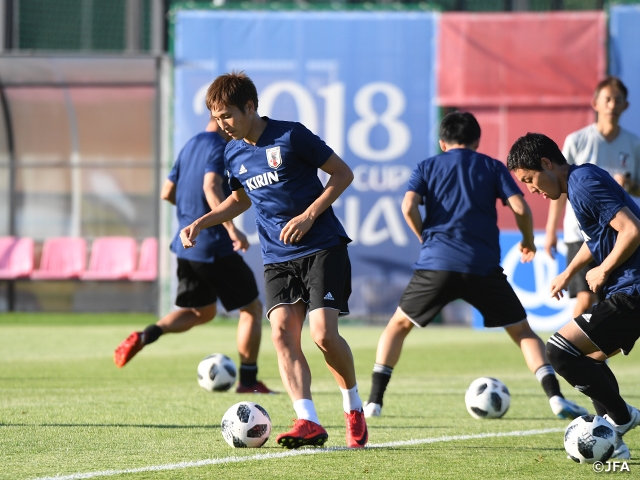 In their last match, Japan elected to run the clock down despite trailing to Poland by a goal, after they were informed that Senegal was also trailing 0-1 against Colombia. With their advancement into the round of 16 at stake, the team gave up the match and decided not to take any risks to concede further goals. Coach NISHINO Akira later described that the decision was against his will, and the team held a meeting one day after the match.
Team captain, Hasebe described the meeting as, "In the meeting everybody shared their thoughts, the coach, the players, and the staffs. I felt a positive vibe and a strong bond being built ahead of our next match."
Japan has already played against Belgium last November during their Europe tour, where they lost the match 0-1. Hasebe shared his sense of urgency, "There were some aspects we managed to do well, but if we take the same approach, we cannot win."
The team will travel to the match site, Rostov-on-Don, following their training session in Kazan on Saturday 30 June.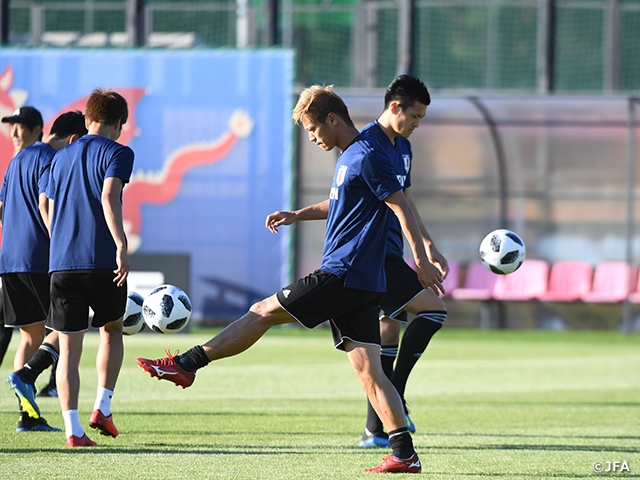 Players' Comments
FP #2 UEDA Naomichi (Kashima Antlers)
I am glad we made it through the group stage, but our next match is fast approaching, so we must reset our minds ahead of the next step. This time we will be facing the real version of Belgium. I will prepare myself 100% and do my best to help the team.
FP #5 NAGATOMO Yuto (Galatasaray S.K.)
If we think that we are exhausted, our body reacts to that thought and actually gets tired, so we must control our brain. I am focused to stay positive without being sensitive to our surroundings. I will not get nervous and will not be negative neither. If we have won our match against Poland, we could have been overly confident, so the fact we lost the match reminded ourselves that it isn't easy. It gave us an opportunity to prepare our minds while adding a sense of urgency at the same time. We entered the round of 16 in 2010 as well, but this time I am really looking forward for it. I believe in our potential and I have a strong intention that we can make it through.
FP #8 HARAGUCHI Genki (Fortuna Dusseldorf)
Given an opportunity to sit out a match gave me enough time to recover my fitness level. I can enter our next match in my top form. Regarding yesterday's match, anybody who lives in a competitive world while representing their country would understand what went through our minds. I don't think we should be ashamed of what we did. I am proud that we made it through such a strong group. Everyone on this team is doing their best for the team victory, instead of pursuing their individual goals.
FP #17 HASEBE Makoto (Eintracht Frankfurt)
We have gone through so much in this past two months, including a sudden coach change. The fact we managed to advance through to the round of 16 under such pressure and circumstance gives us great confidence. We don't know who will start in the next match, but I would like to think of the team first. Japan has never made it into the quarterfinals, and we are given the opportunity to challenge such feat in great condition. I feel very fortunate and at the same time looking forward for this opportunity.
FP #19 SAKAI Hiroki (Olympique de Marseille)
Yesterday's match was not anything unusual. Anybody, regardless of their occupation, who has strived to master their profession would understand what we did. We just have to prove ourselves by putting up good results. We were booed by the crowd, but we weren't influenced by it. Under that circumstance, we knew a message would be underlined in the substitution, so we just believed in it. Belgium was such a great team already when we faced them last November, and they have improved even more as a team since then. Tactics can carry us so far and we must stick to the basics. We have never reached the quarterfinals, so we would like to achieve that this time.

NAGATOMO Yuto (Galatasaray S.K./Turkey) Interview

INUI Takashi (Real Betis/Spain) Interview

HASEBE Makoto (Eintracht Frankfurt/Germany) Interview
Schedule
2018 FIFA World Cup Russia
Tue. 19 June
2-1
1st Match vs Colombia (Mordovia Arena)
Wed. 20 June
PM
Training
Thu. 21 June
PM
Training
Fri. 22 June
AM
Training
Sat. 23 June
PM
Official Conference・Official Training
Sun. 24 June
2-2
2nd Match vs Senegal (Ekaterinburg Arena)
Mon. 25 June
PM
Training
Tue. 26 June
AM
Training
Wed. 27 June
PM
Official Conference・Official Training
Thu. 28 June
0-1
3rd Match vs Poland (Volgograd Arena)
Fri. 29 June
TBC
Training
Sat. 30 June
TBC
Training
Sun. 1 July
TBC
Official Conference・Official Training
Mon. 2 July
21:00
Round of 16 vs Belgium (Rostov Arena)
*Local Time
*The schedule is subject to change due to the team condition, the weather, etc.
2018 FIFA World Cup Russia
Tournament Dates: 14 June - 15 July 2018

Round16
Mon. 02 July Kickoff at 21:00 vs Belgium National Team (Rostov Arena)
(Tue. 03 July 3:00 Japan time)