NEWS
Despite their defeat to Poland, SAMURAI BLUE (Japan National Team) advances to the round of 16 in the 2018 FIFA World Cup Russia
29 June 2018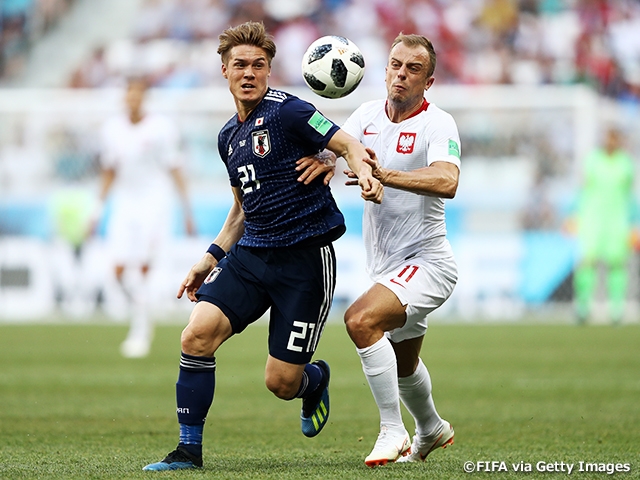 The SAMURAI BLUE (Japan National Team) advanced through to the round of 16 in the 2018 FIFA World Cup Russia. On Thursday 28 June, Japan lost their third group stage match against Poland 0-1 at Volgograd Arena, but with Colombia's 1-0 win over Senegal, Japan clinched second place in Group H, making their third overall advancement into the second stage. It will be their first appearance in the round of 16 since 2010.
After the third group match, Japan and Senegal were tied with one win, one draw, and one loss. The two teams were also tied in goal differentials and total goal scored as well. Due to FIFA's tiebreaker regulation, Japan's advancement was determined by the fair-play-points, where the team with the fewest violations wins the tiebreaker. As a result, Japan clinched second place, while Senegal was eliminated after finishing third. It was Colombia who topped the group with their six points after winning two matches in a row after dropping their first group stage match against Japan. Poland, who earned three points in their final match, left the tournament in fourth place.
Japan entered the match with the advancement into the round of 16 at stake. Needing a tie or better to secure their spot, Japan rotated six players from their second group stage clash against Senegal four days ago. With MAKINO Tomoaki (Urawa Reds) replacing SHOJI Gen (Kashima Antlers) in the defence line, YAMAGUCHI Hotaru (Cerezo Osaka) was paired with SHIBASAKI Gaku (Getafe C.F.) in the defensive midfield position. SAKAI Gotoku (Hamburger SV) was positioned in the right flank while USAMI Takashi (Fortuna Dusseldorf) started in the left flank. OKAZAKI Shinji (Leicester City Football Club) and MUTO Yoshinori (1.FSV Mainz 05) started as the two strikers in their 4-4-2 formation.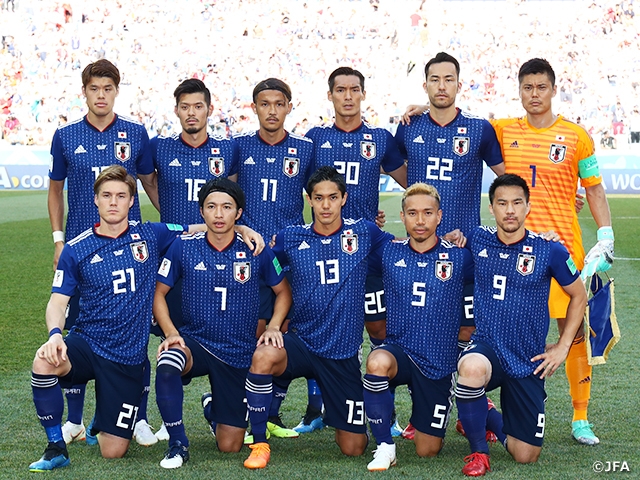 With the summer heat sizzling in the stadium, the Japanese side came out showcasing a defensive approach as they laid a block in the central area to deny any threats to be created. In a match where Japan cannot afford to lose, they applied quick pressure once the Poland side possessed the ball. In offence, Okazaki and Muto both attempted a shot at goal in the 12th and 13th minute respectively.
Poland, who has already been eliminated from the contention, also entered the match with six players rotated from their previous match, showcased a passive approach as they anticipated counterattacks from their solid defence.
In the 21st minute, Kamil GLIK made an effort at goal off a corner kick, followed by Kamil GROSICKI's attempt from a cross in the 33rd minute, but in both occasions, Japanese goalkeeper KAWASHIMA Eiji (Football Club de Metz) was there to make the save.
Japan struggled to create effective attacks as they failed to combine well with each other. In the 35th minute, Sakai Gotoku delivered a pass to Usami in the right flank, who made an attempt at goal, but his shot was denied by the goalkeeper.
The match entered halftime scoreless, and Japan made their first move on the 47th minute, where OSAKO Yuya (Werder Bremen) entered the match for the injured Okazaki. Anticipating to create chances through their ball possessions, in the 53rd minute, Usami penetrated the left side, struck a shot after cutting into the centre, but the shot was blocked. Initiating a counterattack from this play, Poland earned a free kick deep in the Japanese territory. The Polish side capitalised on this freekick as Jan BEDNAREK volleyed the ball into the net.
From this point on, the Japanese side were seemingly out of gas, as they struggled to win the second balls and started to see the opposing side dominating the match. In the 74th minute, Grosicki delivered a cross to Robert LEWANDOWSKI in the centre, who came scorching to take a shot, but his attempt went just over the cross bar. In the 81st minute, Grosicki penetrated the right side before taking a shot, and Makino's attempt to block the shot potentially could have gone into the goal, but goalkeeper Kawashima was there to parry the ball out of bounds.
In the 82nd minute, HASEBE Makoto (Eintracht Frankfurt) was brought in for Muto to play as an anchor, shifting Shibasaki and Yamaguchi into an inside-midfield position, while INUI Takashi (Real Betis) and Sakai Gotoku stayed in the flanks, and Osako served as the lone striker.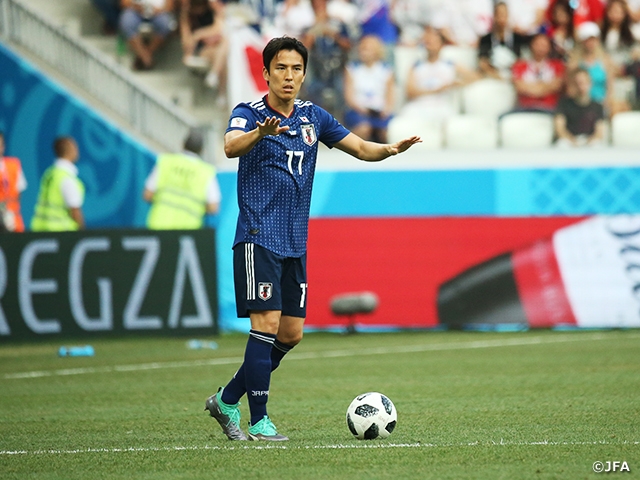 With Poland content to keep their 1-0 lead, and Japan acknowledging that Colombia was leading Senegal 1-0 in the other Group H match, both teams did not commit themselves to take risks as the time winded down with Japan keeping the possession of the ball. Japan earned their spot into the next round as a result of a fair-play-points tiebreaker against Senegal.
Japan will now face the Group G leaders, Belgium on Monday 2 July at Rostov-on-Don, as Belgium clinched first place in their group after beating England 1-0 on the same day.
Coaches' and Players' Comments
NISHINO Akira, Coach of SAMURAI BLUE (Japan National Team)
It was very tough to make the decision to finish the match the way we did. With the two matches taking place simultaneously, there could have been a sudden change in either matches, but at the end, I made the decision to secure our spot with the help of the results of other matches. It is very hard to digest as an individual and as a team that we decided to accept and hold onto the losing result. We put ourselves in such a tough situation, and I was forced to make a choice which was not in our initial game plans. Once the decision was made, I sent out Hasebe to deliver the message to all the players on the pitch, that we cannot afford to lose 0-2 and to keep their balance by playing a 4-1-4-1 formation to kill the remaining time.
When playing in the World Cup, I would like to think that this is one way of playing the match. If the decision gets paid off, we as a team would like to think that we have won in the competition. It is the first time in my career that I felt that this type of football can exist. This might have been the ultimate decision when facing the verge of advancement and elimination in the group stage. Until this point, we have taken an aggressive approach throughout, and I feel like luck was on our side. It was against my will to make my players play that way and to make the crowd upset. I will make sure to explain everything thoroughly to the players.
We have earned ourselves an opportunity to experience the round of 16 once again. In the past two World Cups, we have exhausted ourselves in the group stage. We might be in a similar situation, but I want my players to keep a stronger spirit and intention against the opposing teams. I want the team to approach the matches differently than they have in their past attempts. We cannot be afraid of our opponents, and we must have the confidence. We would like to enter the match with a strong mentality.
FP #11 USAMI Takashi (Fortuna Dusseldorf)
This was a unique experience. Especially the last 10, 15 minutes. I feel that this can only happen at the World Cups. We wanted to win the match, but if we get countered and concede another goal, everything could have ended. As a result, we made it through to the next round, so I would like to believe that what we have decided at that situation was the best decision we could have made.
FP #17 HASEBE Makoto (Eintracht Frankfurt)
We are here to get results, so I am happy that we earned what we came for. Our initial plan was clear, as we entered the match with the intention to win the match. However, we conceded the opening goal, and we were informed that Colombia has also scored a goal. The second I was called up as a substitute, I had to understand my role. It must have been difficult for the players on the pitch to accept the plan, but I knew that I had to make it clear. I made sure everyone understood the situation.
FP #20 MAKINO Tomoaki (Urawa Reds)
I was not nervous as much, because we have worked hard until this point. It was unfortunate that we couldn't win the match, but I am glad we made it through to the next stage. I personally faced many challenges today, so it became a match to remember. My job was to keep Lewandowski contained, and I feel like I managed to do just that.
Adam NAWALKA, Coach (Poland National Team)
It was a difficult match. We were criticised for the first two matches, so it was important for us to win this third match. Japan is a highly skilled team with strong mentality. They showcased their toughness in their match against Senegal, where they came from behind twice in that match. We knew we were facing a tough and dangerous team today, so focused on containing their strong points while anticipating to create counterattacks. We wanted to create more chances, but we were satisfied with the 1-0 result, and Japan seemed to be happy with that result as well. This World Cup finished in an unfortunate result for us, but I hope the players has gained a valuable experience.
Schedule
2018 FIFA World Cup Russia
Tue. 19 June
2-1
1st Match vs Colombia (Mordovia Arena)
Wed. 20 June
PM
Training
Thu. 21 June
PM
Training
Fri. 22 June
AM
Training
Sat. 23 June
PM
Official Conference・Official Training
Sun. 24 June
2-2
2nd Match vs Senegal (Ekaterinburg Arena)
Mon. 25 June
PM
Training
Tue. 26 June
AM
Training
Wed. 27 June
PM
Official Conference・Official Training
Thu. 28 June
0-1
3rd Match vs Poland (Volgograd Arena)
Fri. 29 June
TBC
Training
Sat. 30 June
TBC
Training
Sun. 1 July
TBC
Official Conference・Official Training
Mon. 2 July
21:00
Round of 16 vs Belgium (Rostov Arena)
*Local Time
*The schedule is subject to change due to the team condition, the weather, etc.
2018 FIFA World Cup Russia
Tournament Dates: 14 June - 15 July 2018

Group stage
1st Match Tue. 19 June Kickoff at 15:00 vs Colombia National Team (Mordovia Arena)
(21:00 Japan time)
2nd Match Sun. 24 June Kickoff at 20:00 vs Senegal National Team (Ekaterinburg Arena)
(Mon. 25 June, 0:00 Japan time)
3rd Match Thu. 28 June Kickoff at 17:00 vs Poland National Team (Volgograd Arena)
(23:00 Japan time)