NEWS
NADESHIKO Japan wins over New Zealand 3-1
11 June 2018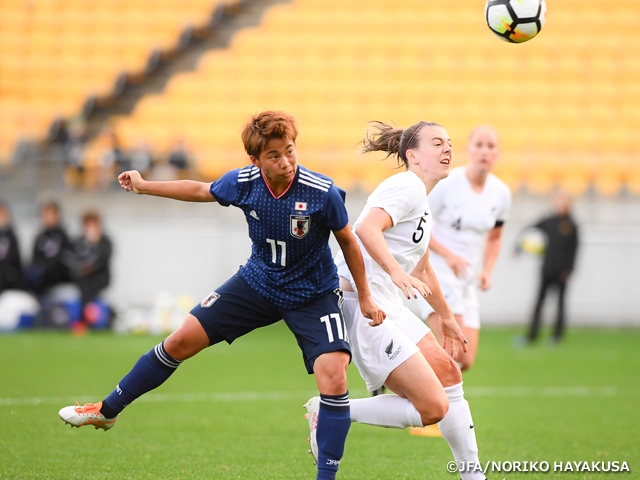 On Sunday 10 June, NADESHIKO Japan (Japan Women's National Team) faced the New Zealand Women's National Team in an international friendly match at Wellington, New Zealand. The team was welcomed with stormy weather since their arrival in New Zealand, limiting their training time ahead of the match. However, the match day brought clear weather, without the usual strong wind of Wellington.
With just one year left ahead of the World Cup, Coach TAKAKURA Asako elected to play a 4-2-3-1 formation for this match against New Zealand. The team fired numbers of shots from the early minutes as HASEGAWA Yui, NAKASATO Yu, and NAKAJIMA Emi made their efforts to threaten the New Zealand goal.
Japan kept their momentum, which led to the opening goal on the 17th minute. Assisted by Nakasato's pass, TANAKA Mina lobbed the ball over the head of the opposing goalkeeper, giving her side a one goal lead. However, just a minute later, New Zealand's Meikayla Moore delivered the equaliser from a corner kick to level the match.
Despite conceding the goal, Japan kept their poise to attack not only from the flanks but from the central area utilising combination plays and long-range shots against a New Zealand side who was taking a defensive approach. In the 34th minute, Tanaka scored her second goal, this time with the assist from SUMIDA Rin, to give her side the go-ahead goal. Tanaka kept on scoring as she completed her hat-trick on the 44th minute when she headed the ball into the net off a ball delivered by UTSUGI Rumi. Tanaka's efforts allowed Japan to enter halftime with a two-goal lead.
The team brought in ARIYOSHI Saori, SHIMIZU Risa, and SAKAGUCHI Moeno in the second half. Despite making her international "A" match debut, Sakaguchi showed no sign of nervousness as she created chances for the Nadeshiko side. In the last 30 minutes of the match, MIURA Narumi made her national team debut in efforts to add on to the scoreboard but came short from finding the net.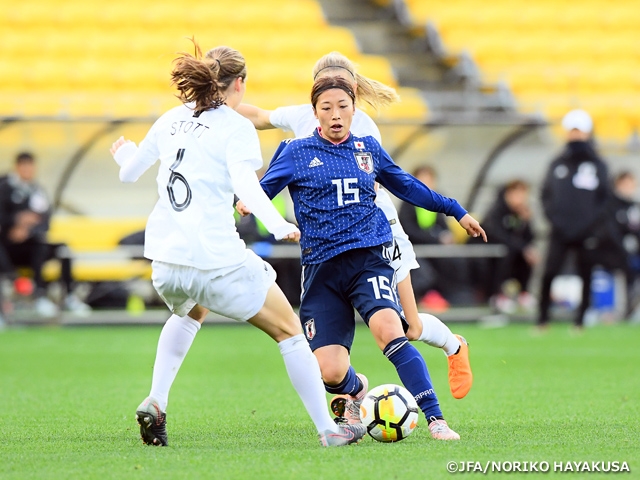 Japan kept their dominance in the match, but the second half remained scoreless, as the match ended with a final score of 3-1 in favour of Japan.
Coach and Players' Comments
TAKAKURA Asako, Coach of Nadeshiko Japan (Japan Women's National Team)
Facing a New Zealand side who came out with a defensive approach, many of our players made their efforts to create opportunities. There were stretches where we couldn't find the goal, but in moments where the creativity of our players synchronised, we managed to score goals. Even though we dominated the match for the most part, we struggled against the strong and fast vertical attacks showcased by the New Zealand side. We still must improve in many aspects.
DF #4 KUMAGAI Saki (Olympique Lyonnais/France)
The goal we conceded was very regretful. We managed to get creative in our attacks to create opportunities, and as a result we scored three goals. However, even though we created many chances, the quality of our shots and final touches still needs to improve. If we want to play against the top flights in the World, we must be stricter in many aspects. In this tour, we were given very little time to prepare, but everyone kept their focus and finished the tour with a victory, so I am proud of that.
MF #7 NAKAJIMA Emi (INAC Kobe Leonessa)
When facing a team who's parking the bus, change of pace is important, but we also must penetrate with our dribbles, long-range shots, and give-and-goes to create chances. I wanted to attack those one-on-one situations aggressively, but I couldn't commit myself 100% in those occasions. We need to take shots quicker after getting by the opposing defenders, but the way we created chances from direct passes were signs of us playing good football.
MF #15 SAKAGUCHI Moeno (Albirex Niigata Ladies)
Although it was my first time playing, I wasn't nervous. I was given the opportunity to play upfront, so I really wanted to score. I played with no hesitation, and despite making some mistakes, I played with the intention to receive the ball as much as possible, knowing that my strong point can be showcased if I get involved as much as possible. Experiencing the strength and quickness of players abroad is something necessary for me to improve myself in the long run, so this was a great experience for me.
FW #11 TANAKA Mina (Nippon TV Beleza)
The first goal was a luck goal, but the second and third goals were a result of winning the duel against the opposing defenders. I feel like still could have score more goals in the second half, so I am not satisfied with the result. I entered today's match with a feel of redemption from the Women's Asian Cup. I would like to keep in mind of that feeling and the emotions of the players who are not on the pitch. I will do my best to show a performance like today in our next USA tour.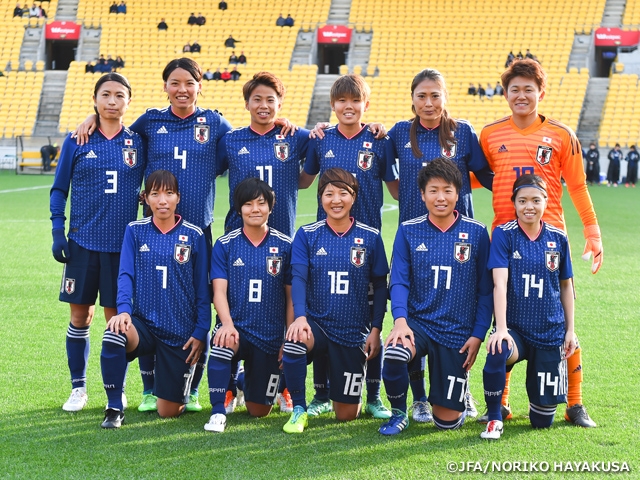 Schedule
Tue. 5 June
PM
Training
Wed. 6 June
AM/PM
Training
Thu. 7 June
AM/PM
Training
Fri. 8 June
AM/PM
Training
Sat. 9 June
TBD
Official Press Conference
PM
Official Training
Sun. 10 June
3-1
International Friendly Match vs vs New Zealand (Westpack Stadium)
*Local Time
*The schedule is subject to change due to the team condition, the weather, etc.
International Friendly Match vs vs New Zealand Women's National Team
Sun. 10 June 2018 Kick-off 15:00
New Zealand/Westpac Stadium
Nadeshiko Japan (Japan Women's National Team) vs New Zealand Women's National Team
For more information