NEWS
SAMURAI BLUE (Japan National Team) loses to Switzerland 0-2, making it two straight loses since Coach Nishino took helm
09 June 2018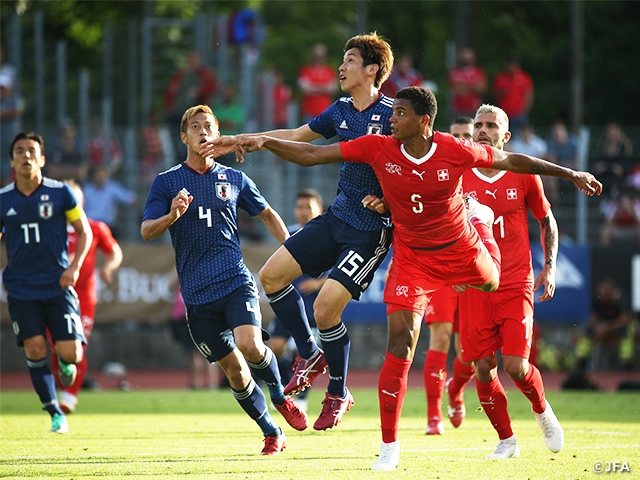 On Friday 8 June, ahead of the 2018 FIFA World Cup Russia, the SAMURAI BLUE (Japan National Team) faced the Switzerland National Team in an international friendly match at Lugano, Switzerland. The team lost 0-2, making it two consecutive loses since Coach NISHINO Akira has been appointed as the head coach.
With their group stage match against Colombia in mind, the team has focused on heightening their adaptability. In their match against Ghana on 30 May, which was the last match in Japan ahead of the World Cup, the team tried out playing three defenders at back, while this time against Switzerland, the team started out playing four defenders, which they have worked on since arriving to Austria.
In this match, KAWASHIMA Eiji (Football Club de Metz) started in goal, with four defenders starting from the right side, SAKAI Gotoku (Hamburger SV), YOSHIDA Maya (Southampton FC), MAKINO Tomoaki (Urawa Reds), and NAGATOMO Yuto (Galatasaray S.K.). HASEBE Makoto (Eintracht Frankfurt) and OHSHIMA Ryota (Kawasaki Frontale) were placed in a defensive midfield role, while the two wingers from Fortuna Dusseldorf, HARAGUCHI Genki and USAMI Takashi were placed in the flanks. OSAKO Yuya (Werder Bremen) was named as the lone striker with HONDA Keisuke (CF Pachuca) playing just beneath him.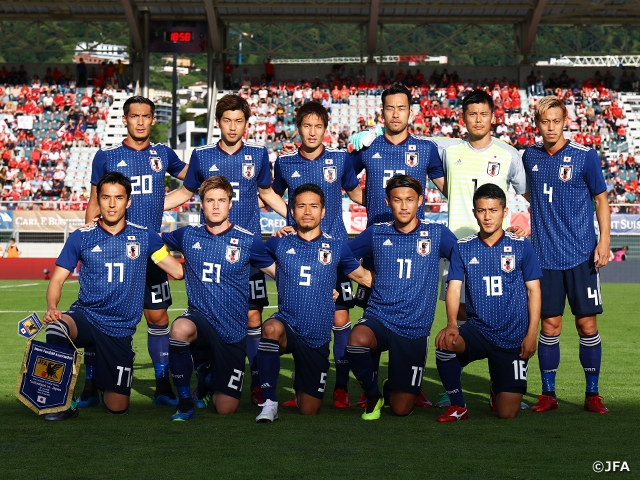 Returning to their usual four-back formation, the team displayed a stable defence, as they were seen containing the opponents and forcing turnovers. In the sixth minute, Hasebe launched a long ball to Nagatomo in the other side, who then delivered a cross to the middle. Osako got to the end of this cross and attempted a shot but failed to convert.
Japan continued to force turnovers in the midfield, initiating counter attacks, but the Swiss side applied quick pressure to deny Japan from making the final pass. In the 38th minute, Sakai delivered a cross towards Osako, who laid the ball to allow Honda to take a shot, but his effort was saved by the opposing goalkeeper.
With the likes of Xherdan SHAQIRI and Breel EMBOLO running through the flanks in their 4-2-3-1 formation, Switzerland has tied against Spain 1-1 in a friendly match held in May, after winning two of their friendlies in March. With their great form heading into the World Cup, Switzerland landed themselves in sixth place in the most recent FIFA rankings.
The Swiss forward Mario GAVRANOVIC threatened the Japanese goal on the 26th minute when he connected with an early cross, followed by a header attempt on the 37th minute when he reacted to a long ball.
The deadlock was broken on the 42nd minute when Embolo penetrated the left flank, before drawing a foul in the penalty box. Ricardo RODRIGUEZ converted the spot kick to give his side a 1-0 lead. For Japan it was their third goal given up from a PK, following their match against Ghana and their match against Mali in March.
Ten minutes into the second half, Japan brought INUI Takashi (Real Betis) in for Usami, while bringing in SAKAI Hiroki (Olympique de Marseille) for Sakai Gotoku. SHIBASAKI Gaku (Getafe C.F.) entered the game in the 70th minute to substitute Oshima, while KAGAWA Shinji (Borussia Dortmund) was brought in for Honda on the 77th minute. However, the team struggled to produce any effective attacks facing the pressure applied by the Swiss side.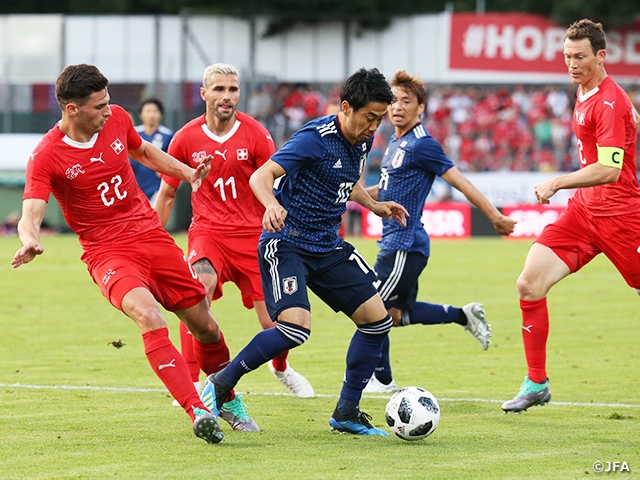 Shaqiri made an attempt on the 73rd minute when he received a cross before penetrating the right side, followed by a long range shot just a minute later.
The second goal came on the 82nd minute when Switzerland initiated a counter attack following a Japanese corner kick. Shaqiri delivered a cross after a give and go at the edge of the box. François MOUBANDGE, who entered the match as a substitute headed the ball into the centre where another substituted player Haris SEFEROVIC awaited to volley the ball into the net.
Japan failed to create major goal scoring opportunities, losing their second match in a row, with a final score of 0-2.
The team will continue its training camp at Seefeld, Austria until they enter Russia on the 13th. They are scheduled to play one more match ahead of the World Cup, as they will face Paraguay on Tuesday 12 June at Innsbruck, Austria.
Japan are grouped with Colombia, Senegal, and Poland in the group stage of the World Cup.
Coaches' and Players' Comments
NISHINO Akira, Coach of SAMURAI BLUE (Japan National Team)
Facing a team like Switzerland, who are very well organised in both offence and defence, we kept our focus on defence, sharing a mutual image on how to react after forcing a turnover, and trained to heighten our reaction as a team. Our defence showed great coordination and the transition from defence to offence were evident as well. However, we still have work to do in the penalty area. We lacked intensity and creativity to penetrate the solid defence displayed by the opposing side and failed to score a goal. Continuing from our match against Ghana, we lacked quality in the attacking third, but the process until that point, the movements, and the approach were not bad in my mind.
The players have picked up their form and it has translated into their high performances in both offence and defence. However, the performance as a group is what we lack now. Especially in the final third. We have managed to implement good transition from defence to offence and vice versa. Although we couldn't score a goal against Switzerland, the overall performance of each individuals are getting closer to where it should be. Continuing from our match against Ghana, the fact we conceded a goal from a PK shows that we still need to respond better, improve technical aspects, and communicate better in the box. It's not just how we conceded, but when we conceded was another reason to be disappointed about.
Just looking at the result, it may look negative, but the team including myself are not being negative at all. We are trying things ahead of the World Cup, and the players are aware of that. We need more variations in our freekicks and corner kicks. We need to create more chances and convert those chances. Within this limited time, we will challenge to work on changes and restarts. We will remain positive.
FP #20 MAKINO Tomoaki (Urawa Reds)
We played better defence than we did against Ghana. However, we must improve on how and when we conceded those two goals. We were able to solidify our three-back and four-back formations to a certain extent, so it was a positive loss in my mind. We must be more creative in offence and heighten our quality in the final third.
FP #17 HASEBE Makoto (Eintracht Frankfurt)
In order to gain confidence in what we have been working on, we wanted a win, so this result is very disappointing. Although we have improved on our defence, the way we conceded off a PK and a counter attack following our own corner kick shows our weakness in critical moments. Despite creating great opportunities from turnovers in the attacking third during these two matches, it was clear that we lacked creativity and quality in offence. We must improve our offence, and we will work on that within the limited time frame.
Vladimir Petković, Coach of Switzerland National Team
It was not an easy game, as we struggled to find our rhythm in the early minutes, but once we found our rhythm we started to perform well. Our response to various situations were good, and we managed to display a solid match, just as we did against Spain. The fact we kept a clean sheet was very important. We were very focused and showed quality defence as a team. We have obtained great results from this two-week training camp.
Schedule
Sun. 3 June
PM
Training
Mon. 4 June
PM
Training
Tue. 5 June
PM
Training
Wed. 6 June
PM
Training
Thu. 7 June
PM
Official Training
Fri. 8 June
0-2
International Friendly Match
vs Switzerland (Stadium Cornaredo)
Sat. 9 June
PM
Training
Sun. 10 June
PM
Training
Mon. 11 June
PM
Official Training
Tue. 12 June
15:05
International Friendly Match
vs Paraguay (Tivoli Stadion)
Wed. 13 June
AM
Training
Thu. 14 June
PM
Training
Fri. 15 June
PM
Training
Sat. 16 June
PM
Training
Sun. 17 June
AM
Training
Mon. 18 June
PM
Official Conference・Official Training
2018 FIFA World Cup Russia
Tue. 19 June
15:00
1st Match vs Colombia (Mordovia Arena)
Wed. 20 June
PM
Training
Thu. 21 June
PM
Training
Fri. 22 June
AM
Training
Sat. 23 June
PM
Official Conference・Official Training
Sun. 24 June
20:00
2nd Match vs Senegal (Ekaterinburg Arena)
Mon. 25 June
PM
Training
Tue. 26 June
AM
Training
Wed. 27 June
PM
Official Conference・Official Training
Thu. 28 June
17:00
3rd Match vs Poland (Volgograd Arena)
*Local Time
*The schedule is subject to change due to the team condition, the weather, etc.
2018 FIFA World Cup Russia
Tournament Dates: 14 June - 15 July 2018

Group stage
1st Match Tue. 19 June Kickoff at 15:00 vs Colombia National Team (Mordovia Arena)
(21:00 Japan time)
2nd Match Sun. 24 June Kickoff at 20:00 vs Senegal National Team (Ekaterinburg Arena)
(Mon. 25 June, 0:00 Japan time)
3rd Match Thu. 28 June Kickoff at 17:00 vs Poland National Team (Volgograd Arena)
(23:00 Japan time)