NEWS
SAMURAI BLUE (Japan National Team) trains behind closed doors ahead of Paraguay match
11 June 2018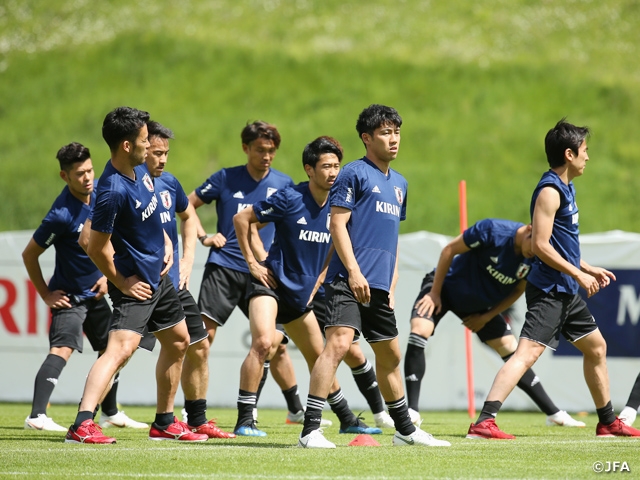 After a short time-off following the international friendly match against the Switzerland National Team, SAMURAI BLUE (Japan National Team) resumed their trainings on Sunday 10 June at Seefelt, Austria, where they had been holding their training camp ahead of the 2018 FIFA World Cup Russia. The team trained behind closed doors as they prepared for their next match against Paraguay in two days, which will be their last international friendly match before the World Cup.
The team was welcomed by beautiful weather with clear skies which are staples for European summer. The players were seen loosening up by stretching and repeating side steps in the first 15 minutes of the training session, which was open to the public.
The doors were then closed to the public as the players were divided into groups of starters of the Switzerland match and the rest. The starters group led by NAGATOMO Yuto (Galatasaray S.K.) and HONDA Keisuke (CF Pachuca) focused on conditioning menus before leaving the practice site early.
Meanwhile the other group including SHIBASAKI Gaku (Getafe C.F.) went through tactics in preparation for the match against Paraguay. Coach NISHINO Akira has publicly said every player on the team would get to play at least one of the two matches against Switzerland and Paraguay.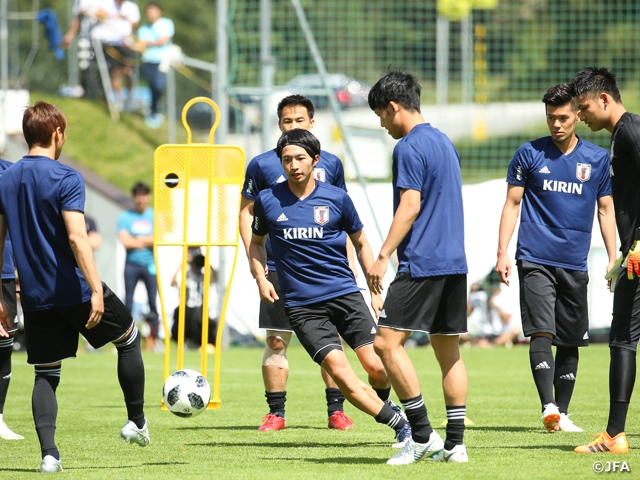 OHSHIMA Ryota (Kawasaki Frontale) remained at the hotel as a precautionary measure for the hip bruise he suffered during the Switzerland match.
Paraguay is ranked 32nd in the current FIFA Ranking while Japan is placed at 61st. Having lost to Venezuela, Paraguay finished 7th in the South American qualifiers and failed to qualify for the World Cup for the second consecutive time. Yet they have appeared in the World Cup eight times, including the 2010 tournament where they reached the quarterfinals. This match against Japan will be their second international friendly this year after losing to the United States 1-0 on the road.
After qualifying for the World Cup last October, Japan has been winless in their five matches where they featured all players including those who are playing abroad. The four defeats including the two matches under Coach Nishino, where the team lost to Ghana 0-2 on Wednesday 30 May and the 0-2 loss against Switzerland two days ago.
"I am feeling a very strong sense of urgency," says Nagatomo on the team performance at the Switzerland match, showing up for this day's practice with his hair dyed blonde "to try to change the momentum and atmosphere." For the Paraguay match, "It's whether we can fight with our soul. That's something I want to show. I will outrun and outplay the opponents. That's where everything starts," Nagatomo added.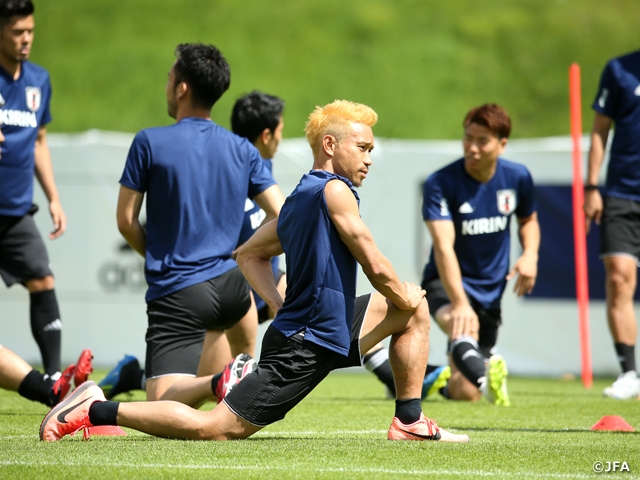 On Monday 11, the team is scheduled to hold an official training session at Tivoli Stadion, the Paraguay match site.
Players' Comments
GK #23 NAKAMURA Kosuke (Kashiwa Reysol)
I think everything can change under a new coach and new players, but the important thing is not to concede any goals. In any matches, the best-case scenario is for us defenders to hold the opponents scoreless. The result is everything, so we need to establish a common understanding to achieve that goal, even if the individual players and the team have different approaches to that.
FP #4 HONDA Keisuke (CF Pachuca)
There is only one more match left for us to try things as a team. We must start getting ready mentally as well. So, we want to make sure that we communicate with each other enough. Now is the phase to heighten our confidence to the level of overconfidence. We must openly discuss everything, including the negatives. It is important to integrate those severe discussions into our confidence. (The Colombia match on) The 19th is when we need to flip all the negativities in one match. The 19th is everything. We want to fill our brains with more of positive words.
FP #5 NAGATOMO Yuto (Galatasaray S.K.)
We held a players' meeting after the Switzerland match, and I personally reflected on the match, too. I have a body ready to fight and legs ready to run, I also have the experience. With all that, I am finally capable of helping the team. We can't win unless the veterans contribute more. It's easy to say, "let the young players play", but the World Cup is not that easy. I am feeling a strong sense of urgency. We must play harder and be stricter during training sessions. The sprints we make in those important moments leads us into those one-on-one situations in front of the opposing goal. We all must be more conscious to make more sprints.
FP #7 SHIBASAKI Gaku (Getafe C.F.)
In our match against Switzerland, there were things we did well defensively, so we must continue that. We discussed what we need to do in cases we can't contain the opponents. I felt that we had issues in making our transition from turnovers, and we discussed the need to improve our quality in the attacking third as well. We have very limited time ahead of the World Cup, but we must do everything possible within our power. I think everyone is feeling the sense of urgency, which in my mind, creates an appropriate amount of nervousness. Our performance in the training sessions reflects our performance at the match. Even if we prepare ourselves 100%, in reality, we may only be able to showcase 70% of our potential. That is why we must prepare well. With good preparation, we can showcase our usual performance, or perhaps perform better that usual.
FP #10 KAGAWA Shinji (Borussia Dortmund)
We want to be able to feel good about our offence by achieving good results. In our match against Switzerland, there were many things we must correct in terms of offence. I must take more risks, too, but there is only so much in what one player can do. So, in today's practice we reviewed how to collectively break down the opposing defence, and we all must continue to try. In our previous match, there were some aspects that were unclear which made it difficult for us to coordinate and turn up the speed. That can change if we improve the timing of our runs and share a mutual understanding of the plays. Correcting the small things can improve the big picture. From there, it's up to the quality of each players and how hard each player can challenge themselves. I want to be the initiating point in that regard.
FP #16 YAMAGUCHI Hotaru (Cerezo Osaka)
First and foremost, I must focus more on not to concede any goals. If we can keep the match at 0-0, we can outplay the opponents in the last 15 minutes, which is the hardest stretch during the match. So, we must be patient until that point. We need to deepen our mutual understandings on how we want to contain the opponents in defence. The most effective way is to force turnovers in the opponents' end and take it from there, rather than initiating long counterattacks from our own end. That will help us save energy, and if we can take shots in those situations, it will give us more time to take a breath as well.

HONDA Keisuke (CF Pachuca/Mexico) Interview

NAGATOMO Yuto (Galatasaray S.K./Turkey) Interview

KAGAWA Shinji (Borussia Dortmund/Germany) Interview
Schedule
Sun. 3 June
PM
Training
Mon. 4 June
PM
Training
Tue. 5 June
PM
Training
Wed. 6 June
PM
Training
Thu. 7 June
PM
Official Training
Fri. 8 June
0-2
International Friendly Match
vs Switzerland (Stadium Cornaredo)
Sat. 9 June
PM
Training
Sun. 10 June
PM
Training
Mon. 11 June
PM
Official Training
Tue. 12 June
15:05
International Friendly Match
vs Paraguay (Tivoli Stadion)
Wed. 13 June
AM
Training
Thu. 14 June
PM
Training
Fri. 15 June
PM
Training
Sat. 16 June
PM
Training
Sun. 17 June
AM
Training
Mon. 18 June
PM
Official Conference・Official Training
2018 FIFA World Cup Russia
Tue. 19 June
15:00
1st Match vs Colombia (Mordovia Arena)
Wed. 20 June
PM
Training
Thu. 21 June
PM
Training
Fri. 22 June
AM
Training
Sat. 23 June
PM
Official Conference・Official Training
Sun. 24 June
20:00
2nd Match vs Senegal (Ekaterinburg Arena)
Mon. 25 June
PM
Training
Tue. 26 June
AM
Training
Wed. 27 June
PM
Official Conference・Official Training
Thu. 28 June
17:00
3rd Match vs Poland (Volgograd Arena)
*Local Time
*The schedule is subject to change due to the team condition, the weather, etc.
2018 FIFA World Cup Russia
Tournament Dates: 14 June - 15 July 2018

Group stage
1st Match Tue. 19 June Kickoff at 15:00 vs Colombia National Team (Mordovia Arena)
(21:00 Japan time)
2nd Match Sun. 24 June Kickoff at 20:00 vs Senegal National Team (Ekaterinburg Arena)
(Mon. 25 June, 0:00 Japan time)
3rd Match Thu. 28 June Kickoff at 17:00 vs Poland National Team (Volgograd Arena)
(23:00 Japan time)