NEWS
Coach Nishino on Switzerland match, "it will be an important test match ahead of the World Cup"
08 June 2018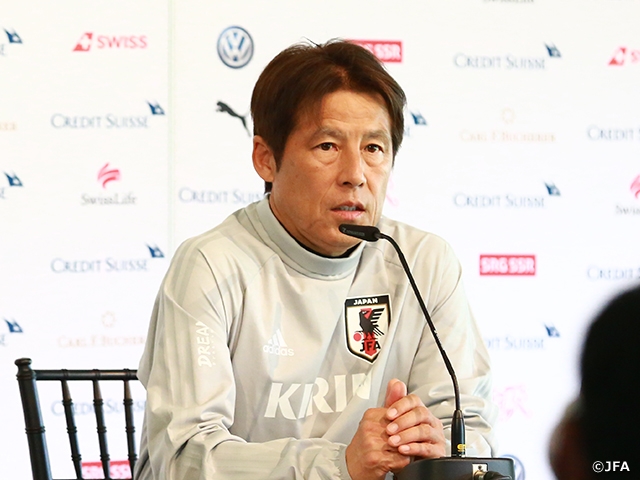 On Wednesday 7 June, Coach NISHINO Akira of the SAMURAI BLUE (Japan National Team) appeared in an official press conference one day prior to their international friendly match against Switzerland and stated, "this match will be an important test match ahead of the World Cup," sharing his intention to get a grasp on the current condition of the team.
With their eyes set on the first group stage match against Colombia on 19 June, the team has been holding a training camp in Seefeld, Austria since 2 June, in preparation for their sixth consecutive, sixth overall appearance in the World Cup.
Coach Nishino spoke of his expectation towards the team, "the players' condition has improved each day during our camp in Austria. The players have also nurtured a common understanding on where the team wants to be and how we want to approach the matches at the World Cup. I am hoping that the players can showcase that tomorrow."
In his first match after taking the helm, Coach Nishino newly implemented a formation with three defenders at the KIRIN CHALLENGE CUP 2018 against the Ghana National Team. Despite losing the match 0-2, the team has shown its strong intention to create tactical variations. Since arriving to Europe they have also utilised their original four back system as well. In terms of offence, they have continued to work on "strong vertical attack with speed," while working on ways to combine the attack with their ball possession.
The coach explained his approach, "we must keep an intention to create strong vertical attacks with speed and the pressure must be felt by the opponents. We need to anticipate those situations when we possess the ball. If this works out, the players' awareness towards vertical space will change depending on the situation and timing."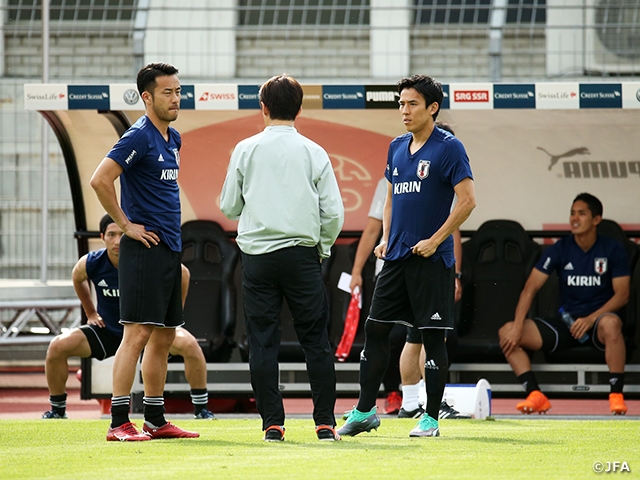 In comparison to Japan who is ranked 61st in the FIFA rankings, Switzerland is ranked 6th. The European powerhouse is well known for its aggressive pressure and collective game plan. However, Coach Nishino welcomed the challenge as he mentioned it is very possible to face similar situations at the World Cup, "the pressure applied by Switzerland is very organised and high level. I will demand my players to possess the ball under such pressure. We need to possess with confidence and try aggressively."
Switzerland is also in preparation for the World Cup, being grouped with Brazil, Serbia and Costa Rica in Group E, where as Japan is grouped with Colombia, Senegal, and Poland in Group H. Following their match against Switzerland, Japan will play against Paraguay on Tuesday 12 in Innsbruck, Austria.
Coach Nishino concluded by saying, "I will think of the best way possible to enter the match against Colombia, after observing tomorrow's match, the match against Paraguay, and our remaining training sessions."
Japan has won against Switzerland with a score of 4-3 at a mutual venue on September 2007, and their head-to-head record against them is one win and one draw.
The match against Switzerland is scheduled on Friday 8 June with a kick-off time of 19:00 (local time) at Stadium Cornaredo.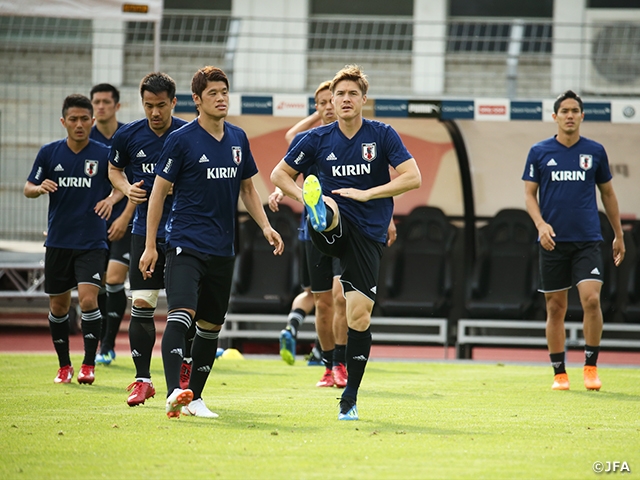 Coaches' and Players' Comments
NISHINO Akira, Coach of SAMURAI BLUE (Japan National Team)
First of all, I would like to thank the Swiss Football Association and the team for making this match possible. Since entering Austria, the players struggled to adjust to the high altitude, but their conditions has improved each day. We have managed to arrive here in good condition, so we are looking forward for this match. Ahead of the World Cup, tomorrow's match and the match on the 12th will serve as an important test match for us, so we must take them seriously. There are players and systems I'd like to test tomorrow, so in many ways this is a crucial match for us. The players have nurtured a common understanding on where the team wants to be and how we want to approach the matches at the World Cup. I am hoping that the players can showcase that tomorrow.
FP #21 SAKAI Gotoku (Hamburger SV/Germany)
This will be an important test for us. Switzerland is ranked higher than us in the FIFA rankings, and they have tied against Spain, proving that they are within the same caliber. We must execute all the things we talked and planned to do in this match. It is also important not to fear failure. Regardless of how we approach the match tactically, it all comes down to whether we can make that extra step in the crucial moment. That extra step will determine who takes the initiative and ultimately the outcome of the match. We need to heighten our quality ahead of the World Cup, so we must stay keen to challenge as a team.
FP #17 HASEBE Makoto (Eintracht Frankfurt/Germany)
I think there are many themes in this Switzerland match. Personally, I want results. We haven't won in a while, and by winning we can gain great confidence, so I want to demand results in the form of a victory. Our first opponent (at the World Cup), Colombia has many variations in terms of formation. We don't know how they are going to come out against us, but they have played a 4-2-3-1 formation in many of their past matches, which is a similar formation as Switzerland, while they have also played a 4-3-3 formation. In that sense, tomorrow will be a great test match for us to simulate our first match of the World Cup.
FP #10 KAGAWA Shinji (Borussia Dortmund/Germany)
We have done everything we can in terms of offence and defence, now we must perform as a team tomorrow. Regardless of whether I start the match or enter the match as a substitute, I will make myself prepared to perform well under any circumstances. We still have two matches to play and as long as we can perform well as a team, we should be able to find our rhythm. There are still some aspects we haven't been able to construct, so we need to build our confidence through these matches.
Vladimir Petković, Coach of Switzerland National Football Team
I am glad to enter tomorrow's match without major injuries. We have managed to maintain a positive vibe in our preparation camp at the game site, and I believe that we can enter the World Cup in good condition. Japan is a very interesting opponent. They are very discipline and consists with a hint of European perspective in their tactical approach. The players are very mobile, physical, and possesses quality. We will play our game against such team and hope to showcase a good match.

MAKINO Tomoaki (Urawa Reds) Interview

HASEBE Makoto (Eintracht Frankfurt/Germany) Interview

MUTO Yoshinori (1.FSV Mainz 05/Germany) Interview
Schedule
Sun. 3 June
PM
Training
Mon. 4 June
PM
Training
Tue. 5 June
PM
Training
Wed. 6 June
PM
Training
Thu. 7 June
PM
Official Training
Fri. 8 June
19:00
International Friendly Match
vs Switzerland (Stadium Cornaredo)
Sat. 9 June
PM
Training
Sun. 10 June
PM
Training
Mon. 11 June
PM
Official Training
Tue. 12 June
15:05
International Friendly Match
vs Paraguay (Tivoli Stadion)
Wed. 13 June
AM
Training
Thu. 14 June
PM
Training
Fri. 15 June
PM
Training
Sat. 16 June
PM
Training
Sun. 17 June
AM
Training
Mon. 18 June
PM
Official Conference・Official Training
2018 FIFA World Cup Russia
Tue. 19 June
15:00
1st Match vs Colombia (Mordovia Arena)
Wed. 20 June
PM
Training
Thu. 21 June
PM
Training
Fri. 22 June
AM
Training
Sat. 23 June
PM
Official Conference・Official Training
Sun. 24 June
20:00
2nd Match vs Senegal (Ekaterinburg Arena)
Mon. 25 June
PM
Training
Tue. 26 June
AM
Training
Wed. 27 June
PM
Official Conference・Official Training
Thu. 28 June
17:00
3rd Match vs Poland (Volgograd Arena)
*Local Time
*The schedule is subject to change due to the team condition, the weather, etc.
2018 FIFA World Cup Russia
Tournament Dates: 14 June - 15 July 2018

Group stage
1st Match Tue. 19 June Kickoff at 15:00 vs Colombia National Team (Mordovia Arena)
(21:00 Japan time)
2nd Match Sun. 24 June Kickoff at 20:00 vs Senegal National Team (Ekaterinburg Arena)
(Mon. 25 June, 0:00 Japan time)
3rd Match Thu. 28 June Kickoff at 17:00 vs Poland National Team (Volgograd Arena)
(23:00 Japan time)