NEWS
Kwansei Gakuin University cause huge upset by beating Gamba Osaka in Emperor's Cup JFA 98th Japan Football Championship
07 June 2018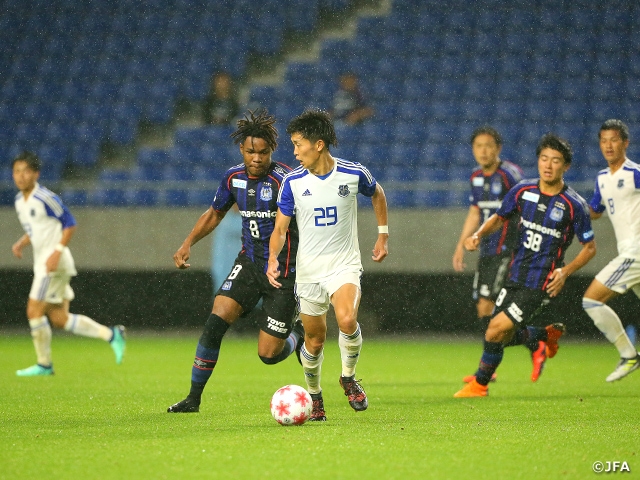 On 6 June, the second round matches of the Emperor's Cup JFA 98th Japan Football Championship were played in several areas in Japan. In Panasonic Stadium Suita, Osaka, Kwansei Gakuin University (Hyogo) faced Gamba Osaka (J1).
Gamba Osaka took control in the beginning by moving the ball around with good rhythm and attacked using the full width of the pitch. However, Kwansei Gakuin University displayed a collective effort from their front line to prevent major threats to be created. Kwansei Gakuin University's YAMAMOTO Yuki later reflected, "we knew they were going to dominate us in ball possession, but today our defenders communicated well and worked hard so that we can defend from the front". As time progressed, they gained more chances to attack against the J.League side. In the 14th minute, Yamamoto carried the ball in the centre before moving the ball to the right flank. NAKANO Katsuya made a cut back towards HAYASHIBE Koki who took a shot unmarked, but his effort went off target. Kwansei Gakuin University continued to apply pressure with both Yamamoto and IWAMOTO Kazuki taking shots, finishing the first half with a positive mood.
Gamba Osaka brought on MESHINO Ryotaro and SENOO Naoya at the beginning of the second half. The team was highly motivated from the pep-talk given by the team's Coach Levir CULPI, as he sent off the players by telling them, "show your pride!" In the 55th minute, Gamba Osaka's NAGASAWA Shun delivered a through ball to Senoo who ran into the penalty area, where he attempted a shot, but failed to convert. Kwansei Gakuin University, on the other hand, created their opportunities through their ball movement. In the 64th minute, Hayashibe posted up to allow Nakano to take a shot. The shot was deflected by the opposing goalkeeper and ARA Shuga was able to get to the loose ball, but his attempt missed the open net.
The match progressed without seeing major threats created by neither side, but both teams picked up their momentum as the end of the match approached. In the 79th minute, Gamba Osaka created two consecutive opportunities from FUJIHARU Hiroki's cross, but failed to convert both chances. The deadlock was then broken on the 87th minute when Kwansei Gakuin University's Iwamoto calmly scored off a loose ball following a cross delivered by his fellow teammate, TAKAO Ryu.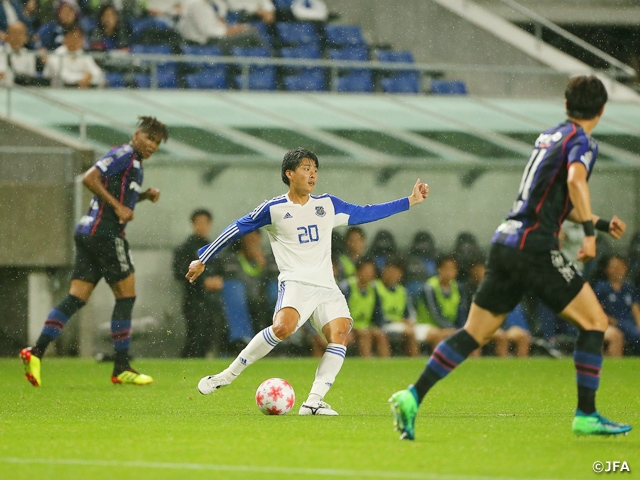 However, just minutes later, in the 89th minute, Gamba Osaka's MIURA Genta leveled the match off of a corner kick to send the match into extra times. Despite conceding the equaliser Kwansei Gakuin University remained positive, as Yamamoto later spoke, "we lost in extra times against Albirex Niigata in the Emperor's Cup two years ago. I had a feeling this match could enter a similar path. My legs were exhausted, but I just had to keep going at it."
Kwansei Gakuin University managed to enter extra times with a refreshed mindset, as they capitalised on their opportunity early one. In the 92nd minute, HASHIMOTO Taishi intercepted the ball in the left flank, before making a cut into the centre. He then went onto launching a shot, that found the right-hand corner, giving the university side the go-ahead goal. The team kept their focus to keep this one goal lead until the end, winning the match with a final score of 2-1.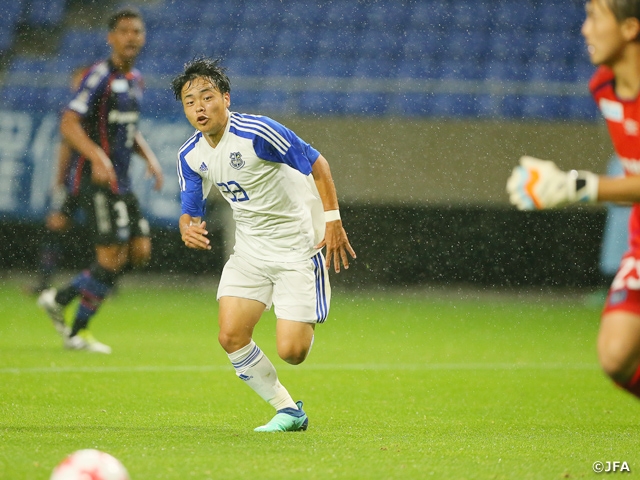 There were historic records made in this second round as Kashima Antlers' goalkeeper SOGAHATA Hitoshi made his 60th appearance in the Emperor's Cup, surpassing the record of 59 career appearance held by KAMAMOTO Kunishige (Waseda University and Yanmar). Kashima Antlers earned a convincing victory over Honda FC (Shizuoka) 6-1. Sogahata shared his thoughts after the match, "I am very happy to have broken the record which had been held by the legendary Mr. Kamamoto. I know that this record wouldn't be possible if I didn't belong to a strong team, so I appreciate that I got to play for Kashima Antlers. However, more than the record, it is important for us to win, so we want to keep this momentum so that we can continue to keep winning."
Another record was made when Yokohama FC's MIURA Kazuyoshi started the match against another J2 team Kamatamare Sanuki. His match appearance broke his own record of the oldest player to a player in an official match with an age of 51 years-old and 100 days. He later reflected, "I was highly motivated to be named in the starting line-up as well as the team captain." Miura stayed in the match until the 88th minute as he contributed to the team's 2-0 victory. Speaking of the Emperor's Cup, "In the past, I have experienced three finals during my career at Verdy, and I personally understand how prestigious the Emperor's Cup is. I am glad that I was given the opportunity to express the importance of winning matches at the Emperor's Cup on the pitch."
Coaches' and Players' Comments
Levir CULPI, Coach (Gamba Osaka)
It is very unfortunate, but I must say the result reflects our performance. Kwansei Gakuin University played well, and we must praise them for their performance. They deserve the win. Heading into the match we knew that the college teams will enter the match with high motivation. We had to counter them with a more aggressive approach, but instead we took a passive approach, and it is my fault that I couldn't motivate our players ahead of this match.
FW #20 NAGASAWA Shun (Gamba Osaka)
It feels like we made it tough on ourselves. We were out of sync and the match progressed while we showed no signs of improving. I though perhaps by scoring a goal the tide might change, but we couldn't create much goal scoring opportunities. We can't score, and we can't keep a clean sheet, that is the reality. It's not about who we play, but it's how we make it difficult on ourselves. Our opponents converted their few chances, and that made the difference in this match. I feel like the result wouldn't change regardless of who we play, and it's not someone's fault, it the entire team's fault.
FURUTSUKA Keitaro, Coach (Kwansei Gakuin University)
Facing a J1 team, we knew there was a major difference in team strength, but we also believed that we had a chance. I told my players not to hesitate and to fight hard, and the players did just that. We didn't do anything special to prepare for today's match. We were on a three-day rest following our league match, and it must have been tough for some of those players who appeared in both matches. Even so, our players seemed to be motivated after we conceded the equaliser. Our opponents took control of the ball possession, but we kept our hopes up and motivated ourselves by creating opportunities by forcing turnovers and initiating counter attacks.
MF #20 IWAMOTO Kazuki (Kwansei Gakuin University)
Gamba Osaka is a team we look up to. I wouldn't say I was overly pumped up, but I was looking forward to playing them, especially because I used to play for their youth team. We knew they will have the upper hand in ball possession, but we still managed to possess the ball and put up a fight from the first half. We were afraid of losing the match by missing out on our chances, but the team stayed as one and fought through the match. I was literally shaking when I heard the final whistle. It's not that we didn't believe in ourselves, but the match was more of an experimental challenge for us, so this result was truly surprising.

【1st Round】Sat. 26, Sun. 27 May
【2nd Round】Wed. 6 June
【3rd Round】Wed. 11 July
【Round of 16】Wed. 22 August
【Quarterfinal】Wed. 24 October
【Semi-final】Sun. 16 December
【Final】Mon. 24 December