NEWS
SAMURAI BLUE (Japan National Team) gears up behind closed doors ahead of their match against Switzerland
07 June 2018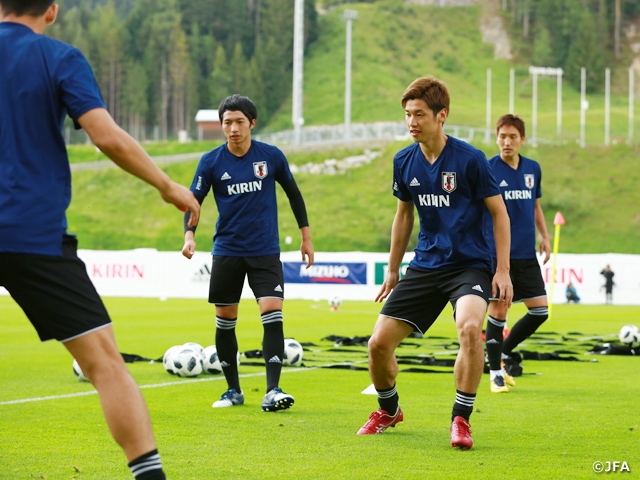 On Wednesday 6 June, two days prior to their international friendly match against Switzerland National Team, SAMURAI BLUE (Japan National Team) held a training session at their camp site Seefeld, Austria. The session was closed to the public after the first 15 minutes.
During the first 15 minutes of the session players were seen stretching and passing the ball with groups of six players. The session was welcomed by sudden rain shower, but the players did not seem to be affected since they had already experienced the repeated changes of weather in the past few days. Players actively communicated among each other during their drills and went through the team tactics thoroughly.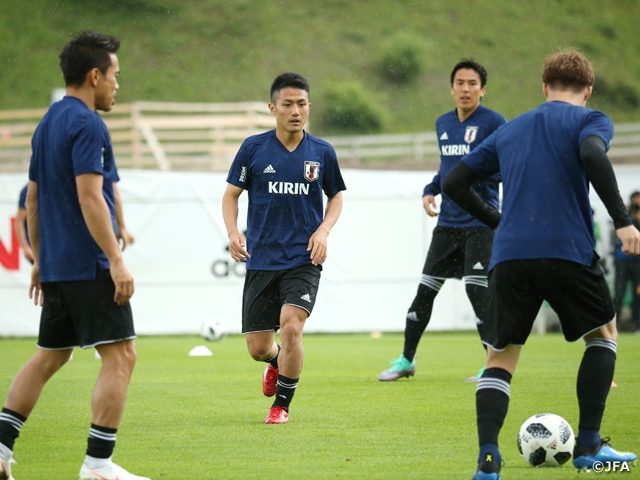 On Friday 8 June, Japan will be facing a Swiss side who are among the 32 teams participating at the World Cup Russia. Finishing as the runners-up in their group league at the European Qualifiers, where Portugal finished first place, Switzerland clinched their fourth consecutive, 11th overall spot into the World Cup after winning the playoff match against Northern Ireland.
Despite making it into the quarterfinals of the World Cup in 1934, 1938, and 1954, since the 1970s, they have failed to make it through the qualifiers with the exception of 1994.
Recently, however, Switzerland is considered as one of the emerging countries in Europe, ranking sixth in the FIFA rankings, and reaching the knockout stage at the World Cup in 2006 and 2014. Their defender and team captain Stephan LICHTSTEINER also caused a stir recently when he made his transfer to Arsenal from Juventus.
Switzerland has been grouped with Brazil, Serbia and Costa Rica in Group E in the upcoming World Cup Russia. Prior to this match against Japan, they have faced Spain on Sunday 3 June, where they tied 1-1 after coming from behind with the equaliser scored by Ricardo RODRIGUEZ. In their two matches in March, they won against Greece 1-0 on the road, while defeating Panama 6-0 at home, staying undefeated in their past three matches.
For Japan, who is scheduled to open their World Cup campaign on Tuesday 19 June against Columbia, this Switzerland match is one of the two international friendlies before the tournament. After this match they are scheduled to face Paraguay on Tuesday 12 in Innsbruck, Austria.
YOSHIDA Maya (Southampton FC) says, "We have to confirm things in these two matches. Undoubtedly Switzerland is a good team. They are an ideal opponent to test what we have worked on."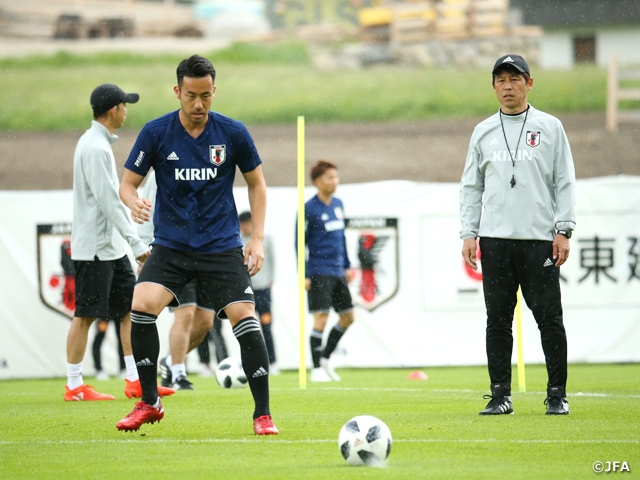 The team is scheduled to take off from Seefeld on Thursday 7 for Lugano, Switzerland. After an official practice session on the arrival day at the match site, Stadium Cornaredo, the contest kicks off at 7:00 p.m. on Friday 8.
Players' Comments
FP #4 HONDA Keisuke (CF Pachuca/Mexico)
For the past few days of tactics practice, I have been reminded that my role changes depending on who I play with. Also, it feels like it has been a while since we have made this much efforts to work on the details. We still have long ways to go, but I feel that we are surely going through a new step. It's true that we don't have much time left, but we are doing what we can. We now must execute 100% of what we want to experiment against Switzerland, while staying keen to win the game at the same time. My impression of Switzerland is that they are a well-organised team, and I think it's reflecting the characteristics of their nation. But if we can find ways to break them down, it will boost our confidence level. With the sense of urgency telling us that we won't make it unless we change something, we must keep a challenger's spirit as we contend. With our eyes set on the first World Cup match against Colombia, there are two things we must keep in mind when we face Switzerland. We must make sure that we all understand how we position ourselves when we contain the opposing side in defence, and how we apply pressure when we fail to contain them.
FP #14 INUI Takashi (Real Betis/Spain)
I think there is an appropriate sense of urgency surrounding the team. It's my first time to be named in the 23-man roster for the World Cup, but I don't want to sit on my laurels and find my self sitting on the bench, so I am working hard ahead of the matches. We need to keep a mutual understanding among the team, despite the recent change of coach, we must work it out as a team. It may sound strange, but we are still allowed to make mistakes in the match against Switzerland. We still have time to correct are mistakes, so we will keep trying as many things as we can in this match.
FP #22 YOSHIDA Maya (Southampton FC/England)
Switzerland have players on the right flank that have experience and height, and the swiss players can initiate offence both collectively and individually. They also utilise cross balls with great accuracy and I think that's one of their crucial points of attack. They can also provide timely early crosses from the left flank as well. More than anything, they seem to be very organised as a team, while having a clear vision to play football. Coach NISHINO mentioned that we will play both four defenders and three defenders at the back, so I want to make sure of both systems as well as attacking patterns in our match against Switzerland. In our match against Ghana, we were doing well until we reached the attacking third, but from there we didn't do a good job in making plays, breaking the opponents down and finishing. We still need to work on that a little more. There are many things to do and many things to build up both offensively and defensively. While we don't have much time left, we must keep engaging in high-quality practices.

HONDA Keisuke (CF Pachuca/Mexico) Interview

INUI Takashi (Real Betis/Spain) Interview

YOSHIDA Maya (Southampton FC/England) Interview
Schedule
Sun. 3 June
PM
Training
Mon. 4 June
PM
Training
Tue. 5 June
PM
Training
Wed. 6 June
PM
Training
Thu. 7 June
PM
Official Training
Fri. 8 June
19:00
International Friendly Match
vs Switzerland (Stadium Cornaredo)
Sat. 9 June
PM
Training
Sun. 10 June
PM
Training
Mon. 11 June
PM
Official Training
Tue. 12 June
15:05
International Friendly Match
vs Paraguay (Tivoli Stadion)
Wed. 13 June
AM
Training
Thu. 14 June
PM
Training
Fri. 15 June
PM
Training
Sat. 16 June
PM
Training
Sun. 17 June
AM
Training
Mon. 18 June
PM
Official Conference・Official Training
2018 FIFA World Cup Russia
Tue. 19 June
15:00
1st Match vs Colombia (Mordovia Arena)
Wed. 20 June
PM
Training
Thu. 21 June
PM
Training
Fri. 22 June
AM
Training
Sat. 23 June
PM
Official Conference・Official Training
Sun. 24 June
20:00
2nd Match vs Senegal (Ekaterinburg Arena)
Mon. 25 June
PM
Training
Tue. 26 June
AM
Training
Wed. 27 June
PM
Official Conference・Official Training
Thu. 28 June
17:00
3rd Match vs Poland (Volgograd Arena)
*Local Time
*The schedule is subject to change due to the team condition, the weather, etc.
2018 FIFA World Cup Russia
Tournament Dates: 14 June - 15 July 2018

Group stage
1st Match Tue. 19 June Kickoff at 15:00 vs Colombia National Team (Mordovia Arena)
(21:00 Japan time)
2nd Match Sun. 24 June Kickoff at 20:00 vs Senegal National Team (Ekaterinburg Arena)
(Mon. 25 June, 0:00 Japan time)
3rd Match Thu. 28 June Kickoff at 17:00 vs Poland National Team (Volgograd Arena)
(23:00 Japan time)