NEWS
SAMURAI BLUE (Japan National Team) deepens tactical understandings through training session
06 June 2018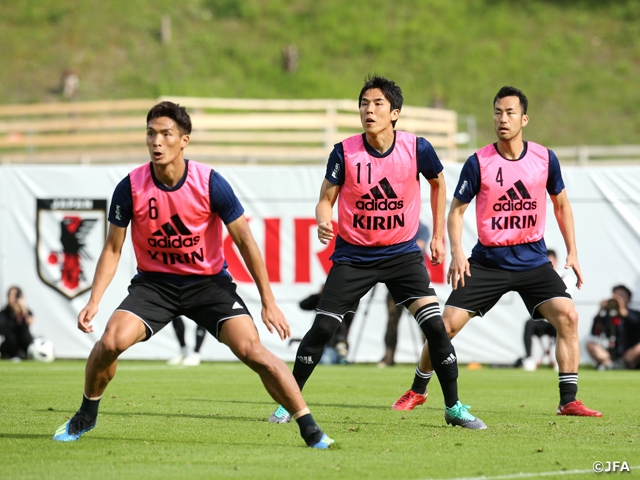 On day four of SAMURAI BLUE's (Japan National Team) training camp in Seefeld, Austria, the team held a training session in the evening.
Continuing from their session from the day before, this day's menu also emphasised to deepen the tactical understandings among the team, going through the tactic more thoroughly than the day before.
With their friendly match against Switzerland scheduled in three days, the team went through their set plays towards the end of the training session. The training ended after the players were separated into groups to work on the expected plays according to their positions.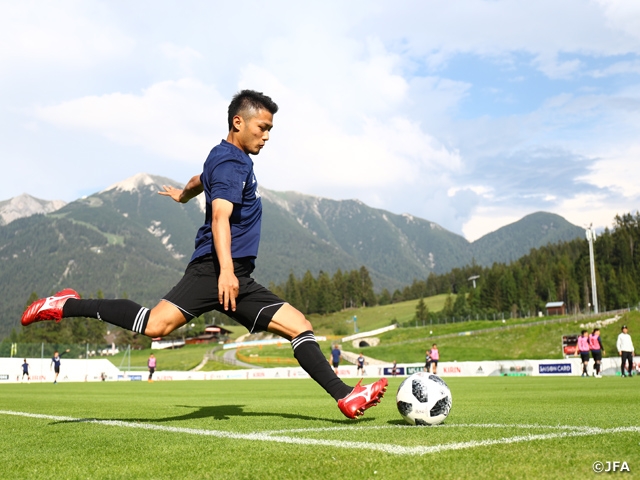 Players' Comments
FP #5 NAGATOMO Yuto(Galatasaray S.K.)
I am in good condition both physically and psychologically. I am surrounded by the best staffs and teammates, so I want to give everything I have, perform up to my potential, and earn good results to make this the best World Cup ever. I still remember the last World Cup. Its been four years, but I still remember the bitterness. In that sense, it is payback time. I spent the past four years thinking about that, so I am more attached to this World Cup than the past two Cups I have played in.
FP #8 HARAGUCHI Genki(Fortuna Dusseldorf)
I am in great shape. We've been able to hold great training sessions under a very positive atmosphere. It has allowed us to prepare well ahead of our match against Switzerland. I am currently working on a position I have never played before and I am learning the plays of a wing-back not only on the pitch, but also off the pitch as I am studying the position through videos that may give me more insights. I don't have any problem positioning myself in the attacking third. We have two more friendly matches ahead of the World Cup, and I am giving all I've got in the training session to give myself the best chance to play in those matches. Perhaps the most important match for the team maybe the first match at the World Cup, but the next two matches are also as important, and from an individual stand point, it will serve a crucial role to determine who will start in that World Cup, so I would like to earn good results in those matches. We understand what Coach NISHINO is conveying, but the players have been keen on further communicating to each other, in efforts to polish the details of our plays. The communication has been open to everyone despite the age difference, so I have been keen to give my own input in the mix as well.
My personal goal for the World Cup is to reach the semi-finals. I will prepare myself to make it that far and do everything within my power so that I leave no regrets after the tournament.
FP #16 YAMAGUCHI Hotaru(Cerezo Osaka)
It took a while to get used to the high altitude, but I've finally got used to it. The two matches ahead of us are very valuable for us, so we must keep trying. There will be many tasks and we will find out many things we'll have to improve, but we should take that as a positive, because it is more important to find out about those sooner than later. It gives us a great opportunity to improve ourselves, so we must take a close look at ourselves while performing well. We would like to heighten our conditions to top form ahead of the first match of the World Cup.

NAGATOMO Yuto (Galatasaray S.K./Turkey) Interview

HARAGUCHI Genki (Fortuna Dusseldorf/Germany) Interview

YAMAGUCHI Hotaru (Cerezo Osaka) Interview
Schedule
Sun. 3 June
PM
Training
Mon. 4 June
PM
Training
Tue. 5 June
PM
Training
Wed. 6 June
PM
Training
Thu. 7 June
PM
Official Training
Fri. 8 June
19:00
International Friendly Match
vs Switzerland (Stadium Cornaredo)
Sat. 9 June
PM
Training
Sun. 10 June
PM
Training
Mon. 11 June
PM
Official Training
Tue. 12 June
15:05
International Friendly Match
vs Paraguay (Tivoli Stadion)
Wed. 13 June
AM
Training
Thu. 14 June
PM
Training
Fri. 15 June
PM
Training
Sat. 16 June
PM
Training
Sun. 17 June
AM
Training
Mon. 18 June
PM
Official Conference・Official Training
2018 FIFA World Cup Russia
Tue. 19 June
15:00
1st Match vs Colombia (Mordovia Arena)
Wed. 20 June
PM
Training
Thu. 21 June
PM
Training
Fri. 22 June
AM
Training
Sat. 23 June
PM
Official Conference・Official Training
Sun. 24 June
20:00
2nd Match vs Senegal (Ekaterinburg Arena)
Mon. 25 June
PM
Training
Tue. 26 June
AM
Training
Wed. 27 June
PM
Official Conference・Official Training
Thu. 28 June
17:00
3rd Match vs Poland (Volgograd Arena)
*Local Time
*The schedule is subject to change due to the team condition, the weather, etc.
2018 FIFA World Cup Russia
Tournament Dates: 14 June - 15 July 2018

Group stage
1st Match Tue. 19 June Kickoff at 15:00 vs Colombia National Team (Mordovia Arena)
(21:00 Japan time)
2nd Match Sun. 24 June Kickoff at 20:00 vs Senegal National Team (Ekaterinburg Arena)
(Mon. 25 June, 0:00 Japan time)
3rd Match Thu. 28 June Kickoff at 17:00 vs Poland National Team (Volgograd Arena)
(23:00 Japan time)