NEWS
Nadeshiko Japan repeats as Champions with 1-0 victory over Australia at AFC Women's Asian Cup Jordan 2018 Final
21 April 2018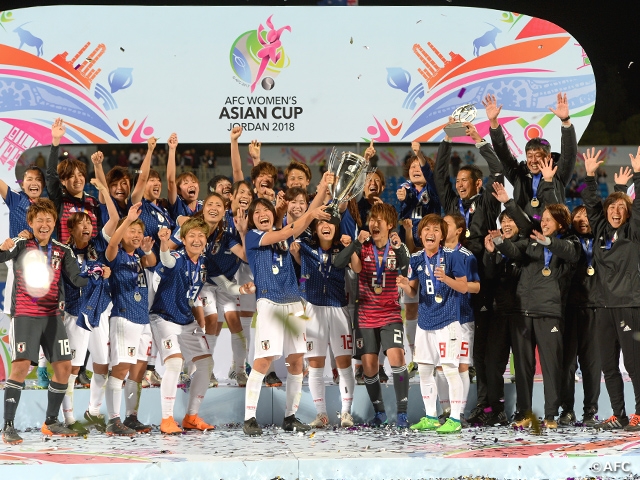 The competition that lasted for 15 days came to an end, when Nadeshiko Japan (Japan Women's National Team) squared off with Australia Women's National Team at the tournament final. The two teams has faced each other in the third match of the group stage, where the match ended in a draw. Their second encounter of the tournament turned out to be another epic match.
Japan came out with the same line-ups from their previous encounter with the Australian side. The match saw Australia take the initiative early on, while Japan held them off with their tenacious defence, allowing very little space to exploit.
However, the match brought an early twist to its plot. In the 14th minute, Japan's goalkeeper YAMASHITA Ayaka fumbled the ball allowing the Australian side to take a shot from close range. The shot was deflected off Japanese defender KUMAGAI Saki's hand, giving Australia a penalty kick. In this crucial moment, Yamashita stepped up big time and made a brilliant save. The Japanese goalkeeper later reflected, "I kept my eyes on where the spot taker was looking when she placed the ball."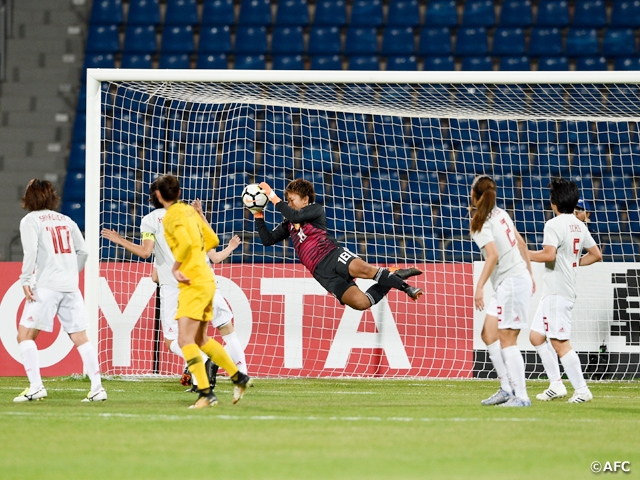 While Australia continued to take control of the match, Japan came close to scoring in the 24th minute, when NAKAJIMA Emi delivered a cross from a free kick. The cross aimed towards the near post was cleared by the opposing defence, but IWABUCHI Mana was able to fire a shot off the loose ball which was blocked by the Australian defence. UTSUGI Rumi made a second effort to the ball, but her shot was slightly off target.
In the 35th minute, Iwabuchi delivered a well-timed pass to HASEGAWA Yui who was making a run at full speed. Hasegawa would go on to take a shot at goal, but her effort was denied by a superb save made by the opposing goalkeeper. Many opportunities were created towards the end of the half, but none were successfully converted, as the match entered halftime scoreless.
Japan was seeking to recreate their second half heroics from their last encounter, but Australia's tireless attacks kept them from creating any major opportunities. Nadeshiko's Coach TAKAKURA Asako made a move on the 72nd minute, as she brought in YOKOYAMA Kumi, who scored the decisive goal for Japan in the semi-final.
Desperately needing a goal, Japan wanted to utilise Yokoyama, but their efforts would be limited as the Australian offence did not show any sign of slowing down. However, the golden opportunity came on the 84th minute when Hasegawa found Yokoyama in a space between the Australian defenders. Yokoyama made a nifty turn before evading a defender and launching a brilliant shot that found the upper corner of the goal.
After defending through the two minute additional time, Japan won the match with a final score of 1-0. Nadeshiko Japan, who has shown a great collective effort in both offence and defence has won their second consecutive title.
After playing the entire 90 minutes in all matches Iwabuchi was named MVP of the tournament for here contributions in both offence and defence, making their back-to-back feat that much remarkable for Japan.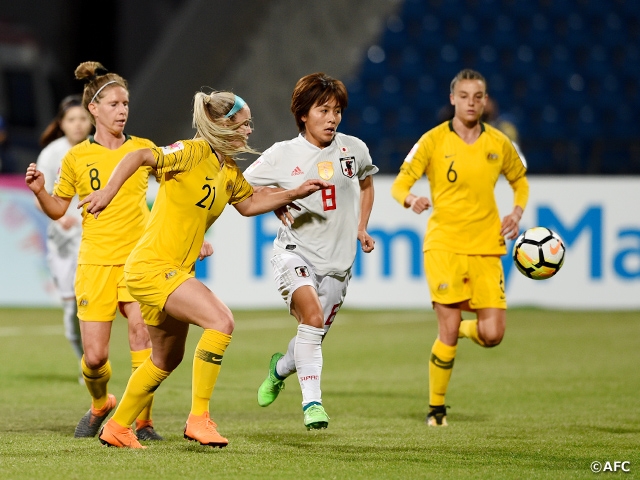 Players' Comments
GK #18YAMASHITA Ayaka(Nippon TV Beleza)
I have never played in a title match for Nadeshiko Japan, and this was one of the best match we have played as a team and for me personally as well. Having said that, it was truly regretful that I gave up that penalty kick. I kept my eyes on where the spot taker was looking when she placed the ball, and from my experience I felt that she was going to kick the ball where she was looking. The ball came exactly where I anticipated, so I'm glad I was able to save it. Even before the penalty kick, I made good saves and got myself into a good rhythm, and I think that might have help the team create a positive vibe that we weren't going to concede any goals today.
DF #4KUMAGAI Saki(Olympique Lyonnais)
There were times where we weren't getting the results we wanted and struggled to find out how we wanted to play as a team. The older players especially had a difficult time. So all those time we suffered, makes this win that much sweeter. In many aspects we played as a team and stuck together to win this title, so I am very happy.
FW #20YOKOYAMA Kumi(1.FFC Frankfurt)
When I came onto the pitch, my teammates spoke to me and encouraged me to score a goal, so I am just so glad that I was able to convert the only chance I had. Hasegawa carried the ball in a great fashion and I was able to receive the ball right in between the defenders. I saw the defenders as I was making the turn and the cut, so I was able to take the shot freely. When the ball went into the goal, I was just shocked.
Schedule
AFC Women's Asian Cup Jordan 2018
Fri. 6 April
TBC
Training
Sat. 7 April
4-0
Group League 1st Match vs Vietnam
(King Abdullah Ⅱ Stadium)
Sun. 8 April
TBC
Training
Mon. 9 April
TBC
Training
Tue. 10 April
0-0
Group League 2nd Match vs Korea Republic
(Amman International Stadium)
Wed. 11 April
TBC
Training
Thu. 12 April
TBC
Training
Fri. 13 April
1-1
Group League 3rd Match vs Australia
(Amman International Stadium)
Sat. 14 April
TBC
Training
Sun. 15 April
TBC
Training
Mon. 16 April
TBC
Training
Tue. 17 April
3-1
Semi-Final vs China PR
(King Abdullah Ⅱ Stadium)
Wed. 18 April
TBC
Training
Thu. 19 April
TBC
Training
Fri. 20 April
1-0
Final vs Australia
(Amman International Stadium)
*Local Time
*The schedule is subject to change due to the team condition, the weather, etc.
AFC Women's Asian Cup Jordan 2018
Tournament Period: Fri. 6 April - Fri. 20 April 2018