NEWS
Nadeshiko Japan wins over China PR 3-1 in Semi-Final of AFC Women's Asian Cup Jordan 2018
18 April 2018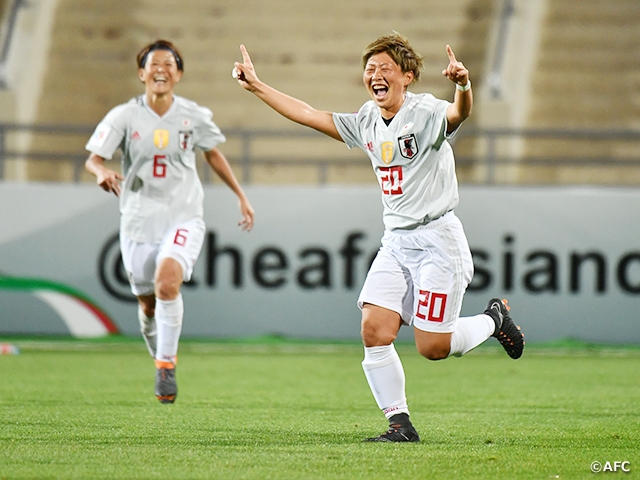 Nadeshiko Japan (Japan Women's National Team), who entered the semi-finals as the runner-up in group B, squared off with group A winner China PR Women's National Team. The Japanese squad featured five different starters from their last group stage match against Australia.
Coach TAKAKURA Asako demanded an aggressive attacking style from her players as she told, "let's finish them off before they get used to the strengths of our attacks." Led by IWABUCHI Mana's shot in the second minute of the match, the Japanese players responded to their coach's words and showed an aggressive approach while keeping possession through their passes.
The first goal came on the 39th minute when SUMIDA Rin delivered a brilliant vertical pass to Iwabuchi, who displayed her great dribbling skills before taking a left footed shot. The opposing goalkeeper was able to get a hand on the ball, but the shot had enough power to find the net.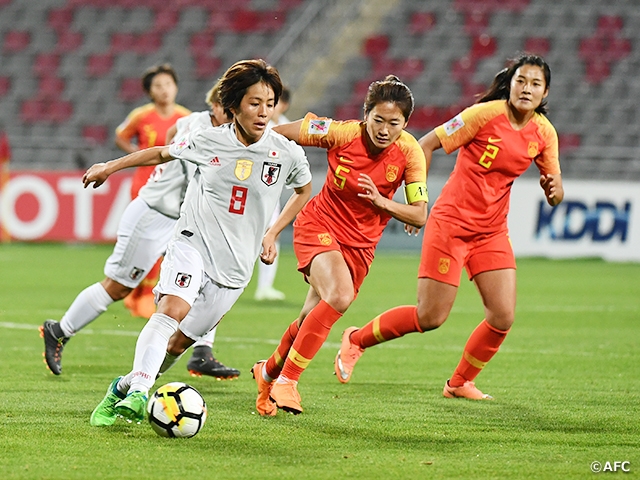 Just as they planned, Japan successfully entered halftime with an 1-0 lead, but the Chinese side did not stay quite. Early minutes of the second half, China PR forced a turnover and carried the ball all the way to the opposing goal area. Few minutes later, a powerful shot threatened the Japanese goal, but the Nadeshiko defence showcased their resilience, which they have been developing throughout the tournament. However, China PR would gradually take control of the match.
In efforts to change the rhythm of the game and to score another goal, Coach Takakura sent KAWASUMI Nahomi, followed by YOKOYAMA Kumi onto the pitch. Her instincts were spot on, as Yokoyama scored the much needed second goal for Japan on the 73rd minute from an assist from ARIYOSHI Saori. Yokoyama was mobbed by her teammates as they all cheered on with a great smile.
As if Japan's second goal was not enough, Yokoyama went onto score another goal to further cement her side's victory. Just nine minutes following her first goal, Yokoyama's shot was deflected by a Chinese defender's hand in the penalty box. The referee pointed at the mark, allowing Yokoyama to convert the spot kick to give her side a three goal lead. China would go onto earn a penalty kick of their own in the 87th minute to cut their deficit by a goal, but their efforts would end there, as Japan won the match with a final score of 3-1.
In the other semi-final, Australia defeated Thailand after the match went into penalty shootouts. As a result, Japan will once again square off with Australia in their attempt to repeat as Asia Champions. The final will take place on the 21st April with a 2:00 (Japan time) kickoff time.
Coaches' and Players' Comments
TAKAKURA Asako, Coach of Nadeshiko Japan (Japan Women's National Team)
As the winner of their group, China PR presented us with a tough challenge. The match was not as easy as it looked, and our opponents left a strong impression. Knowing that we were facing a tough opponent, I told my players to attack aggressively from the beginning. The fact that we managed to take control of the match and score from our style of football shows that we were able to play according to our plan.
In the second half, our opponents started to take the initiative and we were forced in the defensive end for a while, but our substitutes did a great job to finish up the match. Our players are putting in all their efforts in every play, every match. As the representative of Asia, we must continue to strive as a team to showcase better performances.
DF #22 SHIMIZU Risa(Nippon TV Beleza)
I was not involved in offensive as much, but I was focused on defending against their #17, who showed great speed. Foreign teams tends to have fast players positioned in the flank, and playing against such players gives me great experience. There are times where I get outplayed, but there are also times where I successfully stop them, so I'll take the positives out of these experiences.
MF #16 SUMIDA Rin(Nippon TV Beleza)
I usually position myself in the back to control the balance of the team, but today I wanted to take shots, so I played in a higher position than usual. We rushed our plays to clear the ball in the second half, where we should have settled down a little more and showed more support to connect passes instead. We will once again face Australia and it might be another tough match for us, but we will play hard in defence and convert our chances as a team.
FW #8 IWABUCHI Mana(INAC Kobe Leonessa)
It was good that we scored the opener early in the match. I was able to dribble and take the shot with confidence. We kept possession of the ball for a long period of time in the first half, and our transitions were quick, too. It wasn't the best football, but it was the best we've played so far. We faced a tough stretch in the second half, and it was unfortunate that we gave up a goal, but everybody showed great heart in defence.
FW #20 YOKOYAMA Kumi(1.FFC Frankfurt/Germany)
I was able to score two goals, but the goal we conceded was from my mistake, so that's something I am regretting. I was able to take the shot because my teammates showed great efforts to block the opponents. It was good that we were able to score when our opponents were getting tired. The pressure exerted by our opponents were not too strong, so I was able to attack the goal aggressively. If I am given the opportunity to play in the final, I will continue to attack the goal and do my best to contribute for my team.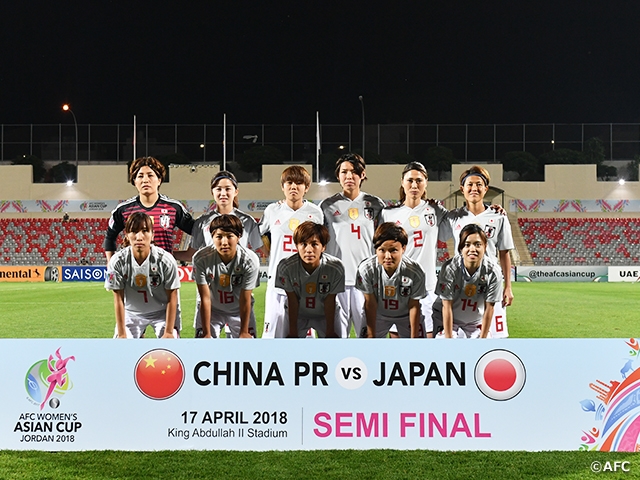 Schedule
AFC Women's Asian Cup Jordan 2018
Fri. 6 April
TBC
Training
Sat. 7 April
4-0
Group League 1st Match vs Vietnam
(King Abdullah Ⅱ Stadium)
Sun. 8 April
TBC
Training
Mon. 9 April
TBC
Training
Tue. 10 April
0-0
Group League 2nd Match vs Korea Republic
(Amman International Stadium)
Wed. 11 April
TBC
Training
Thu. 12 April
TBC
Training
Fri. 13 April
1-1
Group League 3rd Match vs Australia
(Amman International Stadium)
Sat. 14 April
TBC
Training
Sun. 15 April
TBC
Training
Mon. 16 April
TBC
Training
Tue. 17 April
3-1
Semi-Final vs China PR
(King Abdullah Ⅱ Stadium)
Wed. 18 April
TBC
Training
Thu. 19 April
TBC
Training
Fri. 20 April
20:00
Final vs Australia
(Amman International Stadium)
*Local Time
*The schedule is subject to change due to the team condition, the weather, etc.
AFC Women's Asian Cup Jordan 2018
Tournament Period: Fri. 6 April - Fri. 20 April 2018
Final
Sat. 21 April 2018 kick-off at 2:00 (Japan time)
Nadeshiko Japan vs Australia Women's National Team
[TV Broadcasting]tv-asahi Group/NHK-BS1
For more information