NEWS
Defending Champions Nadeshiko Japan starts off with 4-0 victory at AFC Women's Asian Cup Jordan 2018
08 April 2018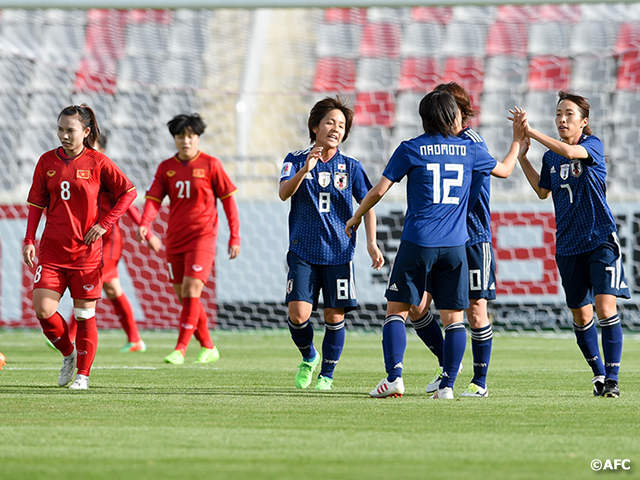 Saturday 6 April saw the opening day of AFC Women's Asian Cup Jordan 2018. Top five teams finishing in this tournament would qualify for the FIFA Women's World Cup France 2019. The defending champions, Nadeshiko Japan (Japan Women's National Team) faced Vietnam Women's National Team in their first match of the group league.
Nadeshiko Japan got off to a good start as forward YOKOYAMA Kumi delivered the opener early in the match. Yokoyama's goal came in the third minute when midfielder SAKAGUCHI Mizuho delivered a long feed to forward IWABUCHI Mana who then laid off the ball to midfielder MASUYA Rika, before finding its way to the striker. From this point on, Japan would go onto build their momentum.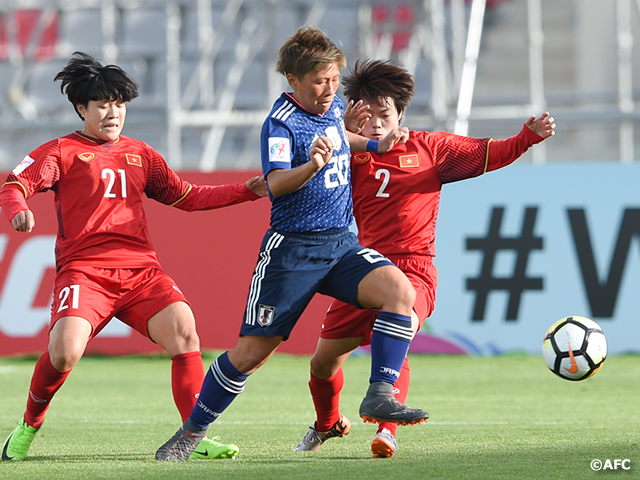 Iwabuchi showcased great individual efforts upfront as she challenged the opposing defenders by taking them on with her dribbles, while anticipating to exploit the spaces behind the defence line. Nadeshiko's second goal came in the 17th minute when NAKAJIMA Emi connected with a cross delivered by Iwabuchi. The reigning champs displayed their dominance throughout the first half, entering halftime with a 2-0 lead.
The tide would not change in the second half, as the Japanese side marked their third goal in the 57th minute, when they earned a corner kick. The ball was once cleared, but midfielder NAOMOTO Hikaru delivered a line-drive towards the goal, where Iwabuchi was there to calmly capitalise. Japan would go onto create more chances from there but were denied by the tenacious efforts shown by the Vietnam defence.
In the 63rd minute, Coach TAKAKURA Asako sent in forward TANAKA Mina for Yokoyama. Tanaka would immediately notch in her side's fourth goal when she followed up a deflection of the opposing goalkeeper who made a superb save against defender SAMESHIMA Aya.
The game went into a deadlock from there on. In efforts to change the rhythm, Japan sent out forwards SUGASAWA Yuika and KAWASUMI Nahomi, but their efforts would come short as they could not get the final pass across. The players were seen encouraging each other to score another goal, as they yelled "let's get this!" each time they earned a corner kick. However, the game would end without seeing another goal.
Centre halves KUMAGAI Saki and ICHISE Nana displayed solid defence, denying the opponents counter attacks. Japan showcased an overall dominance in the 4-0 shutout, starting off the tournament on the right foot. The other match played in Group B saw Australia and Korea Republic finish in a scoreless draw, allowing Japan to take the lead in their group.
Japan's second match will be against Korea Republic on Tuesday 10 April.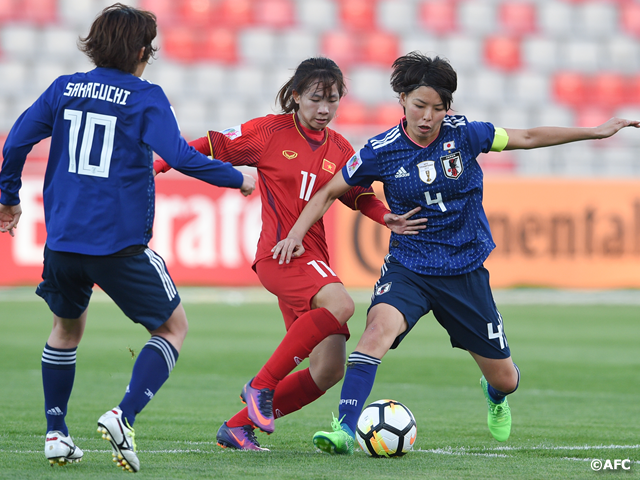 Coaches' and Players' Comments
TAKAKURA Asako, Coach of Nadeshiko Japan (Japan Women's National Team)
Entering the first match of the tournament, we knew the match was going to be a difficult one, so I told my players to brace for a tough match. It was a good thing that we scored early and managed to take control of the match. Vietnam showed great efforts fighting back, and we lacked the kind of sharpness we were striving for, so that is something we still need to work on. However, we will take the result as it is, and prepare ahead of our next match against Korea Republic.
DF #4 KUMAGAI Saki (Olympique Lyonnais/France)
It was good that we managed to score against a defensive team. But we made too many easy mistakes and lacked movements. We will do whatever it takes to earn the three points next match. If we all do what we are supposed to do, we should be able to get the results we want. We will insist on winning to put ourselves in a good position for the following matches.
DF #5 ICHISE Nana (Mynavi Vegalta Sendai Ladies)
I felt like I needed to play more aggressively against the opposing forwards today, so I will improve what I lacked today for our next match against Korea Republic. I also need to keep in mind to win those one-on-ones and use my body to block shots. Even if the opposing player is bigger than me, I must focus on intercepting the ball using my speed and agility.
MF #12 NAOMOTO Hikaru (Urawa Red Diamonds Ladies)
I felt like we need to improve on the fifty-fifty balls and our quality at the final third. We knew coming into the match that Vietnam would present us with a great challenge, as they too are representing their country. Our opponents showed great intensity in fifty-fifty balls, but we still had to win those challenges. We had many opportunities and I feel like we could have scored more, but our main goal was to win today, so it's good that we got the win.
FW #20 YOKOYAMA Kumi (1.FFC Frankfurt/Germany)
(I am glad I got the goal with my first shot in the match. I was aiming for that angle. But I struggled to find my rhythm after that goal, and I wanted to score another goal. Early in the second half, we showed good attacks, so we need to improve our quality in our final touches.
Schedule
AFC Women's Asian Cup Jordan 2018
Fri. 6 April
TBC
Training
Sat. 7 April
4-0
Group League 1st Match vs Vietnam
(King Abdullah Ⅱ Stadium)
Sun. 8 April
TBC
Training
Mon. 9 April
TBC
Training
Tue. 10 April
16:45
Group League 2nd Match vs Korea Republic
(Amman International Stadium)
Wed. 11 April
TBC
Training
Thu. 12 April
TBC
Training
Fri. 13 April
16:45
Group League 3rd Match vs Australia
(Amman International Stadium)
Sat. 14 April
TBC
Training
Sun. 15 April
TBC
Training
Mon. 16 April
TBC
Training
Tue. 17 April
TBC
Semi-Final(King Abdullah Ⅱ Stadium)
Wed. 18 April
TBC
Training
Thu. 19 April
TBC
Training
Fri. 20 April
20:00
Final(Amman International Stadium)
*Local Time
*The schedule is subject to change due to the team condition, the weather, etc.
AFC Women's Asian Cup Jordan 2018
Tournament Period: Fri. 6 April - Fri. 20 April 2018
Group League 1st Match
Sat. 7 April 2018 kick-off at 22:45 (Japan time)
Nadeshiko Japan vs Vietnam Women's National Team
[TV Broadcasting] Sat. 7 April 22:30- tv-asahi Group