NEWS
Nadeshiko Japan prepares ahead of first match of AFC Women's Asian Cup
07 April 2018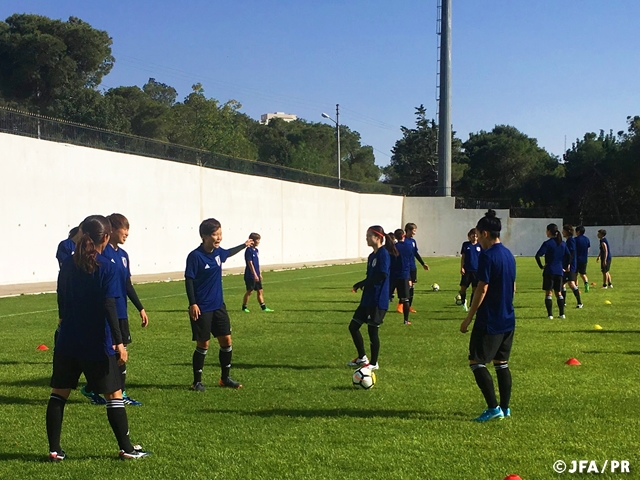 Friday 6 April saw the opening day of the AFC Women's Asian Cup Jordan 2018. On this day, Nadeshiko Japan (Japan Women's National Team) carried out their final preparation training ahead of their match against Vietnam Women's National Team scheduled on the following day.
During the hour-long training session, the players checked out the turf condition as they went through their passing and possession drills. The team finished up the session with shooting drills, as they practiced finishing off crosses from both flanks, and straight away shots from mid-range. With their first match fast approaching, the players kept their tensions high, but still managed to keep a positive atmosphere as many smiles and laughter were seen during the training session.
The Match Coordination Meeting was conducted by the Asian Football Confederation (AFC) ahead of the training, as staffs from the four teams of Group B were given instructions on tournament regulations. A pre-match press-conference took place after the meeting where Coach TAKAKURA spoke to the press, "Vietnam has become a major force in the recent years. Facing a team like them in the first match of the tournament will present us with a great challenge. But we will do our best to showcase our style of football and fight as a team."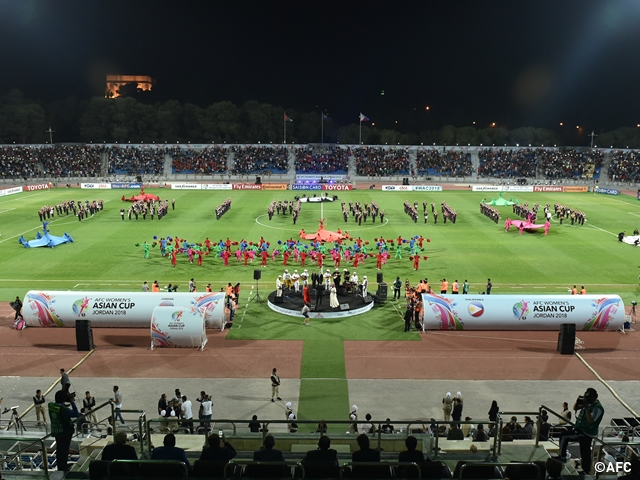 Two of the matches from Group A were played in the opening day as China PR bested Thailand 4-0, while the Philippines created a turbulence when they upset the host nation Jordan 2-1.
Nadeshiko Japan will face Vietnam Women's National Team on Saturday 7 April with a 16:45 (22:45 Japan time) kick-off time, as they seek to defend their title as well as to qualify for the FIFA Women's World Cup France 2019.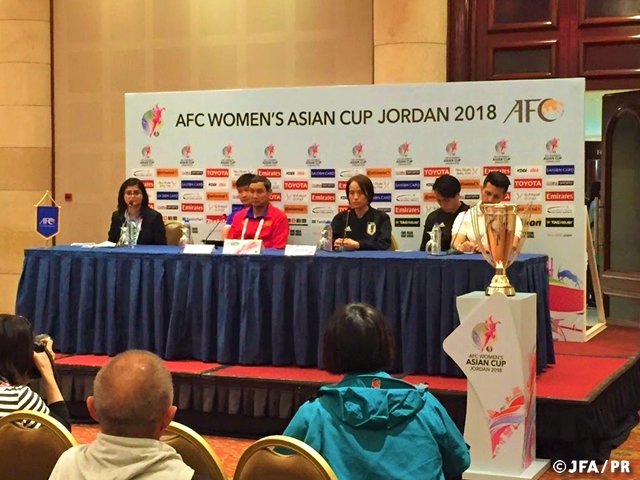 Players' Comments
DF #2UTSUGI Rumi (Seattle Reign FC/USA)
We have done everything in our power to get here. In order for us to play our game, we needed a relaxed atmosphere like we had today, so it was a good preparation session. Most of the players here has participated in the preparation match where they scored seven goals, and that is very encouraging to me. During this tournament, we are scheduled to play five matches in a very short period of time, and any player maybe asked to play at any given time. Everybody has a chance to play, and that gives us great motivation. We will face Vietnam, Korea Republic, and Australia, but our approach towards each match will be the same. We will take it one match at a time, and fix up issues as it comes along.
FW #20YOKOYAMA Kumi (1.FFC Frankfurt/Germany)
Everybody was talking to each other and we kept a very positive atmosphere throughout the training session. The turf condition and the humidity are different from Japan, but that can be said for all participating countries, so we'll just focus on playing our football and winning each matches. After the team session, I always finish my training with a shooting drill so that I can finish the session on a high note. I really thank my goalkeepers for sticking along for my drills.
DF #3SAMESHIMA Aya (INAC Kobe Leonessa)
It's good that we created a fun atmosphere while keeping a good amount of seriousness during today's training. We have many players in our age group who are good at generating a positive vibe, and I think we have a good atmosphere heading into our first match. There were tournaments where we only had a day rest before our next match, and we are not new to tough conditions. We will deal with the temperature, humidity, and the turf conditions as we move forward. As a team, we still have many things to take care of, and great potential for growth. We will do what we can at this given moment, and strive to win the tournament.
Schedule
Mon. 26 March
16:00
Training *Open to the public
(Nagasaki Municipal General Recreation Park)
Tue. 27 March
AM/PM
Training *Closed-door
Wed. 28 March
AM/PM
Training *Closed-door
Thu. 29 March
AM/PM
Training *Closed-door
Fri. 30 March
AM/PM
Training *Closed-door
Sat. 31 March
TBC
PM
Official Press Conference
Official Training
Sun. 1 April
7-1
MS&AD Cup 2018
vs Ghana(Transcosmos Stadium Nagasaki)
Mon. 2 April
AM
Training
Tue. 3 April
TBC
Training
Wed. 4 April
AM/PM
Training
Thu. 5 April
TBC
Training
AFC Women's Asian Cup Jordan 2018
Fri. 6 April
TBC
Training
Sat. 7 April
16:45
Group League 1st Match vs Vietnam
(King Abdullah Ⅱ Stadium)
Sun. 8 April
TBC
Training
Mon. 9 April
TBC
Training
Tue. 10 April
16:45
Group League 2nd Match vs Korea Republic
(Amman International Stadium)
Wed. 11 April
TBC
Training
Thu. 12 April
TBC
Training
Fri. 13 April
16:45
Group League 3rd Match vs Australia
(Amman International Stadium)
Sat. 14 April
TBC
Training
Sun. 15 April
TBC
Training
Mon. 16 April
TBC
Training
Tue. 17 April
TBC
Semi-Final(King Abdullah Ⅱ Stadium)
Wed. 18 April
TBC
Training
Thu. 19 April
TBC
Training
Fri. 20 April
20:00
Final(Amman International Stadium)
*Local Time
*The schedule is subject to change due to the team condition, the weather, etc.
AFC Women's Asian Cup Jordan 2018
Tournament Period: Fri. 6 April - Fri. 20 April 2018
Group League 1st Match
Sat. 7 April 2018 kick-off at 22:45 (Japan time)
Nadeshiko Japan vs Vietnam Women's National Team
[TV Broadcasting] Sat. 7 April 22:30- tv-asahi Group