NEWS
Kashiwa, Kawasaki F both eliminated after fifth Sec. of ACL group stage
05 April 2018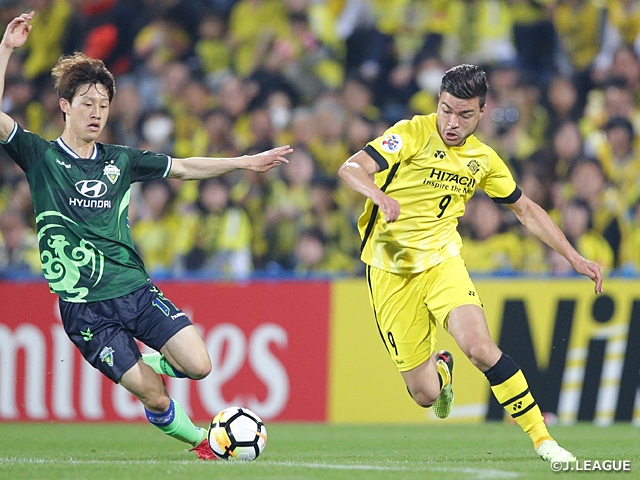 On Wednesday 4 April, the fifth Sec. of the group stage in the AFC Champions League 2018 (ACL) took place. As a result, Kashiwa Reysol and Kawasaki Frontale were both eliminated from the ACL with one more Sec. remained to be played.
In group E, Kashiwa fell to Jeonbuk Hyundai Motors (Korea) 0-2 at home, while second place Tianjin Quanjian (China) won over Kitchee (Hong Kong) 1-0. With just one more Sec. left to play, Kashiwa now trails six points behind the second place Tianjin, ending their chance to advance to the next round.
Also in Group F, Ulsan Hyundai (Korea) who were in second place ahead of the fifth Sec. defeated Melbourne Victory (Australia) 6-2 and extended their point lead over Kawasaki F to eight points, leaving it impossible for Kawasaki to advance. Kawasaki entered the match already being eliminated, and went on to tie against Shanghai SIPG (China) 1-1.
Two of the four Japanese clubs has been eliminated, while Kashima Antlers clinched their way into the round of 16 the day before. Cerezo Osaka can still qualify with a win over Guangzhou Evergrande (China) in an away match on Tuesday 17 April.
Kashiwa fail to score against Jeonbuk's solid defence
After the completion of four Sec., Kashiwa sat in third place of their league with 4 points. Entering the home clash against the group leaders, Jeonbuk, Reysol's were in a must win situation to keep their hopes alive ahead of the final Sec.
Kashiwa kept a track record of five wins and a draw against the two-time ACL winner and the reigning K League champion until the 2015 ACL, but lost the away match 2-3 in their tournament opener this year. Despite their intention to redeem themselves at home, Kashiwa conceded early to put themselves in a tough spot.
In the 16th minute, Jeonbuk's Brazilian forward Ricardo LOPES exploited the space behind the Kashiwa defenders and fired a shot. His shot would once hit the goalpost, but he successfully followed up the deflection to score the opener.
With their goalkeeper NAKAMURA Kosuke missing the match due to injury, Kashiwa fought hard to win second balls against the Korean side. In the 25th minute, forward ITO Junya delivered a cross after making a run in the right flank. Midfielder ESAKA Ataru came across to connect with a header, but his attempt was saved by the opposing goalkeeper. KOIKE Ryuta fired a shot in the 39th minute after receiving a pass from Ito, but his shot was off target.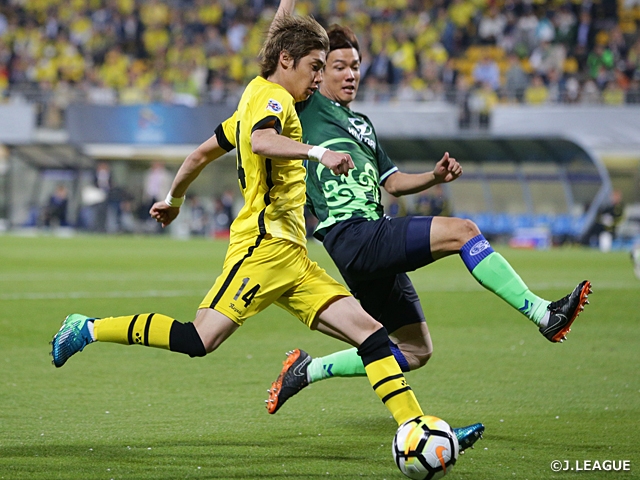 In the second half, Jeonbuk came out playing defensively, while Kashiwa made efforts to equalise the match. In the 48th minute, defender NAKAYAMA Yuta attempted a shot from mid-range, followed by defender PARK Jeongsu's header off a corner kick, but both attempts were saved by the goalkeeper.
Kashiwa continued to charge the box in the attacking third, but could not create a major threat.
With just one win away from clinching a spot to the round of 16, Jeonbuk sat back and played defensively, while anticipating countering opportunities. In the 77th, forward LEE Dong-guk extended their lead to 2-0 following a corner kick from the left side.
In additional time, defender NAKATANI Shinnosuke fired his side's 14th shot of the match, when he connected with KIM BoKyung's free kick, but Kashiwa would end up empty-handed.
Kashiwa had qualified through the group stage in their previous three tournaments, but failed to advance to the round of 16 for the first time in their fourth attempt. Jeonbuk will now advance to the round of 16 with 12 points after winning four matches while losing a match. Tianjin, who made their first ACL appearance, will also advance through the group stage as runner-up after accumulating 10 points.
With hopes to advance to the round of 16 as group leaders, Tianjian will take on Kashiwa in the final Sec. on Wednesday 18 April.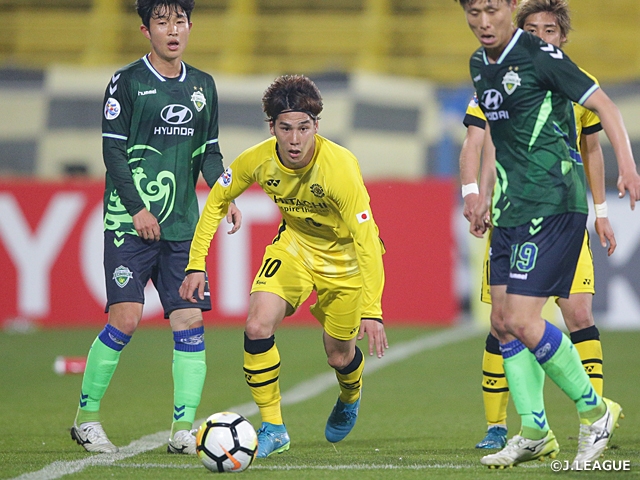 Kawasaki F eliminated after going winless in five matches
Last year's quarterfinalist Kawasaki Frontale was left with a mere point after the fourth Sec. To keep their hopes alive, they had to win against Shanghai SIPG, while the match between Ulsan Hyundai and Melbourne Victory had to end up in a tie. However, the news of Ulsan's victory came in ahead of their match, closing the doors for Kawasaki F to make their round of 16 appearance two years in a row.
Kawasaki F elected to start mainly their backup players as defender Elsinho and midfielders Eduardo NETO and IENAGA Akihiro started on the bench. The Shanghai side, whom featured former Brazilian national team duo HULK and OSCAR, earned a penalty kick in the 21st minute, but Hulk failed to convert this opportunity.
The game entered halftime scoreless, but Shanghai's forward ELKESON would go onto score the opener in the 68th minute.
Kawasaki F would go onto tie the match just six minutes later, when forward CHINEN Kei headed a cross from midfielder MORIYA Kentaro. However, their efforts would end there, and the match ended with a final score of 1-1, leaving Kawasaki F eliminated with one more match remaining.
Shanghai have improved to 11 points to advance to the round of 16 as group leader, while Ulsan has also clinched their spot as the runner-up. Kawasaki will now face Ulsan on Wednesday 19 April at home.
Coaches' and Players' Comments
SHIMOTAIRA Takahiro, Coach (Kashiwa Reysol)
We really wanted to advance to the next round, so this is a disappointing result. Last time we faced them, we struggled against their height and power, but this time we were able to create many chances and took many shots. But we lacked quality in our final third while our opponents were able to convert their chances. This tournament featured many talented players who can single handedly change the course of the match, and it was at a level where we couldn't compete as a team nor with tactics. The individual abilities displayed at this tournament were beyond our imagination.
FW CRISTIANO (Kashiwa Reysol)
We cannot make mistakes against a team like Jeonbuk, because they would take advantage of those mistakes, but there were stretches where we made numerous errors during this match. Jeonbuk is a great team with polished defence. They didn't allow us to build-up our offence, and it's very disappointing to end the tournament this way.
FW ITO Junya (Kashiwa Reysol)
We gave up a goal early in the match, and couldn't find our rhythm. As a result, our opponents took advantage of their few chances. We created many chances from the first half, but couldn't capitalise on those chances. During this tournament, we had many regretful matches, as we lost matches where we should have won.
CHOI Kang-heui, Coach (Jeonbuk Hyundai Motors)
Physically, it was a very challenging match for my players, but they showed great heart to clinch a spot into the round of 16. From our last encounter with Kashiwa, we had a good feel of their strengths and weaknesses. We focused on winning the second balls and battles in the midfield today. We didn't mind giving Kashiwa possession of the ball as long as we denied their build-ups, and that seemed to have worked in this match.

Tournament Period:30 January 2018 (Tue.) ~ 10 November 2018 (Sat.)