NEWS
U-16 Japan National Team faced Belgium in first match of UAE tour - U16 Four Nations Tournament
07 February 2018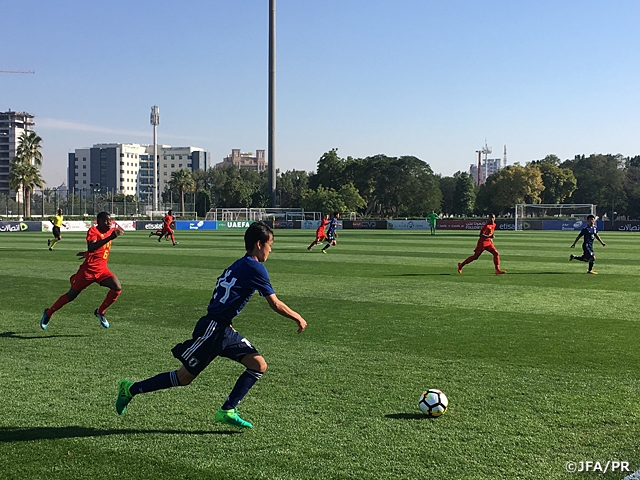 U16 Four Nations Tournament 1st Match vs U-16 Belgium National Team
6 February 2018 (Tue.) Kick-off 15:30(Local Time) Playing Time 90min.(45min.×2)
Dubai Police Club (Dubai / UAE)
U-16 Japan National Team 0-3 (0-1, 0-2) U-16 Belgium National Team
Scores
29' Goal against (U-16 Belgium National Team)
69' Goal against (U-16 Belgium National Team)
85' Goal against (U-16 Belgium National Team)
Starting Line-ups
GK: YAMADA Taiki
DF: MATSUMOTO Taichi, SUETSUGI Hikaru, MUKAI Hayate, NAKANO Shinya
MF: ARAKI Ryotaro, YAMAUCHI Kakeru, YOKOKAWA Asahi, SUMI Kohshiro
FW: TANAKA Zen, OSAWA Tomoya
Reserves
GK: SASAKI Masato
DF: HANDA Riku
MF: TANIGUCHI Taisei, NISHIKAWA Jun, MORITA Sho, MITO Shunsuke
FW: AOKI Yosuke
Substitutions
HT MUKAI Hayate → MITO Shunsuke
62' YAMAUCHI Kakeru → AOKI Yosuke
78' TANAKA Zen → TANIGUCHI Taisei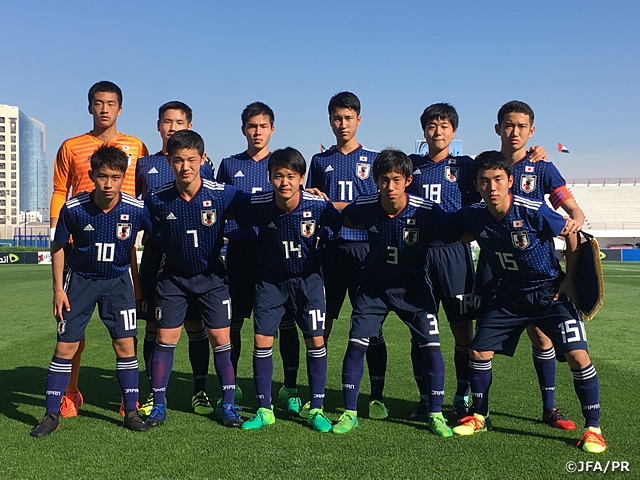 Match Report
U-16 Japan National Team faced European power house U-16 Belgium National Team. It was the first match since coach MORIYAMA led the team. Before kick-off, the newly appointed coach gave a pep talk to his players, saying "I only need players who are willing to put up a fight. Go play with aggression!".
From kick-off, Japan can't seem to find their rhythm. Mistakes were forced by Belgium's quick pressure and the Japanese side were unable to create any attacking threats. In the 29th minute, Belgium caught their opponent off guard to score their first goal. In efforts to get back in the game, Japanese midfielder YOKOKAWA took a shot in the 31st minute, followed by an opportunity from a corner kick in the 35th minute, but could not create a real threat to the Belgium side. Coach Moriyama instructed his players individually regarding positioning and tactical decision makings throughout the half. The game went into half time 1-0 in favor of Belgium.
Midfielder MUKAI was substituted by midfielder MITO starting the second half. Japan started to show better composure, managing to move the ball around a little more. Shots taken in the 47th and 48th minutes were both slightly off target. However, just as they seemed to get used to Belgium's pressure, Japan conceded two more goals in the 69th and 85th minute. Japan lost the match with the final score of 0-3. For coach Moriyama, it was a bitter start for his tenure.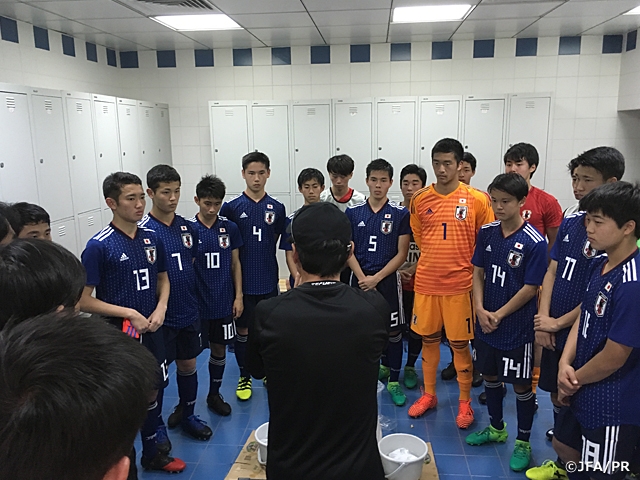 Players' Comments
GK #1 YAMADA Taiki (Kashima Antlers Youth)
We lost our momentum from our own mistakes, which led to conceding goals, and everything went south from there. We showed positive possessions towards the end of the first half, but we couldn't convert. And on the other hand, we were too fragile in defense, giving up a goal too easily. We'll just have to keep our heads up, talk it out as a team, and feed off of this game. We need to improve on our quality and prepare so that we can win our next match against UAE.
MF #7 YAMAUCHI Kakeru (Vissel Kobe U-18)
There were lots of issues exposed in this game, and we need to improve both as a team and as individuals. We couldn't capitalise on our chances even though we had many of them, whereas Belgium was able to convert their few chances. That is definitely something we need to get better as a team, because that was one of the reason we lost today. I personally need to make quicker transition defensively. I also need to be involved in the final third more often and in a better way. There were also times where I wasn't paying enough attention to my surroundings when receiving the ball, so I need to be more aware every time I receive the ball. As for the positive side, I did manage to get involved with the ball frequently and was able to send out some good diagonal passes, so those things I'd like to continue doing. We'll just have to take this loss as it is and learn from it, so that we can improve and win the remaining two games.
MF #10 ARAKI Ryotaro (Higashi Fukuoka High School)
From today's game against Belgium, I strongly felt that we need to utilise stronger passing and fight more aggressively on fifty-fifty balls. We were able to force turnovers even in times where we were dominated, but our initial pass lacked accuracy which led to another lost possession. Same could be said in fifty-fifty balls, we kept giving up possessions in those loose ball situations too. Personally, I had a chance where I should have scored, and I felt the need to train harder. Also the need to heighten the quality of my training as well. We still have two more games to play, so we'll switch our mind-set and try to win them both.
MF #13 YOKOKAWA Asahi (Shonan Bellmare U-15)
It's very disappointing to lose the first match. Our opponent was much better in terms of physical level, scoring techniques, and willingness to score. We need to improve on our scoring and our possession following a turnover. We have to feed off of this loss, and learn what we need to do to compete against top teams in the world. We need to utilise the remaining two games to improve on what we lacked today.
Schedule
U16 Four Nations Tournament
Tue. 6 February
0-3
1st Match vs U-16 Belgium
Wed. 7 February
AM/PM
Training
Thu. 8 February
18:30
2nd Match vs U-16 UAE
Fri. 9 February
AM/PM
Training
Sat. 10 February
15:30
3rd Match vs U-16 Czech
*Local Time
*The schedule is subject to change due to the team condition, the weather, etc.
U16 Four Nations Tournament
6 February 2018 - 10 February 2018
For Tournament Information