NEWS
From Pitches in Asia – Report from JFA Coaches/Instructors in Asia Vol.32: OHASHI Akiyoshi, Goalkeeper Coach, Japan Women's National Team on Laos GK Clinic
07 February 2018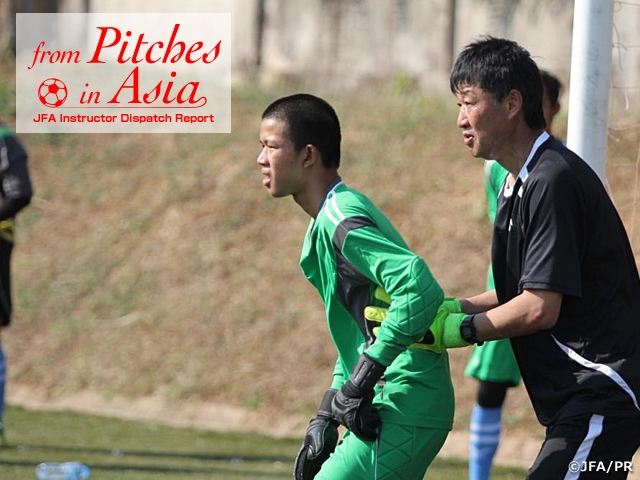 "From Pitches in Asia" is a report that introduces the viewpoints of instructors active in Asian countries. The 32nd edition is a report on a goalkeeper clinic held in Laos. Written by Nadeshiko Japan (Japan Women's National Team) goalkeeper coach OHASHI Akiyoshi, who is also taking part of the development of goalkeeper coaches for JFA. The project was a collaboration between the Japan Foundation Asia Center and JFA, which took place between 21 January and 27 January, 2018.
Vientiane, Capital of Laos
It has been five years since I last visited Vientiane, the capital of Laos, overall it was my fourth time visiting. Compared to the last time I was there, I was surprised by how much more motorcycles and cars (full size AWD vehicles) were there. Normally it only takes about 15 minutes from the hotel to the facilities of the Lao Football Federation (LFF), but during the morning and evening rush hours, it took double due to heavy traffic. I was also surprised to see so many tourists visiting Laos from overseas, including people from Japan.
Goal Keeper Clinic
The three day goalkeeper clinic took place inside the facilities of the LFF. A total of eight goalkeeper coaches and nine goalkeepers participated in this clinic. The group included goalkeeper coaches and goalkeepers from the Laos men's national team and under-category national teams.
The LFF had requested the following agendas in advance to be lectured and trained during the clinic:
1. Training methods for goalkeepers
2. Positioning of goalkeepers during games
3. Physical training for goalkeepers
Practical training involved one-on-one situations, defending against crosses, shot stopping, and offense. Core training were also introduced during the clinic. The Lecture part was mainly on training methods and physical trainings intended for goalkeepers.
During the entire course, goalkeeper coaches asked many questions, suggesting that they are very eager to become better coaches. The goalkeepers were also very dedicated to the tasks they were given, and all of those have contributed to the clinic to be a very meaningful one.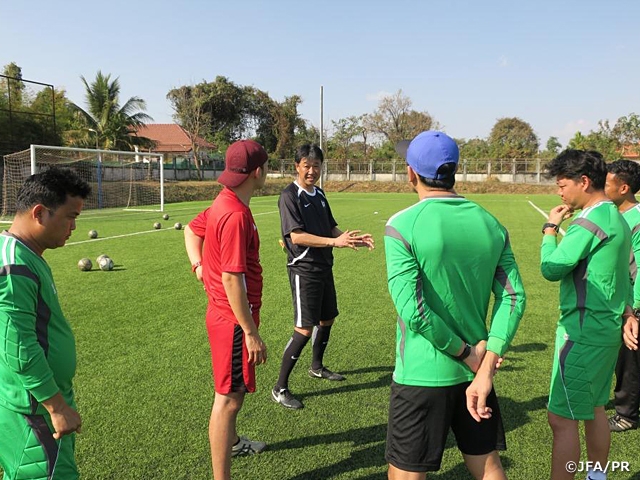 Goalkeepers in Laos
A total of nine goalkeepers took part in the clinic. They all shared similar strengths, which were their speed, ability to leap, quick ball reaction, and flexibility. Yet as the LFF had requested in advance, they seemed to have issues positioning themselves according to game situations, and basic techniques. Their physical ability as goalkeepers were definitely present, so if they can improve on their issues, there will be many good goalkeepers going forward. Laos doesn't lack passionate goalkeeper coaches, so I believe better goalkeepers will develop.
We couldn't speak Lao, but we were able to communicate with our physical gestures. At least I thought I was communicating well. I would like to thank everyone from the LFF for their warm support. It was only three days, but I hope we were able to contribute to the development of goalkeepers in Laos.