NEWS
U-24 Japan National Team earn precious three points off Mexico
26 July 2021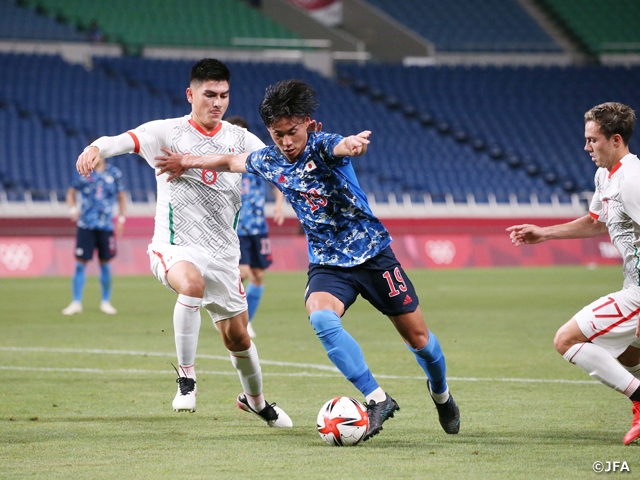 On Sunday 25 July, the second group stage fixtures of the Games of the XXXII Olympiad (Tokyo 2020) men's football tournament took place at various locations. At Saitama Stadium, the U-24 Japan National Team squared off against the U-24 Mexico National Team.
The two sides have faced each other at the semi-finals of the 2012 London Olympics, in which Mexico won the match on their way to claiming the gold medal. When finding out that Mexico was placed into the same group as Japan, coach MORIYASU Hajime commented, "They are a really strong team." Entering the tournament as one of the favourites to win a medal, Mexico started the group stage by defeating France 4-1.
As YOSHIDA Maya (U.C. Sampdoria) and TANAKA Ao (Fortuna Dusseldorf) both later reflected, "We entered the match poorly," Japan allowed Mexico to create close opportunities in the early minutes. However, the home side managed to bounce back and create chances of their own.
In the sixth minute, DOAN Ritsu (PSV Eindhoven) made a run into the open space at the right flank, as he later reflected, "I noticed that our opponent was starting a midfielder as their left fullback, so I told my teammates to try to exploit the space behind him in the first 10 minutes." Doan then delivered a cut back towards the centre, in which he explained, "If I were the centre midfielder, I would be anticipating the ball there, so I trusted Kubo to do the same." Just as Doan intended, KUBO Takefusa (Real Madrid) was making a run into the box.
"An opponent was closing down quickly, and I knew my shot would sail wide to the right if I squared up with the ball. That is why I chose to flick the ball with an outside kick, hoping it would go towards the far side." Said Kubo, as the midfielder converted the cross with a spectacular shot to give Japan an early lead.
Just four minutes later, SOMA Yuki (Nagoya Grampus) made an attempt to penetrate the box from the left side. The winger was brought down as he delivered a cross, and after the play was reviewed by VAR, Japan was given a PK, which was converted by Doan to extend the Japanese lead.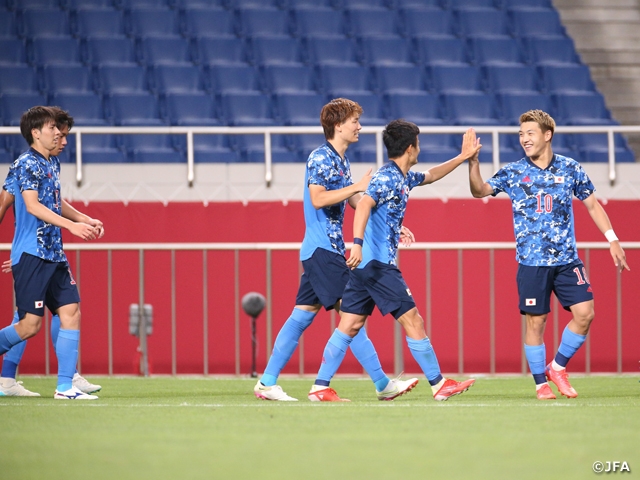 Japan showcased a superb collective effort to contain Diego LAINEZ, as NAKAYAMA Yuta (PEC Zwolle) worked with Soma, Tanaka, and ITAKURA Kou (Manchester City) to keep the Mexican ace at bay, as the fullback later reflected, "I was able to work with Soma, Itakura, and Tanaka to keep the opponent from creating chances or take shots. I feel like we were able to contain him almost perfectly during the first half."
The second half saw Mexico gain momentum, as they applied more pressure to rally back, but Johan VASQUEZ was shown a red card after committing a foul to stop Doan from breaking loose in the 68th minute. Despite gaining a numerical advantage, Japan struggled to find their rhythm, as Yoshida mentioned, "The fact that our opponent was playing with a man down made it even tougher on us."
Mexico converted a FK in the 85th minute to cut down their deficit in half and continued to apply pressure to suppress the Japanese side, but thanks to the fine saves made by TANI Kosei (Shonan Bellmare), Japan managed to walk away with a 2-1 victory, gaining precious three points against one of the top teams of the tournament.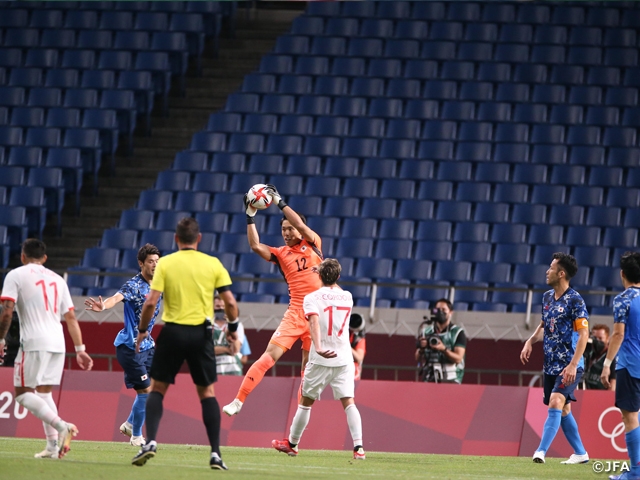 Following the match team captain Yoshida mentioned, "I think there were many mental factors, and if we were able to take advantage of the situation, this could have been a much easier match."
"There is no such thing as an easy match in these international tournaments" said coach Moriyasu. However, the coach also praised his players, "The players have shown signs of improvements and managed to earn this victory as a team."
The third group stage fixtures will take place on Wednesday 28 July. With this win over Mexico, Japan is in position to clinch the knockout stage with a draw or better.
Coach and Players' Comments
MORIYASU Hajime, Coach of U-24 Japan National Team
I would like to praise our players for all the work they put in to prepare for this match and their efforts on the pitch. However, we have not clinched the knockout stage yet, so while we celebrate this victory, we must get started to prepare for our next match. Although the matches are played without the crowd, we will continue to give our utmost efforts to deliver energy to our fans watching at home.
DF #3 NAKAYAMA Yuta (PEC Zwolle/Netherlands)
I am glad we were able to earn three points, especially after losing to Mexico when I was playing for the SAMURAI BLUE. I was able to feed off of that experience and play with confidence today. It is hard to stop Lainez when he receives the ball in an open space, so I focused on denying him from receiving the ball in a good condition.
MF #10 DOAN Ritsu (PSV Eindhoven/Netherlands)
It was a goal that helped the team earn a victory, and I didn't even realise that I just scored my first goal at the Olympics, because I was so focused on the team's victory. I have never been so determined to help a team like this in my entire career. That is just how I am committed for this tournament.
MF #7 KUBO Takefusa (Real Madrid/Spain)
I started running as soon as Doan took on the defender. He told me before the game that he would be looking for me, and the ball was perfectly delivered that I just had to convert it. Although the matches are scheduled in a short span, I feel like this tight schedule is bringing out the best in me.
MF #6 ENDO Wataru (VfB Stuttgart/Germany)
This was a wonderful result, and the results are what matters at the group stage. The fact that we were able to earn six points in the first two matches means a lot. However, we have not clinched the knockout stage yet, so we must stay focused to prepare for our next match. I was especially determined for this match, and intentionally raised my intensity level on the pitch. I was committed to attack the ball when I could. There were many aspects we still need to improve on, but by acknowledging those flaws, it gives us the opportunity to work on those aspects to raise the overall level of this team.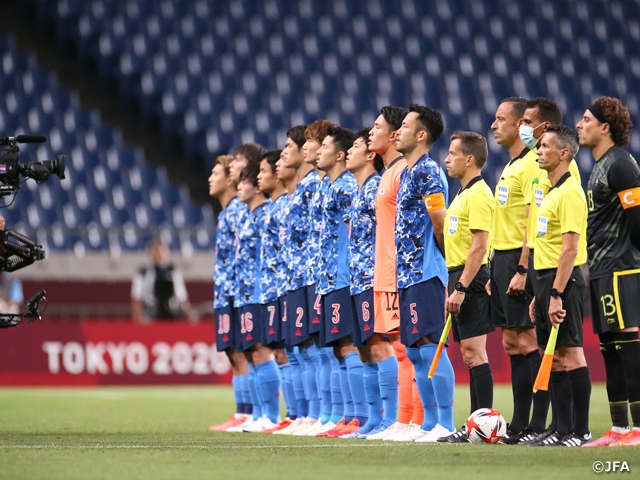 【#東京オリンピック】ハイライト#サッカー 男子1次ラウンド #日本 vs メキシコ

日本は難敵メキシコ相手に、前半で2ゴールを挙げると、最終的には2-1で勝利。グループ首位に浮上し、決勝トーナメント進出へ大きく前進しました。#Tokyo2020 #gorinjphttps://t.co/oOdJnrK5cR pic.twitter.com/SDl7tBguNI

— gorin.jp (@gorinjp) July 25, 2021
Games of the XXXII Olympiad (Tokyo 2020)
Football competition: Wed. 21 July - Sat. 7 August 2021