NEWS
U-24 Japan National Team hold training session ahead of match against Mexico
25 July 2021
On Saturday 24 July, the U-24 Japan National Team held their final training session ahead of their second group stage match of the Games of the XXXII Olympiad (Tokyo 2020) men's football tournament against the U-24 Mexico National Team.
Three days following their 1-0 victory over South Africa, Japan will face one of the tournament favourites, Mexico, who defeated France 4-1 in their first match. Ahead of the match DOAN Ritsu (PSV Eindhoven) commented, "We are determined to win this match. In order to win back to back matches, we need to believe in ourselves and focus on winning the match. We are prepared for any situation." Midfielder TANAKA Ao (Fortuna Dusseldorf) also mentioned, "This is going to be an extremely important match for us. We will try to showcase everything we've got."
Japan has faced Mexico in various age categories, including the U-20 and U-17 FIFA World Cup and other international friendly matches. Ahead of the match, coach MORIYASU Hajime shared his take on the match, "We must first focus on containing the opponent from doing what they want to do. There will be plenty of opportunities, so we must construct a firm game plan and keep the players on the same page."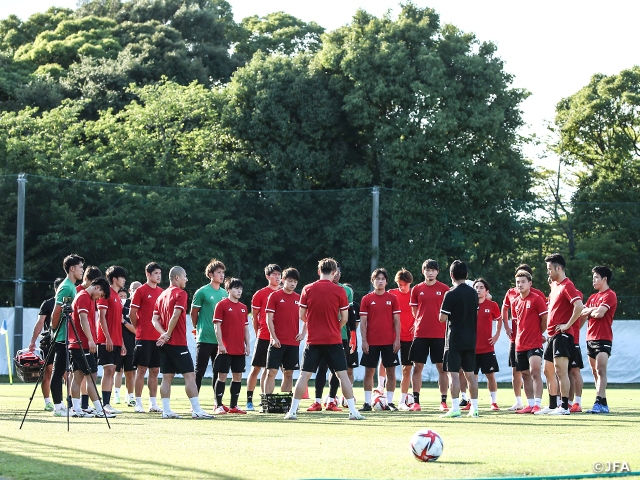 The U-24 Japan National Team's second group stage match against Mexico is scheduled to kick-off at 20:00 on Sunday 25 July.
Players' Comments
GK #12 TANI Kosei (Shonan Bellmare)
It was great that we were able to win our first match, especially while keeping a clean sheet. It felt like we did a great job in defence, but it is still just one match, and we need to keep up the good work in the upcoming matches. We are expecting a vastly different match against Mexico. I am sure the opponents will create many chances, so I must keep my focus to defend the goal. The Olympic tournament is held in a short period of time, and all matches leading to the final will be played with just two-day rests. There will be unexpected situations as we proceed through the competition, but I believe that there is nothing this team cannot overcome.
DF #20 MACHIDA Koki (Kashima Antlers)
Heading into the tournament, we were told that this is going to be an all-out battle, but after playing our first match, I came to realise what it meant to be playing all-out as a team. The fact that I was given a little bit of playing time in our first match allowed me to get a grasp on the game flow and atmosphere, so it meant a lot for me. Mexico is a well organised team consisting of players with great speed and techniques. I have played against them before, so I hope to utilise that experience to my advantage.
MF #17 TANAKA Ao (Fortuna Dusseldorf/Germany)
The fact that we were able to earn three points in our first match is huge. We were feeling a lot more pressure than we expected, and made lots of uncharacteristic mistakes, so our performance was no where close to our best performance. In that sense, I feel like we would be able to enter our next match a lot more relaxed. Mexico is a smart and strong team. They are aware of what their opponent doesn't want them to do, both as a team and as individuals, and capable of exploiting small flaws. It is extremely important that we keep a clean sheet, and I feel like we are good enough to make that happen. We hope to showcase a strong performance to score the opening goal.
FW #19 HAYASHI Daichi (Sagan Tosu)
There were a few scenes that I wish I could have scored in our match against South Africa. As a forward, I need to get on the same page with my teammates to time my runs upfront. Mexico is a smart team, so I will focus on winning the mental battles against the opposing players. In tournaments like this, I am more focused on the team's victory rather than individual achievements.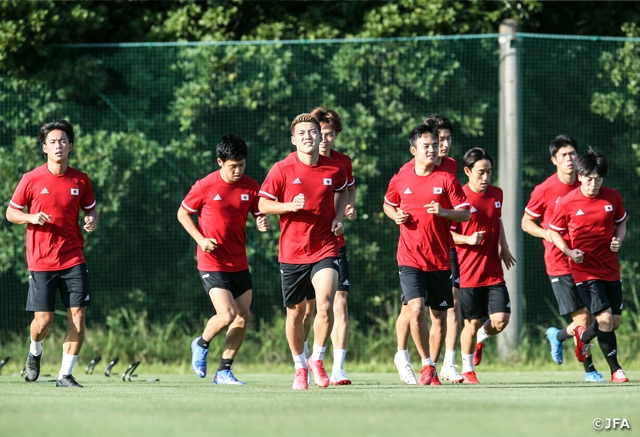 Games of the XXXII Olympiad (Tokyo 2020)
Football competition: Wed. 21 July - Sat. 7 August 2021