NEWS
U-24 Japan National Team to showcase tenacious fight in first group match
22 July 2021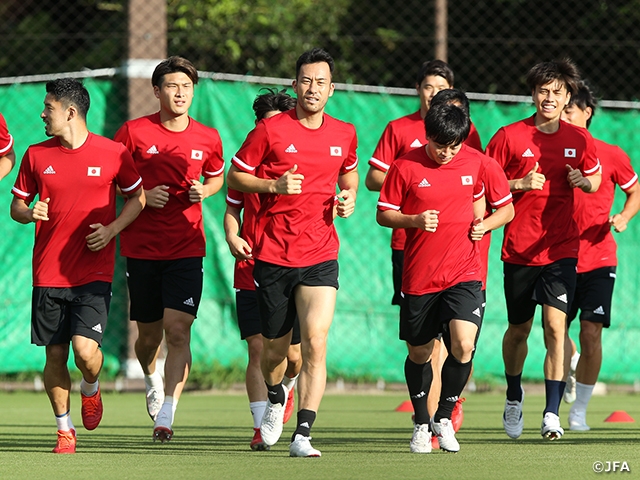 On Wednesday 21 July, one day ahead of their first group stage match against South Africa in the Tokyo Olympics, the U-24 Japan National Team held their final training session in Chiba.
Coach MORIYASU Hajime gathered the team ahead of the session to give a pep-talk, "Let's focus on the match in front of us and give our best effort to prepare for that match. This is going to be a tough tournament, so let's stay tough and showcase a tenacious fight." The team spent about an hour to go over their tactics for their match against South Africa.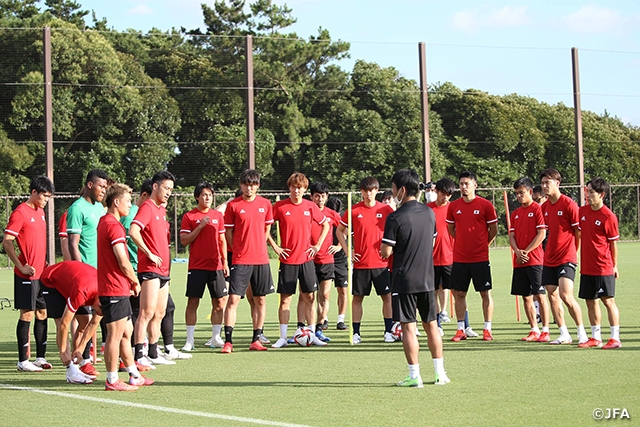 "We have all worked hard to reach this stage. We just need to showcase what we've got." Said MIYOSHI Koji (Royal Antwerp FC). NAKAYAMA Yuta (PEC Zwolle), who was involved since the team was launched three and a half years ago, also commented, "As we spent more time together, the team has gotten stronger and more organised. The addition of the over-age players brought inspiration to the team and allowed us to become more unified as a team."
When asked about their opponent, South Africa, Nakayama mentioned, "They are very athletic and capable of playing a solid game." Striker UEDA Ayase (Kashima Antlers) also shared his take, "It will certainly not be an easy match for us."
The match between the U-24 Japan National Team and U-24 South Africa National Team is scheduled to kick-off at 20:00 on Thursday 22 July at Tokyo Stadium.
Players' Comments
GK #12 TANI Kosei (Shonan Bellmare)
The moment has finally come. Throughout the course of the team activities, I have been able to build a good relationship with our defenders and share a mutual understanding about our defensive strategies. I am always focused on making difficult saves look effortless. In that I way, I feel that I can bring stability and peace of mind to our team.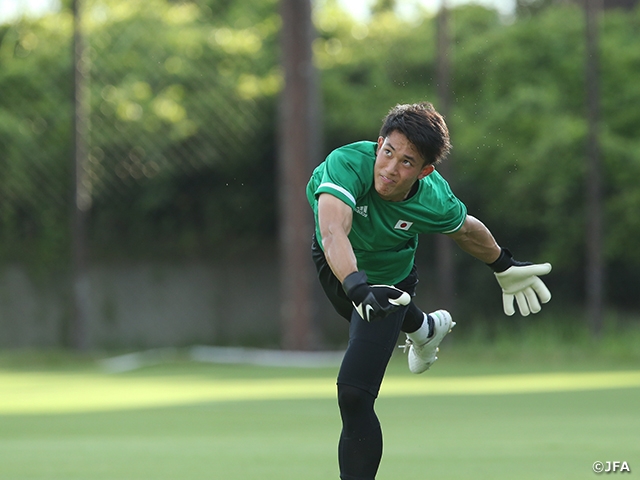 MF #7 KUBO Takefusa (Real Madrid/Spain)
It is important that we leave nothing behind. The fact that we were able to finish our prep-work on a high note gives us great momentum for this match. Since it was determined that the Olympics was going to be held in Tokyo, I have been striving to be on this team. The players have given their best to prepare for this moment, and I feel that we are fully ready for this match.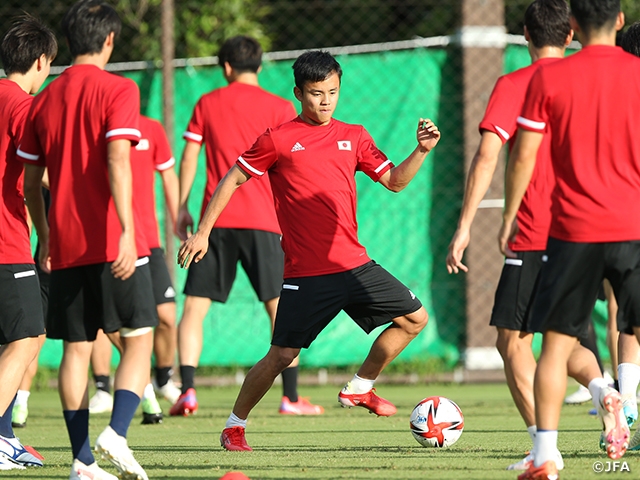 MF #17 TANAKA Ao (Fortuna Dusseldorf/Germany)
I am looking forward for this match. We have done everything within our power to prepare for this match, so we just need to go out there and showcase our best performance on the pitch. I am grateful to all the experience I was given from the national team and my club, which allowed me to become the player I am today. We will be facing players with great athleticism and speed, who can reach for the ball a lot longer than we normally expect. They are also technically sound, making them an all around solid team. We will make sure to manage the risks, while showcasing our strong points in both offence and defence.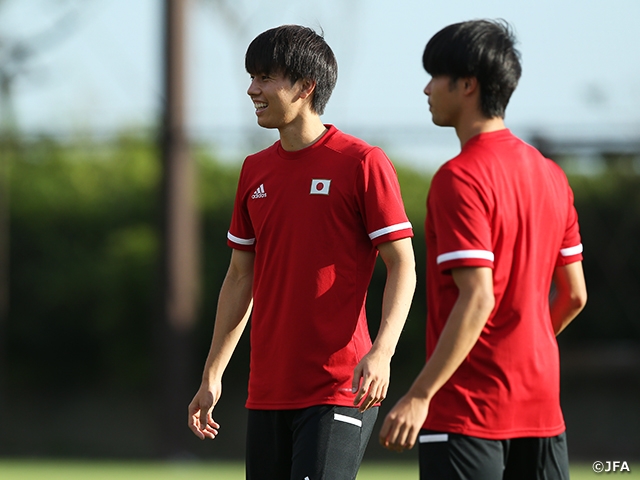 FW #18 UEDA Ayase (Kashima Antlers)
It feels like we came long ways to get here. I went through some rough patches, so I am glad that I am still with the team for the Olympics. After going through the postponement of the Olympics, competition within the team, and the changes of my surrounding environment, I have always played while thinking of ways to differentiate myself with the others. The first match of the tournament will certainly be a tough match for us, so I hope I can help the team by scoring goals. We will continue to improve the team's condition as we move forward.
Games of the XXXII Olympiad (Tokyo 2020)
Football competition: Wed. 21 July - Sat. 7 August 2021