NEWS
U-23 Japan National Team score upset victory to claim Asian title!
31 January 2016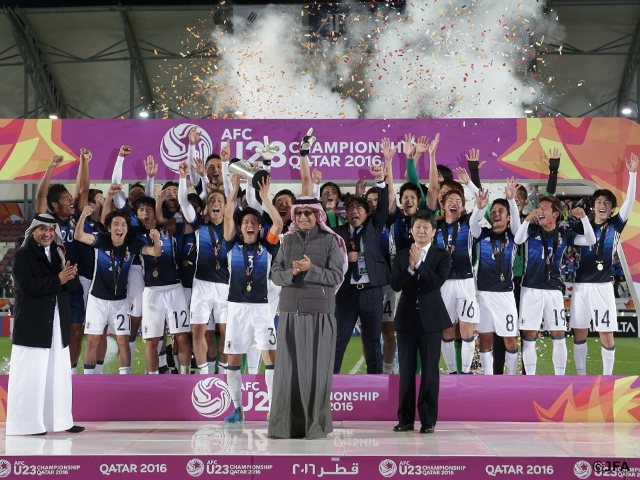 The team that have been learning from their defeats finally achieved a great aim.
U-23 Japan National Team are currently participating in the AFC U-23 Championship Qatar 2016 (Rio de Janeiro Olympics Asian Qualifiers Final Round) against Korea Republic at 17:45 local time (23:45 Japan Time) on 30 January.
Just one minute after kick-off, ONAIWU Ado, who received a forward pass from OHSHIMA Ryota, ran through the right wing, showing the team's aggressive attitude. After 20 minutes, however, Japan had some bad luck. The opponent's shot hit IWANAMI Takuya and deflected into the goal, going the other side of goalkeeper KUSHIBIKI Masatoshi's movement.
The match went into the second half at 1-0. HARAKAWA Riki replaced Onaiwu, while Japan change their playing system from 4-4-2 to 4-3-3. However, shortly after the second half began, after 47 minutes, Japan conceded a second goal.
TEGURAMORI Makoto fielded ASANO Takuma to replace Ohshima in the 60th minute; Japan went back to 4-4-2. Without confusion, the team coordinated their playing style to utilise Asano's speed.
After 67 minutes, Asano reacted to YAJIMA Shinya's through ball, and calmly scored, closing the gap to one goal. Then in the 68th minute, Yajima headed home from YAMANAKA Ryosuke' cross. Japan levelled the game within only two minutes!
Japan took the initiative. After 75 minutes, TOYOKAWA Yuta came onto the pitch, substituting Yajima, to accelerate Japan's attack.
The long-awaited moment finally came in the 81st minute. Asano, who received a floating pass from NAKAJIMA Shoya, got through the defenders and faced the goalkeeper 1-on-1, striking a goal with his left foot.
The team stayed focused to control the game in the remaining minutes, and won the match 3-2. Japan achieved their aim – to book a place at the Olympic in Rio de Janeiro as the Asian champions.
The awards ceremony was held after the match. Japan earned the Fair Play Award, and Nakajima was awarded the Most Valuable Player.
The team, who got through all their tough games, will leave Doha in the early morning of 31 January to fly back to Japan. KUBO Yuya left for Switzerland separately to join his club team.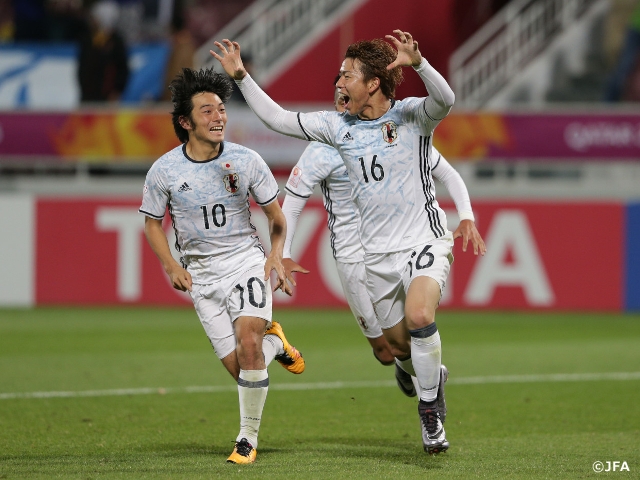 Coach and Players' Comments
TEGURAMORI Makoto, Coach
We won another match dramatically. The players learned from their frustrating defeats and now can be proud of themselves in front of you all, and can now tell how it feels to play internationally. I'm really pleased with this. Because we conceded the second goal, I as well as the players became even more aggressive to move forward. They have been learning throughout this championship what the strength of a united team is. Passing the ball simply to Asano, who came off the bench, worked brilliantly. We won all six games to become the champions of Asia. The responsibility we have participating in the Olympics in Rio de Janeiro as the Asian champions makes us stay keen to improve.
MF #10 NAKAJIMA Shoya (F.C. Tokyo)
One goal can totally change a match in football. During the game, I had been thinking how to score one. As Asano has pace, I wanted to use him as soon as he came onto the pitch. In terms of assisting the third goal, I aimed to use a one-touch pass, as I haven't done it so often. We had some luck, I think. Korea Republic could have scored their third goal as well. We can improve ourselves. Having said that, scoring an upset victory from 2-0 brought us huge confidence. All my teammates deserve the Most Valuable Player award, and I think I was awarded as a representative of the team.
MF #21 YAJIMA Shinya (Fagiano Okayama)
I truly realised that we won the championship when we gave the coach Teguramori the victory bumps. Korea Republic tend to have less stamina in the second half, and don't defend solidly against crosses. As we expected, I stayed unmarked in front of the goal even from the first half. So I believed that I could strike a goal, if I received a good ball. I didn't expect that I would score with a header, but Yamanaka passed me an excellent ball. In terms of assisting our first goal, I always see Asano getting through to the space behind the defenders. I finally assisted to find the back of the net.
FW #16 ASANO Takuma (Sanfrecce Hiroshima)
As a player, who came off the bench, I thought I had to impact the game by scoring a goal to start with. In terms of the first one, I ran without doubt when Yajima received the ball, as I trusted that he'd pass it to me in that kind of situation. Just as I expected, he sent an excellent pass. As for the deciding goal, I saw a space behind the defensive line, when Nakajima got the ball. Again I received a great ball, and could calmly strike a goal. I'm not satisfied with my two goals, but I think I contributed to the team a little.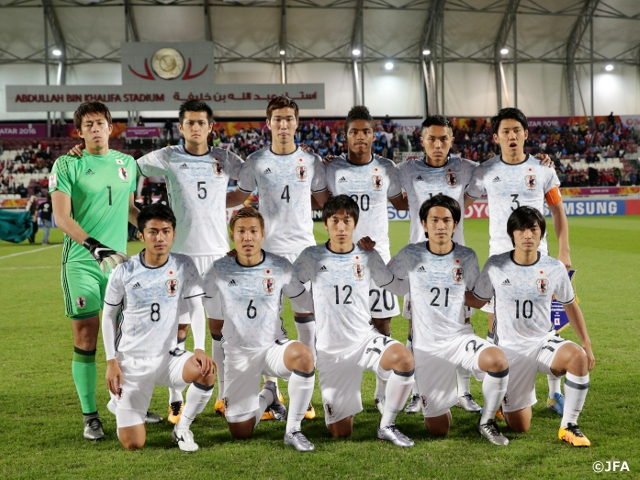 Schedule
AFC U-23 Championship Qatar 2016
Wed. 13 January
1-0
Group Stage 1st Match vs U-23 DPR Korea
(@Grand Hamad Stadium)
Thu. 14 January

AM

Training

Fri. 15 January

PM

Training

Sat. 16 January
4-0
Group Stage 2nd Match vs U-23 Thailand
(@Grand Hamad Stadium)
Sun. 17 January

AM

Training

Mon. 18 January

17:45

Official training (@Suhaim Bin Hamad Stadium)

Tue. 19 January
2-1
Group Stage 3rd Match vs U-23 Saudi Arabia
(@Suhaim Bin Hamad Stadium)
Wed. 20 January

AM

Training

Thu. 21 January

TBC

Official training (@tbd)

Fri. 22 January
3-0

Knock-out stage Quarter-Finals vs U-23 Iran
(@Abdullah Bin Khalifa Stadium)

Sat. 23 January

AM

Training

Sun. 24 January

PM

Training

Mon. 25 January

PM

Training

Tue. 26 January

2-1

Knock-out stage Semi-Finals vs U-23 Iraq
(@Abdullah Bin Khalifa Stadium)

Wed. 27 January

AM

Training

Thu. 28 January

PM

Training

Sat. 30 January
3-2
Knock-out stage Final vs U-23 Korea Republic
(@Abdullah Bin Khalifa Stadium)
*Local Time
Women's Olympic Football Tournament Rio 2016 - Asian Qualifiers Final Round
29 February 2016 - 9 March 2016
Nadeshiko Japan (Japan Women's National Team)/Australia/Korea Republic/China P.R./Vietnam/DPR Korea
Round robin tournament 15 Match(Top two team will earn Olympic berth)
Mon. 29 February vs Australia Women's National Team
Wed. 2 March vs Korea Republic Women's National Team
Fri. 4 March vs China P.R. Women's National Team
Mon. 7 March vs Vietnam Women's National Team
Wed. 9 March vs DPR Korea Women's National Team
All competitions are held in Osaka/Kincho Stadium -19:35 kick-off (tbd)
Ticket now on sale!