NEWS
U-20 Japan Women's National Team wins first ever title at FIFA U-20 Women's World Cup France 2018
25 August 2018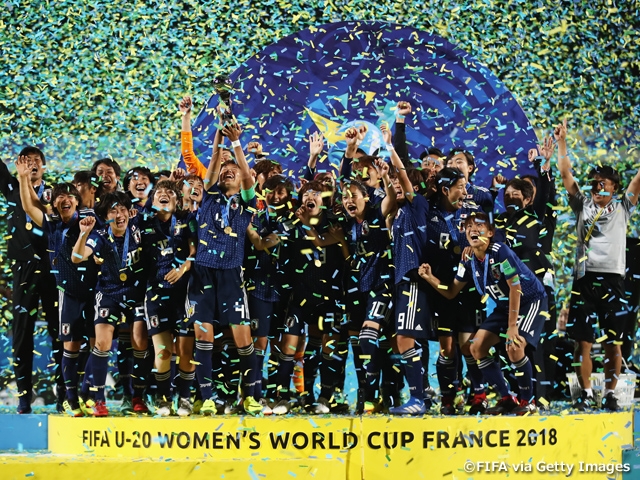 On Friday 24 August, the U-20 Japan Women's National Team won against the U-20 Spain Women's National Team 3-1 at the final of the FIFA U-20 Women's World Cup France 2018, taking down the FIFA U-20 Women's World Cup title for the first time in Japanese football history.
After losing to Spain 0-1 in their second group stage match, Japan sought for revenge in a match that attracted 5,409 spectators. The final kicked-off under a tense atmosphere as Spain skilfully connected the ball in their defence line to anticipate for holes created in the Japanese defence. Japan struggled to obtain the ball in the early minutes, but gradually created opportunities to attack the opposing goal. In the ninth minute, defender MIYAGAWA Asato made an overlapping run before launching a shot at goal. Forward UEKI Riko followed in the 13th minute when she received the ball from midfielder MIYAZAWA Hinata before striking a shot. Despite both attempts coming short from finding the back of the net, the match turned into an equally balanced bout as defender MINAMI Moeka showcased a superb save to deny Spain's goal scoring opportunity. The deadlock was broken in the 38th minute, when midfielder ENDO Jun delivered a pass to Miyazawa, who struck a shot with her right foot. The ball carried over the head of the Spanish goalkeeper and shook the net, giving Japan the lead as well as Miyazawa her first goal of the tournament.
Still with a one-goal lead, Japan continued to attack the Spanish goal in the second half. In the 65th minute, forward TAKARADA Saori combined well with Ueki to break through the centre before slotting the ball into the goal. Eight minutes later, this time Takarada assisted midfielder NAGANO Fuka's goal to give Japan a three-goal lead. Spain rallied back as they sought for their first ever Women's World Cup title at this age category, getting themselves on the scoreboard with a 71st minute goal scored by Candela ANDUJAR. Spain dominated the remainder of the match, but Japan displayed persistent efforts to deny their chances, as midfielder HAYASHI Honoka was seen hustling back to help her teammates defend against Spain's tenacious attacks. Despite all the action that took place in the closing minutes, the score line did not change, as Japan took down the match with a final score of 3-1.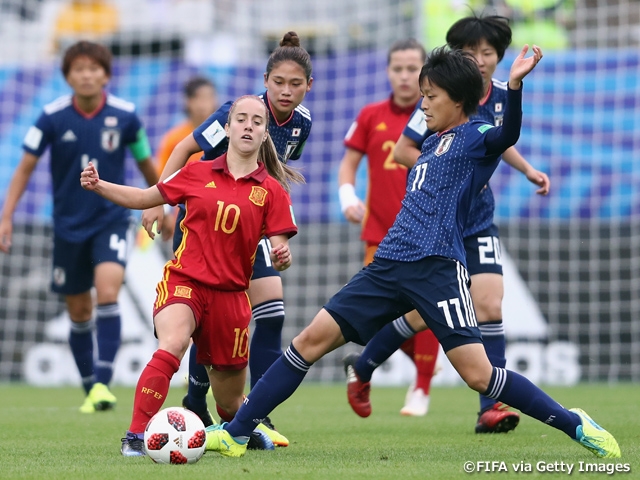 In their sixth attempt, Japan finally won their first U-20 Women's World Cup title.
Takarada was named as the Player of the match with her goal and an assist. After the match, Takarada was also awarded with the adidas Bronze Boot as well as the adidas Silver Ball, while Minami was awarded with the Bronze Ball. Japan received the Fair-play award as a team and the FIFA U-20 Women's World Cup France 2018 has closed its curtains.
Coach and Players' Comments
IKEDA Futoshi, Coach (U-20 Japan Women's National Team)
First of all, I am very happy of the fact we managed to win the World Cup, and I am very proud of our players. During this tournament, we saw our team improve both as a team and as individuals. And I feel that I was fortunate to coach such wonderful group of players. We tend to use the phrase "hard work" in defence a lot, but there are many ways to show hard work in offence as well. Our players made countless runs when they saw opportunities upfront and continuously made efforts to fill in the open space. So, I am grateful for the team's hard work in both offence and defence. It is the first time we have become the world champions at the U-20 age group, so I am happy for our accomplishment. I hope to see a continuous upward spiral in the overall growth of women's football in Japan, from the development categories to the senior categories.

DF #4 MINAMI Moeka (Urawa Red Diamonds Ladies)
I am so glad we have won the title. We came long ways up to this moment, so it was the happiest moment of my life when we lifted the Cup. Spain is a very organised team with great individual skills, so we were focused on not conceded a goal in the first half. We made too many mistakes in our first match against Spain, but probably made fewer mistakes than our opponent in our second encounter. When we did make mistakes, we kept telling each other that it was OK and not to worry about it. We have made a habit of working hard in every match and made many mistakes over the course but kept on communicating with each other to make it this far. Ever since the launch of the team, there were many players who have joined the team, and there are many of them who couldn't make it here. Without them, we wouldn't be standing here today. I will not be satisfied with this result and keep on working hard so that I can earn a starting position at my club team and make a case for myself to be selected into the Nadeshiko Japan.
MF #9 MIYAZAWA Hinata (NIPPON TV BELEZA)
I am very happy that we won the World Cup. I felt our team getting better as we played more matches together. When I was on the pitch, I was very eager to score goals. During the match I was aware that our opponent's goalkeeper was pressing up aggressively, so when I scored that goal, I made sure to strike the ball well. I didn't want to end the tournament with zero goals, so I am glad I managed to score one in this match. I will think of this moment as a starting point and fight for the starting position at my club so that I can make myself available to be called up to the Nadeshiko Japan at all times.
FW #11 TAKARADA Saori (CEREZO OSAKA SAKAI LADIES)
I am overwhelmed that we won the tournament. I wouldn't have won these awards without my teammates, so I very grateful for them. We were dominated in the first half, but we kept on talking to each other to keep ourselves in the match. There were many aspects of the game we weren't doing well during the group stage, but through our matches we made the necessary adjustments and managed to improve ourselves over the course. I believe that the fact we managed to keep our composure during the tough stretch in the first half led to our victory today.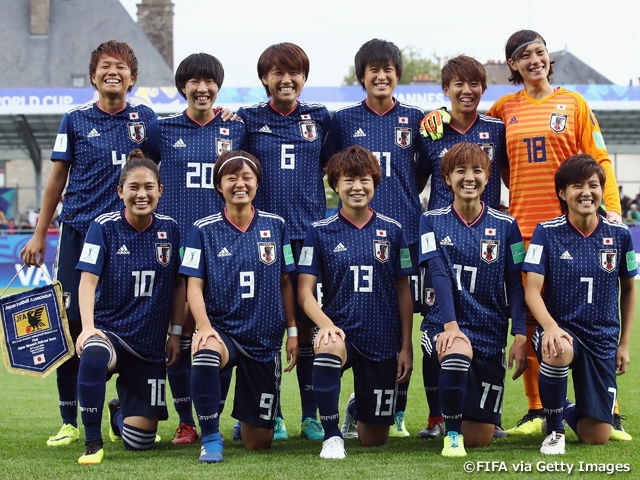 Schedule
FIFA U-20 Women's World Cup France 2018
Sun. 5 August
AM/PM
Training
PM
Official press-confrence
Mon. 6 August
1-0

1st Match of Group League vs U-20 USA
@Stade Guy-Piriou
Tue. 7 - Wed. 8 August
AM/PM
Training
Thu. 9 August
0-1
2nd Match of Group League vs U-20 Spain
@Stade Guy-Piriou
Fri. 10 - Sun. 12 August
AM/PM
Training
Mon. 13 August
6-0
3rd Match of Group League vs U-20 Paraguay
@Stade de la Rabine
Tue. 14 - Thu. 16 August
AM/PM
Training
Fri. 17 August
3-1
Quarter-final vs U-20 Germany
@Stade de la Rabine
Sat. 18 - Sun. 19 August
AM/PM
Training
Mon. 20 August
2-0

Semi-final vs U-20 England
@Stade de la Rabine
Tue. 21 - Thu. 23 August
AM/PM
Training
Fri. 24 August
3-1
Final vs U-20 Spain
@Stade de la Rabine
*Local Time, Japan time indicated within the parentheses
*The schedule is subject to change due to the team condition, the weather, etc.
FIFA U-20 Women's World Cup France 2018
Tournament Dates: Sun. 5 August - Sat. 24 August 2018
Live broadcasting for all of the Japanese matches scheduled on Fuji Television NEXT

Tournament Information