NEWS
U-16 Japan squad win final group league match but sent to consolation final at COPA UC 2016 in Chile
17 December 2016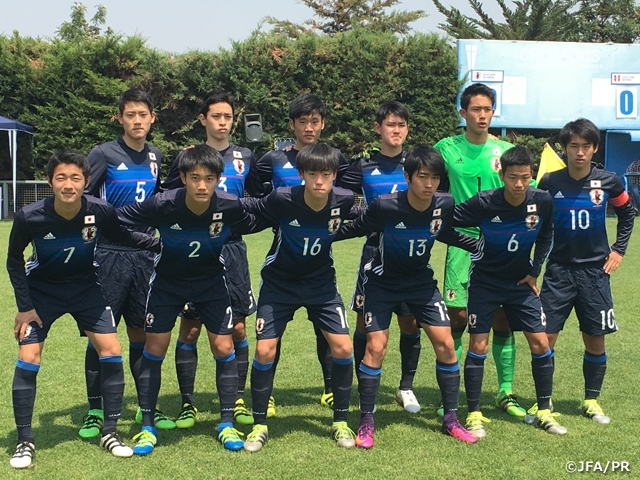 COPA UC 2016 U-16 Japan National Team vs U-16 Peru National Team
2016-12-16(Fri.) Kick-off 12:00(Local Time) Playing Time 70min.(35min.×2)
Estadio San Carlos de Apoquindo(Santiago, Chile)
U-16 Japan National Team 4-1(2-0, 2-1)U-16 Peru National Team
Scores
11' SUGAWARA Yukinari(U-16 Japan National Team)
15' NAKAMURA Keito(U-16 Japan National Team)
41' HIRAKAWA Rei(U-16 Japan National Team)
58' SEKO Ayumu(U-16 Japan National Team)
60' goal against (PK)(U-16 Peru National Team)
Starting Line-ups
GK:TANI Kosei
DF:SEKO Ayumu, SUGAWARA Yukinari, KOBAYASHI Yuki, HIGASHI Shunki
MF:HIRAKAWA Rei, FUKUOKA Shimpei, KIDA Hinata, IGAWA Sora
FW:YAMADA Hiroto, NAKAMURA Keito
Reserves
GK:OUCHI Issei
DF:MATSUI Renji, YAMAGUCHI Kazuki
MF:KATSURA Rikuto, HARA Mikoto, TSUBAKI Naoki, KOZUKI Soichiro
Substitutions
48' KIDA Hinata → MATSUI Renji
55' NAKAMURA Keito → TSUBAKI Naoki
58' FUKUOKA Shimpei → KATSURA Rikuto
Match Report
"00 Japan" beat Peru National U-16 Team 4-1 in the final match of their group stage in the "COPA UC 2016" on Friday 16 December. Losing to Mexico U-16 on the previous day, 00 Japan were required to gain a high-scoring win.
Japan's match was held during the daytime again. And the high temperature and fatigue from the past two matches could have affected their performance, but Japan dominated the game early on. In the 8th minute, forward YAMADA Hiroto beat an opposing defender and fired a shot past the goalkeeper on a one-on-one situation, but his shot was cleared by a defender.

Japan did not lose their rhythm and continued to attack. In the 11th minute, defender SUGAWARA Yukinari got close to goal, combining with his teammates with passes before composedly netting a long-awaited opening goal. In the 15th minute, NAKAMURA Keito met a corner flicked by Sugawara at the near post to score the second goal of the match. With a goal scored in a form that they have practised many times in training, Japan picked up their rhythm even further. Japan kept winning on one-on-one battles, improved combination, fatigued the opponents with passes using sides widely as well as maintained their pace at all times. In the 33rd minute, midfielder IGAWA Sora received the ball at centre and came close with dribbling, but his shot went wide.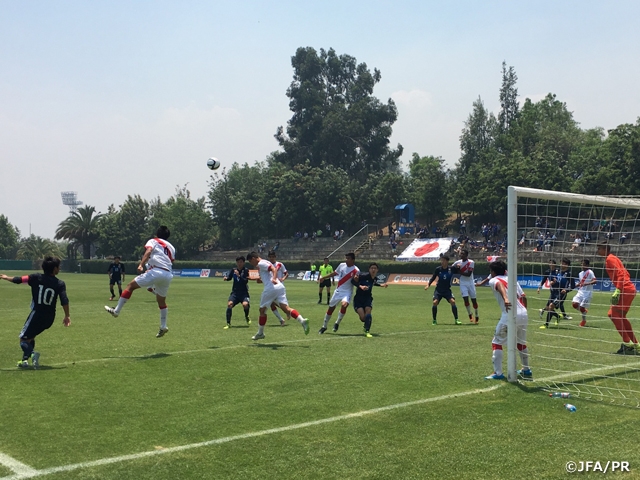 Requiring to score more to qualify at a higher ranking, Japan kept on attacking from the start of the second half. In the 41st minute, after Nakamura tenaciously cut past a defender on the right flank, Hirakawa met his cross for the third goal. When Japan gained a free kick in front of goal in the 58th minute, defender SEKO Ayumu headed defender HIGASHI Shunki's cross to give his side a four-goal lead. Japan maintained their momentum to score but conceded a goal from a penalty kick given in a goalmouth scramble. Even so, Japan created attacking chances by going forward. And forward KATSURA Rikuto and Yamada had a golden opportunity, yet both failed to score before the match ended in 4-1.
With U-17 UNIVERSIDAD CATOLICA falling to Mexico U-16s 0-1 in the final match of the same group, Japan were levelled with U-17UNIVERSIDAD CATOLICA on points and conditions. But as a result of a draw conducted according to the competition regulation, Japan were placed third in the group, which forced them to be sent to a consolation final. Japan will face the host Chile National U-16 Team in their next fixture.
* "00 JAPAN" is the nickname of the U-16 Japan National Team that consists of members who were born after 2000.
Players' Comments
DF #7 SUGAWARA Yukinari (Nagoya Grampus U18)
We were able to take advantage of the reflections from the last two matches. I'm really glad to win. We've gradually understood how South American teams play and got used to the environment of Chile. The opponents are tenacious on the ball and got power to go toward goal and battling play to commit themselves. Those are something that we can learn and that is important for me and the team. My strength gets through against South American powerhouses at times, so I will try to go all out in the remaining two matches.
MF #4 HIRAKAWA Rei (FC Tokyo U-18)
Today, we were able to play the match at our own pace. It's good we scored four goals when we needed a lot of goals, but we shouldn't have given up a goal. Through the group league, our intense play on the ball is getting better as a team and individuals over those past matches. We will never fall and try to come through it. Talking about myself, I was beaten easily when I threw my body to skilled players like Mexicans yesterday. I will try to play tenacious defence and go forward on offence to get more goal-scoring situations.
FW #13 NAKAMURA Keito (Mitsubishi Yowa SC Youth)
To advance to the final round, we tried to score a lot of goals today. I'm glad we won 4-1 in the end, but it was a match where we could have scored one or two more goals. As an individual, I kept trying to find space behind defenders, which is what I've got to improve. The goal I scored was kind of play I repeatedly practised, so I was so happy. I've learned lots of things everyday as we played against top-tier teams who we can't face in Japan. Plays that worked well in Japan didn't get through, and only playing in the group league reminded me of how difficult it is to score. We are playing a consolation final as a result of the drawing, but we still can play against other South American powerhouses. We will definitely win the remaining two matches before going back to Japan.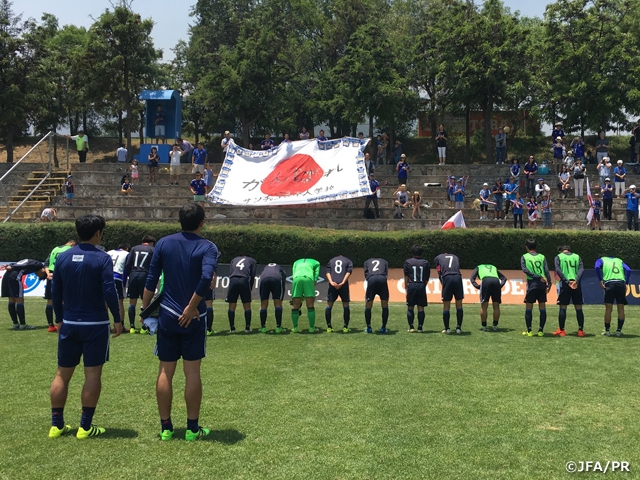 Schedule
COPA UC 2016
Wed. 14 December
1-1
vs U-17 UNIVERSIDAD CATOLICA
(Estadio San Carlos de Apoquindo)
Thu. 15 December
0-2
vs U-16 Mexico
(Estadio San Carlos de Apoquindo)
Fri. 16 December
4-1
vs U-16 Peru
(Estadio San Carlos de Apoquindo)
Sat. 17 December
12:00
Consolation Final vs U-16 Chile
(Estadio San Carlos de Apoquindo)
Sun. 18 December
TBC
Consolation Final (Estadio San Carlos de Apoquindo)
Mon. 19 December
TBC
Training (TBC)
*The schedule is subject to change due to the team condition, the weather, etc.
COPA UC 2016
A Group: U-16 Chile, U-16 Colombia, U-16 Paraguay, U-17 CLUB CHIVAS (Mexico)
B Group: U-16 Japan, U-16 Peru, U-16 Mexico, U-17 UNIVERSIDAD CATOLICA (Chile)