NEWS
U-16 Japan squad fall short in second match of COPA UC 2016 in Chile
16 December 2016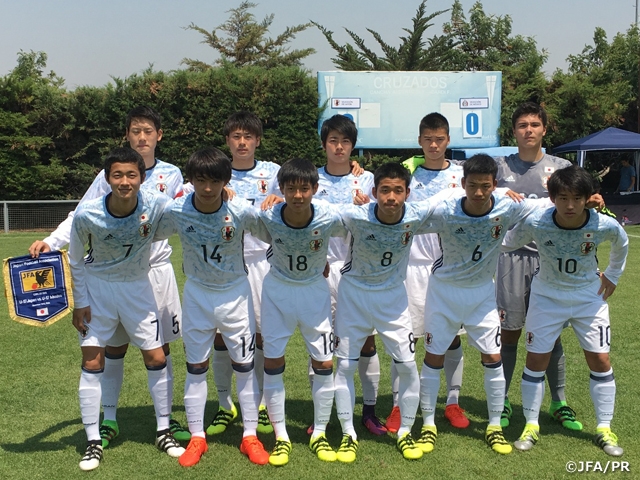 COPA UC 2016 U-16 Japan National Team vs U-16 Mexico National Team
2016-12-15(Thu.) Kick-off 12:00(Local Time) Playing Time 70min.(35min.×2)
Estadio San Carlos de Apoquindo(Santiago, Chile)
U-16 Japan National Team 0-2(0-0, 0-2)U-16 Mexico National Team
Scores
62' goal against(U-16 Mexico National Team)
68' goal against(U-16 Mexico National Team)
Starting Line-ups
GK:OUCHI Issei
DF:MATSUI Renji, YAMAGUCHI Kazuki, SEKO Ayumu, SUGAWARA Yukinari
MF:TSUBAKI Naoki, KIDA Hinata, FUKUOKA Shimpei, KOZUKI Soichiro
FW:NAKAMURA Keito, HARA Mikoto
Reserves
GK:TANI Kosei
DF:KOBAYASHI Yuki
MF:HIRAKAWA Rei, IGAWA Sora, KATSURA Rikuto, HIGASHI Shunki
FW:YAMADA Hiroto
Substitutions
43' HARA Mikoto → YAMADA Hiroto
HT KOZUKI Soichiro → HIRAKAWA Rei
60' TSUBAKI Naoki → HIGASHI Shunki
64' YAMAGUCHI Kazuki → KOBAYASHI Yuki
MatchReport
"00 Japan" were given a 2-0 loss by U-16 Mexico at the second match of the COPA UC 2016 being held in Chile on Thursday 15 December
This generation of Mexico has been one of the elites in the world, recording three straight final-four appearances in the recent FIFA U-17 World Cups. While they drew to the local participants, U-17 UNIVERSIDAD CATOLCA, on the previous day, Japan really wanted to defeat the Mexico side.
Including the temperature reaching 36 degrees Celsius with the kick-off scheduled at noon, the environment surrounding the match made it even tougher for Japan who just finished their first contest about only twelve hours ago.
Early in the match, both teams maintained their focus and defended well. But Mexico gradually pushed the ball forward to the Japan's end, which forced Japan to survive through Mexico's pressure for an extended stretch. In the 19th minute, a header off a left cross barely missed Japan's goalmouth above the cross bar. The deadlock first half finished scoreless with both sides failing to create any more highlights.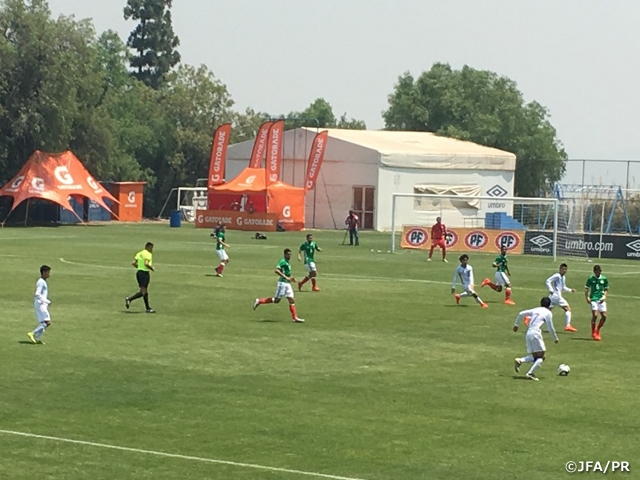 It was Mexico who had the first scoring opportunity in the second half. The space behind Japan's defenders was attacked in the 41st minute and Japan's goalkeeper OUCHI Issei was put into a situation where he had to defend all by himself in one-on-one. Ouchi, however, showed an outstanding save and did not concede the opening goal to the opponents just yet. Then his defensive effort ignited Japan's attacking featuring effective passes by substitute midfielder HIRAKAWA Rei. The opportunities including forward NAKAMURA Keito's free-kick in the 50th minute which just hit the bar and Nakamura's another attempt off a deflection out of a scramble in the 56th minute were denied by fine saves by the opposing goalkeeper.

Unfortunately, Japan finally allowed the disappointing opening goal when their dribbling mistake in the 63rd minute allowed Mexico to go on a counter-attack which resulted in a powerful strike from the left flank. Also in the 67th, another counter-attack caught the then offence-heavy Japan's formation and the shot from the right flank found the back of the net. Japan continued their efforts to come back, but they were wasted and the match ended with the scoring of 2-0 in Mexico's favour.
The next match for Japan is against U-16 Peru National Team as the group stage's last matchday.
* "00 JAPAN" is the nickname of the U-16 Japan National Team that consists of members who were born after 2000.
Players' Comments
GK #12 OUCHI Issei (Yokohama FC Youth)
We had to keep defending for a long stretch in the first half, but we stayed focused and managed to hold them scoreless. But in the second half, after those skilled opponents started breaking down our defence, we made mistakes and allowed two goals. It's a very regrettable result, but we have a possibility to play against Mexico again in the FIFA U-17 World Cup India 2017. So we altogether will share what went wrong to make sure that we will beat them next time. There are a lot to learn such as skills and mental strength of opposing goalkeepers in those good South American teams. So I want to willingly learn good plays here. I remember bitterness that I felt when I didn't get to play in a single match at the AFC U-16 Championship India 2016, so I want to get all that feeling out on the pitch during this trip.
DF #17 MATSUI Renji (Yaita Chuo High School)
It's the first ever international trip for me after I got called up to the national U-16 team and there were some moments when I was nervous. But I think I was calm enough to play. But what I couldn't do very well was coaching from the back and I let the opponents move around the ball so easily. Just as coach Moriyama always tells me, I need to take more of a leadership role and play as if I was a captain. Otherwise I can't outplay these good teams in the world. Against physically superior players we can't just keep getting beat. We can often outplay them in areas such as quality of passes, change of pace and timing of combinations. So I want to keep paying extra attention to the quality of short passes.
MF #8 TSUBAKI Naoki (Yokohama F・Marinos Youth)
It's very disappointing that we couldn't win today. They forced us to stay back and defend for a long stretch and we didn't have many chances to attack. Our coaching staff repeatedly advised us, but the lack of passing speed, relying too much on our foot technique only, and slow transitions between offence and defence are some of the problems we have right now. Our goal is to solve these problems. No matter at which position, from what timing or in what environment I play, I want to do my best to play just as I usually play. I want to create more plays where I can take advantage of my strength of dribbling.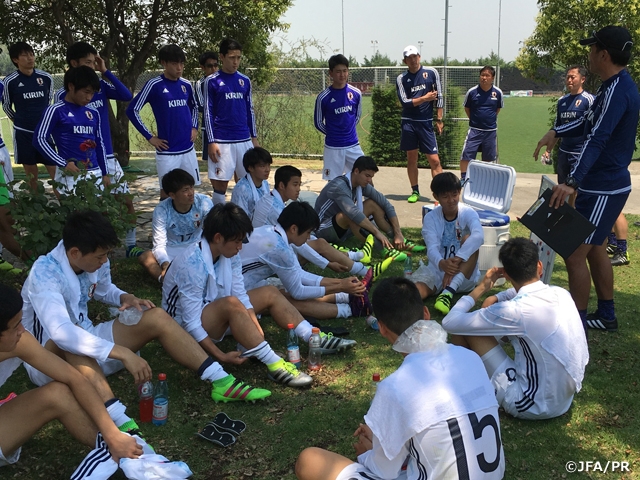 Schedule
COPA UC 2016
Wed. 14 December
1-1
vs U-17 UNIVERSIDAD CATOLICA
(Estadio San Carlos de Apoquindo)
Thu. 15 December
0-2
vs U-16 Mexico
(Estadio San Carlos de Apoquindo)
Fri. 16 December
12:00
vs U-16 Peru
(Estadio San Carlos de Apoquindo)
Sat. 17 December
TBC
Playoff (Estadio San Carlos de Apoquindo)
Sun. 18 December
TBC
Playoff (Estadio San Carlos de Apoquindo)
Mon. 19 December
TBC
Training (TBC)
*The schedule is subject to change due to the team condition, the weather, etc.
COPA UC 2016
A Group: U-16 Chile, U-16 Colombia, U-16 Paraguay, U-17 CLUB CHIVAS (Mexico)
B Group: U-16 Japan, U-16 Peru, U-16 Mexico, U-17 UNIVERSIDAD CATOLICA (Chile)