NEWS
U-16 Japan squad start off COPA UC 2016 in Chile with draw
15 December 2016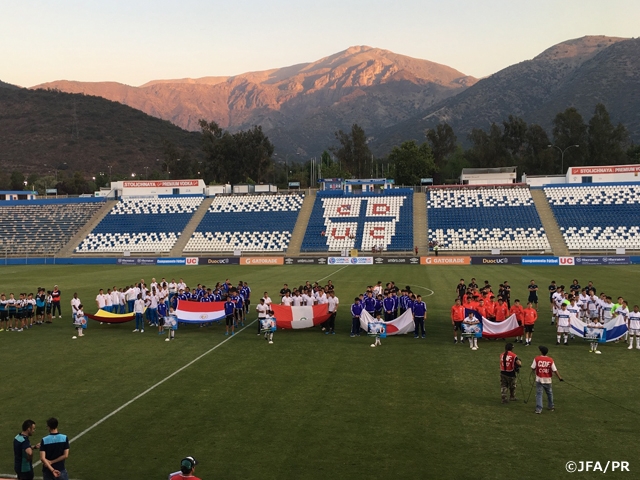 COPA UC 2016 U-16 Japan National Team vs U-17 UNIVERSIDAD CATOLICA
2016-12-14(Wed.) Kick-off 21:10(Local Time) Playing Time 70min.(35min.×2)
Estadio San Carlos de Apoquindo(Santiago, Chile)
U-16 Japan National Team 1-1(0-0, 1-1)U-17 UNIVERSIDAD CATOLICA
Scores
39' goal against(U-17 UNIVERSIDAD CATOLICA)
54' YAMADA Hiroto(U-16 Japan National Team)
Starting Line-ups
GK:TANI Kosei
DF:SEKO Ayumu、SUGAWARA Yukinari、KOBAYASHI Yuki
MF:HIRAKAWA Rei、IGAWA Sora、KIDA Hinata、HIGASHI Shunki、KOZUKI Soichiro、KATSURA Rikuto
FW:YAMADA Hiroto
Reserves
GK:OUCHI Issei
DF:MATSUI Renji、YAMAGUCHI Kazuki
MF:TSUBAKI Naoki、HARA Mikoto、 FUKUOKA Shimpei
FW:NAKAMURA Keito
Substitutions
40' KOZUKI Soichiro → NAKAMURA Keito
44' IGAWA Sora → FUKUOKA Shimpei
53' KATSURA Rikuto → TSUBAKI Naoki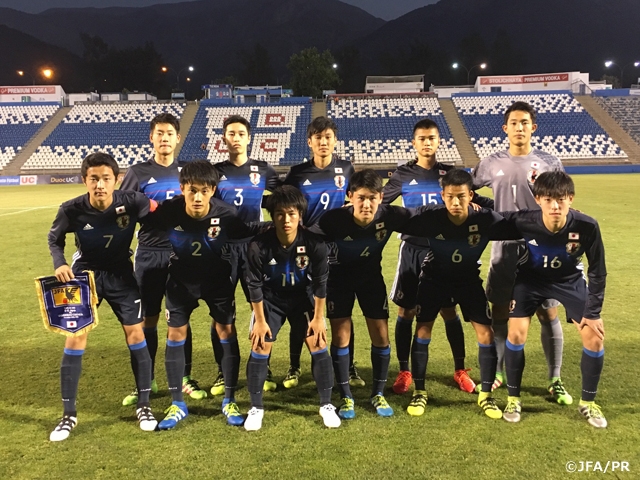 Match Report
Japan National U-16 Team, so-called "00 Japan", started their COPA UC 2016 campaign on Wednesday 14 by drawing to U-17 UNIVERSIDAD CATOLICA.
The opponents are one of the best clubs in Chile, winning countless domestic youth championships. According to the tournament regulations, the U-17 players of the club are participating this time.
The match was held right after the tournament's opening ceremony. In the great environment with almost 800 fans in attendance including a large group of Japanese supporters, the U-16 Japan squad kicked off their first match.
For '00 Japan', it was the first official international match since they lost to Iraq in the semi-final of the AFC U-16 Championship India 2016. Despite the fatigue from a long trip from home, the squad, especially their frontline, showed aggressive press defence, but outplaying Universidad Catolica, the winner of a Chilean youth tournament last year, was not an easy task.

The opponents composedly moved the ball around and showed their toughness and physicality time to time to dodge Japan's pressure and prevented the Japanese side from creating chances. As they gradually started to control the match, a passing mistake by Japan in the 13th minute led to a threatening pass into the space behind their defenders. But goalkeeper TANI Kosei threw his body and defended the one-on-one superbly. In the 20th minute, an opposing player shock off Japan's defence to fire a short-range shot, but Tani's leg managed to deflect the ball and save the goal again. While Japan started gaining their own rhythm by utilising flanks, accuracy was not there yet, finishing the first half scoreless.
Early in the second half, Japan were showing decent effort, but a long feed by the opponents surprised Japan and a very strong shot from the left side of Japan's goal found the upper right corner of the net for the match opener. Partly due to the fatigue they had to endure due to the long travel and time difference, the Japanese side kept failing to take advantage of the chances they created. Yet their defence led by Tani and defender SUGAWARA Yukinari displayed great perseverance and did not concede the second goal so easily. Then in the 55th minute, forward NAKAMURA Keito, after taking the ball in the middle, sent an impressive feed to YAMADA Hiroto, who passed by a defender with outstanding technique and equalised the match with his goal. After allowing the match to be tied, the opponents also started to show signs of fatigue, while Japan kept playing hard with all the energy left. However, the last whistle was blown without Japan completing their come-back effort and the contest ended with the 1-1 tie.
The next match for Japan is against U-16 Mexico who defeated U-16 Peru 1-0 in their first match.
* '00 JAPAN' is the nickname of the U-16 Japan National Team that consists of members who were born after 2000.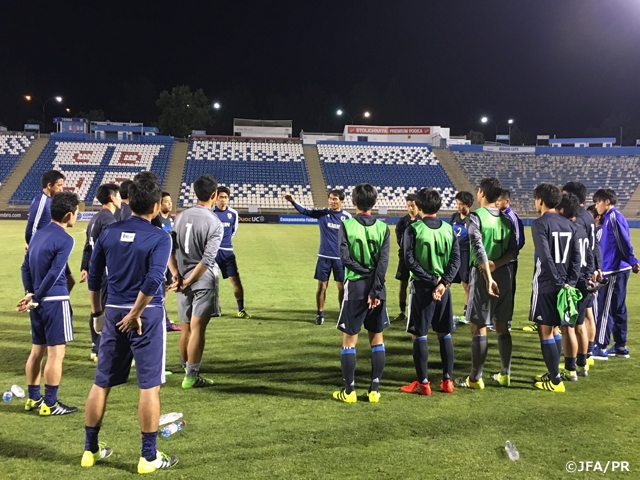 Players' Comments
GK #1 TANI Kosei (Gamba Osaka Youth)
The opponents were different from the ones we have in Japan and the ones we played against in the AFC U-16 Championship India 2016. They were very tough in one-on-one situations and there were a lot of stretches where they kept possession and we had to be patient. It was good that we could finish it at least with a draw by our total team effort and focus. Still, I regret very much that we allowed a goal early in the second half because of our communication breakdown. That reminded of the importance of making quick decisions. This trip has been very meaningful both for the team and for myself because we can play seriously against good teams in the South America. In order for me to play well in the FIFA U-17 World Cup India 2017, I will take in every single play, learn from good plays by the opponents and we want to grow together. For the championship, we will go all out to win next match.
DF #2 HIGASHI Shunki(Sanfrecce Hiroshima Youth)
I was very happy because the students from the Japanese school in Santiago that we visited yesterday and many other local Japanese people came out for our match. It's disappointing not to be able to win the important first match, and I think the next one in 12 hours will be a tough match again during the daytime. But we want to join forces including the team staff to win it. In this match, we had many situations in the first half where our offence became stagnant because of passing mistakes and lack of communication. But in the second half, all of us moved the ball left and right and we were able to create many chances from both flanks. For the rest of the four matches, we want to keep playing as we learn how to play well against physicality and quickness that we don't usually experience in Japan and also how to coordinate well with my teammates both offensively and defensively. More than anything, I want to play hard, contribute to team's offence and defence and win the match.
FW #9 YAMADA Hiroto (Cerezo Osaka U-18)
It was good that we didn't lose this match even when we were playing under conditions that we don't usually face in Japan such as 12-hour time difference and starting time of 9 p.m. It was good that I scored, but I had many other opportunities. I want to reset my mind and keep playing in order to record goals and assists in every match. Even from just playing today's match, I already felt the toughness and craftiness of South American players. I want to cherish this opportunity, keep working hard every day and do everything I can in every match I play in.
Schedule
COPA UC 2016
Wed. 14 December
1-1
vs U-17 UNIVERSIDAD CATOLICA
(Estadio San Carlos de Apoquindo)
Thu. 15 December
12:00
vs U-16 Mexico
(Estadio San Carlos de Apoquindo)
Fri. 16 December
12:00
vs U-16 Peru
(Estadio San Carlos de Apoquindo)
Sat. 17 December
TBC
Playoff (Estadio San Carlos de Apoquindo)
Sun. 18 December
TBC
Playoff (Estadio San Carlos de Apoquindo)
Mon. 19 December
TBC
Training (TBC)
*The schedule is subject to change due to the team condition, the weather, etc.
COPA UC 2016
A Group: U-16 Chile, U-16 Colombia, U-16 Paraguay, U-17 CLUB CHIVAS (Mexico)
B Group: U-16 Japan, U-16 Peru, U-16 Mexico, U-17 UNIVERSIDAD CATOLICA (Chile)