NEWS
U-16 Japan squad begin training in Chile
14 December 2016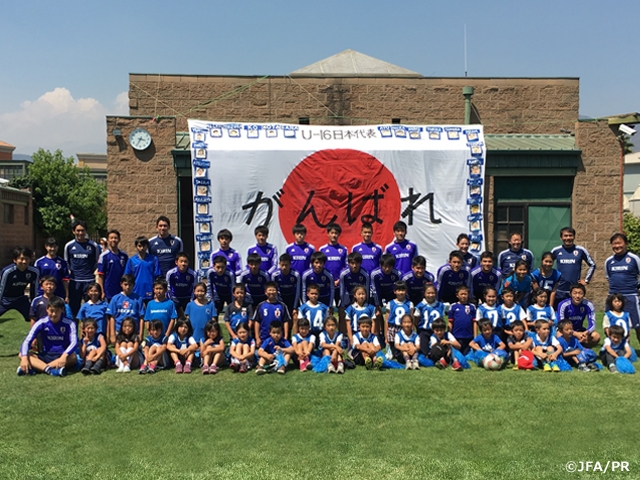 The U-16 Japan National Team, dubbed as '00 Japan', began their training ahead of the COPA UC 2016 opening on Wednesday 15 December in Santiago, Chile. The event in which Japan participate in for the first time is positioned as a simulated competition for next March's 2017 South American U-17 Football Championship where South American powerhouses assemble. For Japan National Team, this competition will be a perfect touchstone in the run-up to the FIFA U-17 World Cup India 2017 to be held in October next year.
'00 Japan' will meet U-17 UNIVERSIDAD CATOLICA, U-16 Mexico and U-16 Peru in their group stage before contending for the championship.
Japan had an-hour training session at Frontier Soccer Field in Narashino, Chiba before the 26-hour travel including transits to the host city Santiago, Chile. Before their training session, they visited a local Japanese school in Santiago and received a warm welcome. The encouraging words were so heart-warming that they almost forgot about their fatigue from a long trip and jet lag.

After an exchange meeting, the players had a 90-minute training session in the evening for the tournament starting on the following day. To get used to the time difference and the Chilean climate where the temperature significantly differs from Japan, they deliberately worked on running, stretching and movement preparation under the instruction by coach SAITO Toshihide. Then, they went through passing and controlling and other drills in groups of four and ball work in groups of nine, focusing on quality of every single pass and move over a short period of time.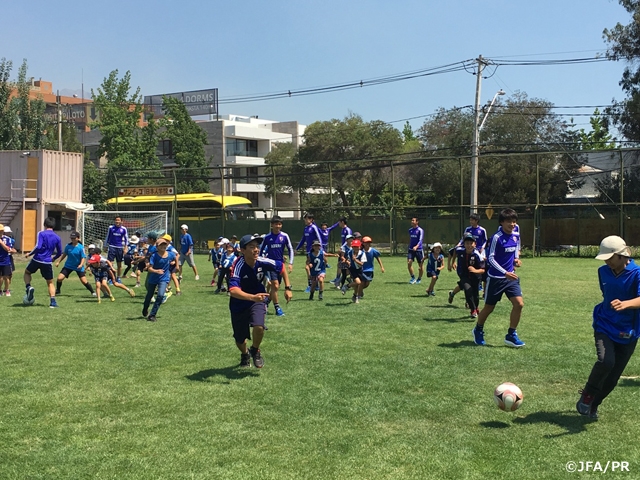 Tomorrow, the Japan team will face a Chile powerhouse, U-17 UNIVERSIDAD CATOLICA, who won the domestic youth tournament last year.
Players' Comments
DF #18 YAMAGUCHI Kazuki (Cerezo Osaka U-18)
I was frustrated because a lot of my teammates were called up to the youth national teams and I didn't, and I always had a determination to join some time. So I was so happy when I heard I was called up. I want to brush up my strengths like aggressive attacking, shifting between offence and defence and crosses that lead to a goal. In this long trip and overseas tour, I've learned a lot during those two days so far like how to cope with jet lag and how to spend time off the pitch. I will keep my aspirations in daily life and keep up my hard work.
MF #16 IGAWA Sora (Consadole Sapporo U-18)
I'm so happy to be called up again after the Osaka camp. This 00 Japan's players experienced the AFC U-16 Championship 2016, and I can understand their traits and strengths soon after we train together. To fit in well with the team, I want to bring out my strength no matter what position I play in. And we want to improve combinations in the following matches in five days. It's a rare opportunity to play seriously against South American powerhouses, so I want to get the most out of it.
MF #14 HARA Mikoto (Vissel Kobe U-18)
It was a year and half ago when I was called up to the national team last time, so I'm so pleased to be here. In the past two days, I've felt how high a level my teammates are playing at. I am eager to learn from their strengths as much as possible. We are going to play a string of matches starting tomorrow. I will make every effort to keep in shape and never forget a spirit of challenge, and hopefully get good results in the end. We visited Santiago Japanese School and had a great cultural exchange. We received encouraging words that motivated us and played a mini football game with the kids which reminded me of how fun football is.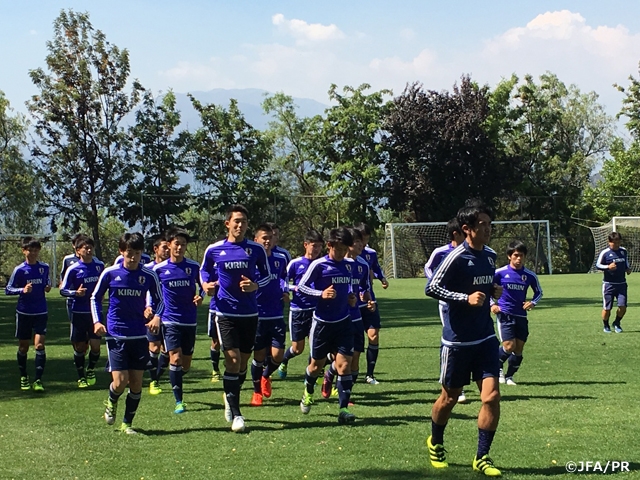 Schedule
Mon. 12 December
PM
Training
Tue. 13 December
PM
Training
COPA UC 2016
Wed. 14 December
21:10
vs U-17 UNIVERSIDAD CATOLICA
(Estadio San Carlos de Apoquindo)
Thu. 15 December
12:00
vs U-16 Mexico
(Estadio San Carlos de Apoquindo)
Fri. 16 December
12:00
vs U-16 Peru
(Estadio San Carlos de Apoquindo)
Sat. 17 December
TBC
Playoff (Estadio San Carlos de Apoquindo)
Sun. 18 December
TBC
Playoff (Estadio San Carlos de Apoquindo)
Mon. 19 December
TBC
Training (TBC)
*The schedule is subject to change due to the team condition, the weather, etc.
COPA UC 2016
A Group: U-16 Chile, U-16 Colombia, U-16 Paraguay, U-17 CLUB CHIVAS (Mexico)
B Group: U-16 Japan, U-16 Peru, U-16 Mexico, U-17 UNIVERSIDAD CATOLICA (Chile)