NEWS
Futsal Japan National Team Candidates Training Camp Report (24 April)
25 April 2014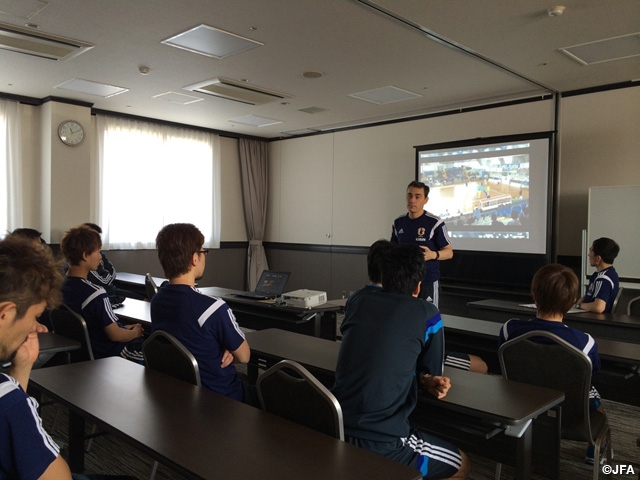 In the morning today, the team had a meeting to review the last Spain trip by using the films. For some particular issues, they studied plays recorded in the three matches against clubs in the Spain league's first division. Good plays, bad plays, how the team nicely executed its game plan and what areas they need to keep working on were shared with all the players.
The afternoon had some short but intense physical workouts including sprinting after battling 1-on-1 for the ball, and 2-on-2 in the half pitch. After the training, they individually kept working on shooting, passing and 1-on-1, as it seemed they had not had enough actions with the ball,
In the evening they all went out for a team dinner for a change of mood, which certainly strengthened the bond among the players.
Comments From Players
SEKIGUCHI Yushi(Espolada Hokkaido)
In today's training, I realized I need to be a goalkeeper who is capable of helping field players (FPs) by protecting the goal as well as playing consistently. For example, when FPs are tired and making mistakes or when they are outnumbered, GKs Kawahara and Fujiwara kept making a good stop after stop. They are more experienced than I am, and doing such plays was how they get trust from FPs. I have been playing on this team, observing, and learning a lot for past several weeks.
OSODO Nobuya(Vasagey Oita)
We have only one week left before the AFC Championship. We had some workouts pushing our bodies very hard. We have been training very well. Today we went out of the hotel for dinner to refresh ourselves, and through those things off the pitch we communicate with each other very well. We are becoming a better team every day. I want to stay focused and work hard for the two days left and finish up the camp.
NIBUYA Kazuhiro(Vasagey Oita)
I could stay focused and have fun in today's training as well. I have been very happy in this national team camp, because the concentration level among players is very high and there is no distraction for me to get rest when we don't have practice. I want to keep giving my all to get to the next level as a player in this good environment.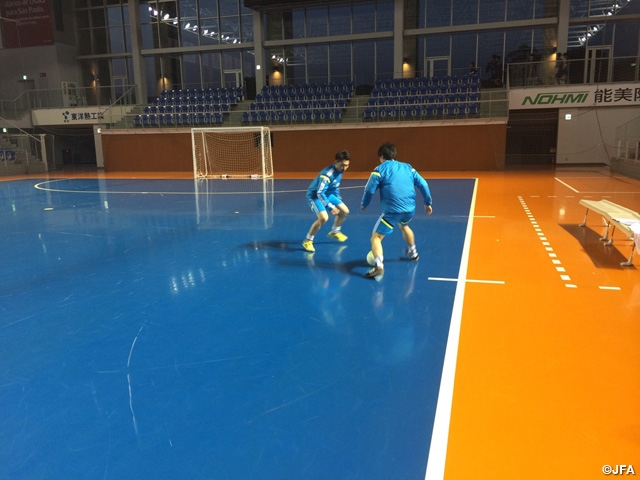 Schedule
| | |
| --- | --- |
| Date | Event |
| 4/16~26 | Training Camp(Nagoya) |
| 4/28~5/11 | AFC Futsal Championship Vietnam 2014(Ho Chi Minh) |