NEWS
Futsal Japan National Team Candidates Training Camp Report (25 April)
26 April 2014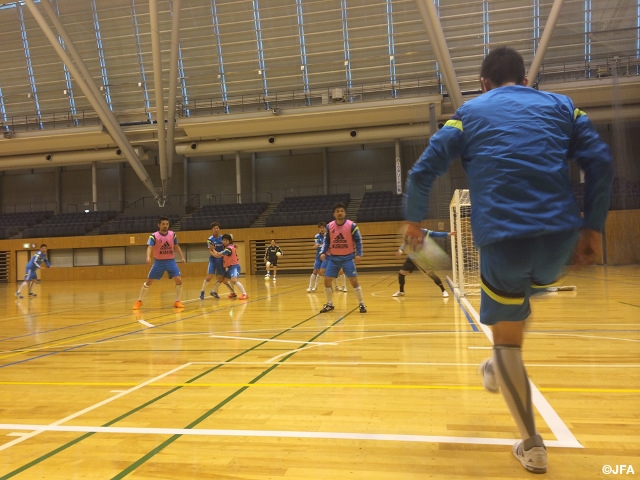 Today, the team switched the practice venue to Komaki Park Arena.
The practice was centred on scrimmages. After the warm-up, the team got into two intra-squads and had three 10-minute sets. Their main goal of the day was ensuring details of the plays not just to play through each set. They all confirmed each offensive attack and defence as well as set-pieces likes of corner-kicks and free-kicks, making sure how they all get their positions in such situations and when and how each player starts moving.
Although they were running out of breath and heard saying "This is hard!" and "Exhausting" as they made substitutions and got off the pitch, their facial expressions surely were saying they were satisfied with the intense and meaningful practice.
Finally tomorrow will be the last practice day in this camp. There will be intra-squad matches to conclude the camp just before the AFC Championship.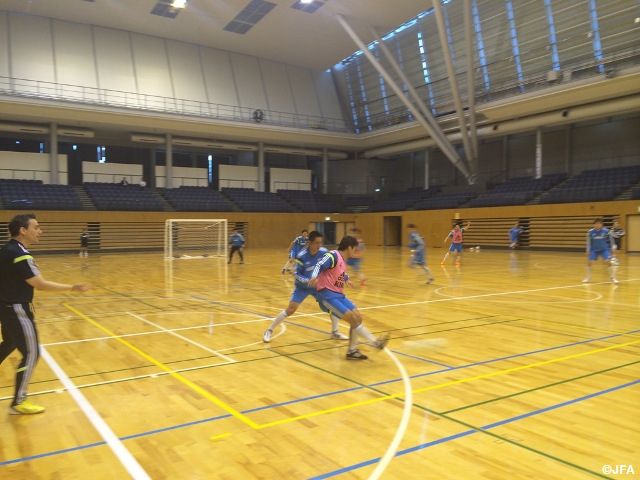 Comments From Players
MINAMOTO Akira(Fuchu Athletic F.C.)
I have got into a good shape, so I will work on the last practice tomorrow to get into the championship with the best condition possible. We have spent long time together with these teammates since the Spain trip, and I think I am getting better idea now about what I am expected to do and what are the things only I can give to the team. I will do what I should do to help as much as possible the team to win another AFC Championship.
FUJIWARA Jun(Bardral Urayasu Futbol Sala)
Finally tomorrow is the last day of the camp. It's been a long camp, but we encouraged each other when the practice was hard, and we laughed together when it was fun. This camp really made our chemistry better. Tomorrow we will have intra-squad matches to finish up the camp. I will do my best in them to finish the camp in the best way possible.
NAKAMURA Yusuke
This Nagoya camp only has one more day. We have had many scrimmages last few days. We are working on the details and missed assignments. Little by little we have become a good enough team to say winning the AFC Championship is our achievable goal. We will open the tournament with the best conditions possible, and do our best to get good results.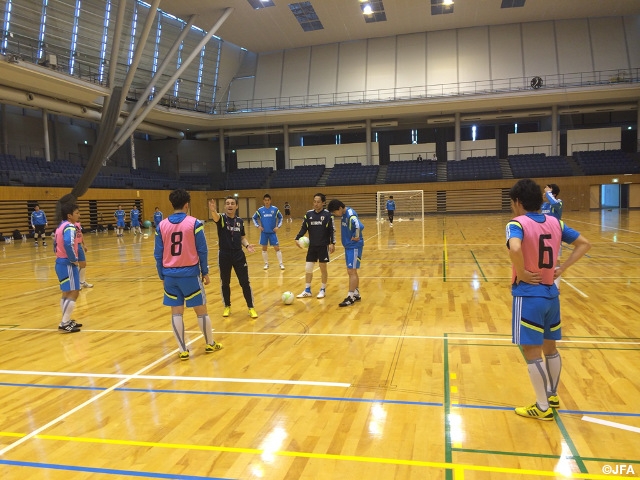 Schedule
| | |
| --- | --- |
| Date | Event |
| 4/16~26 | Training Camp(Nagoya) |
| 4/28~5/11 | AFC Futsal Championship Vietnam 2014(Ho Chi Minh) |