NEWS
Japan provisional national futsal team training camp report (23rd April)』
24 April 2014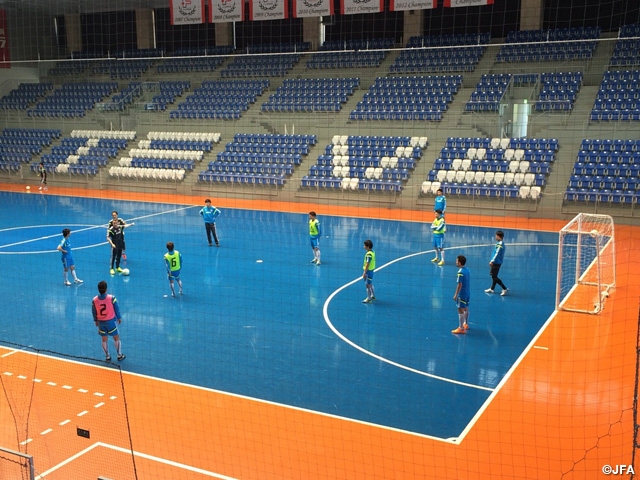 The team has little more time remaining in the training camp in Nagoya. This day, they had a training session in the morning. After they had stretching and warm-ups, they worked on their shooting and then spent much of the remaining time for elaborating on their power plays, with which they have given threats to their opponents in the past.
Not only that they just repeated them practically, but they also tried to work on out-number plays, such as attacking with five men against four defensive men. Coach Miguel instructed his men to make sure to take advantage of their numerical superiorities. The players showed good chemistry and capitalized on them for some scoring plays in game-style sessions.
Prior to the dinner time, the team members took the bath at the hotel, trying to recover from the fatigue while using the occasion to deepen their communications with each other.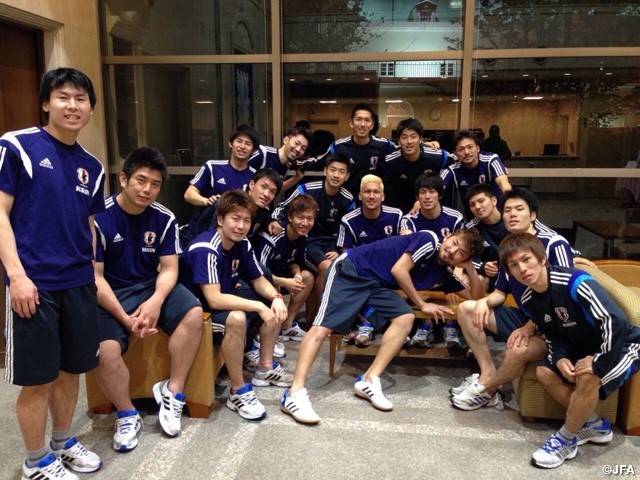 Comments from Players
YOSHIKAWA Tomoki(Nagoya Oceans)
As our training camp is headed toward the end, I think that we are having very good training despite of the fatigue. Personally, I've had to go through different menus from others due to injuries, but now I've fully recovered and improved my condition better. In order for our consecutive title in the AFC Championships, we would like to do our best to raise our level as the team, keeping our focus on our training, in the limited time left.
SATO Toru(Umacon Zaragoza Futbol Sala)
We entered the latter part of the training camp and have some fatigue, but each of us was able to spend the afternoon for his body care. In this Nagoya training camp, we have been able to have concentration in each training session, partially because the meals and bath facilities are so good. And we have felt positive tension as the tournament gets near. Now we have little time in the training camp, we, as the players and staff, should have good preparation, being united as one, to enter the tournament.
INABA Kotaro(Bardral Urayasu Futbol Sala)
We have entered the final phase in the training camp. I think that as we've overcome the hard training, encouraging each other, and spent the time for meals and bath times, we have been largely able to unite the group as one.
Now we are going to gear up even more for next week's AFC Championships, and in order to make us a competitive group by competing with other guys as well as helping each other, we would like to do the best we can.
Schedule
| | |
| --- | --- |
| Date | Event |
| 4/16~26 | Training Camp(Nagoya) |
| 4/28~5/11 | AFC Futsal Championship Vietnam 2014(Ho Chi Minh) |