NEWS
Futsal Japan National Team Candidates Training Camp Report (22nd April)
23 April 2014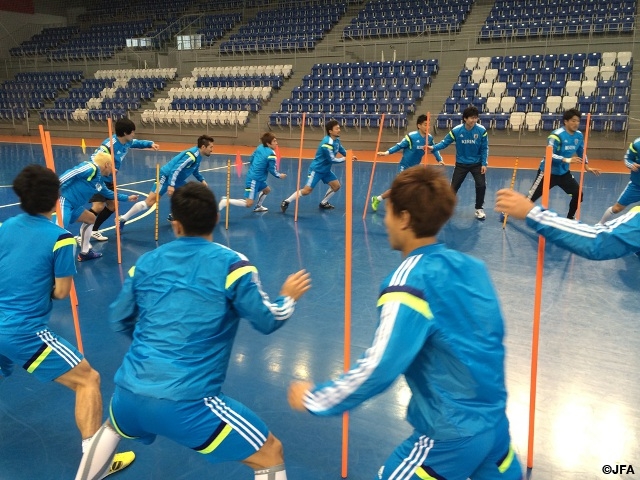 The day seven of the camp also had two practices a day, morning and afternoon. It started with stretching and core muscle training before they worked on a new drill for sharpening their concentration. All the players made a big circle standing with a pole in their hands. When they hear a whistle, they all try to grab the pole of the players standing next. This turned out to be more difficult than it looked.
The physical training in the morning has changed from drills mainly for quickness until yesterday to those for strength using medicine balls, weights and rubber tubes.
In the afternoon they worked on scrimmage sets with specific themes just like yesterday. After pushing their bodies hard in the physical training, players maintained the high level of focus and intensity. Players of each squad were seen actively discussing plays between sets just as they were in a real match.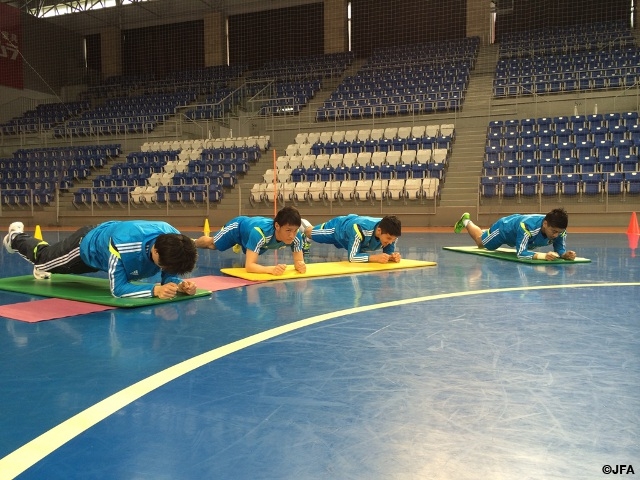 Comments from Players
UCHIMURA Shunta(Shonan Bellmare Sports Club)
We got into the second half of this Nagoya camp. We keep firing up each other even during the tough training. We have good chemistry going. Other teams will come out determined to beat Japan in the AFC Championship. We have to play against such teams, so we need good preparation. Everyone is gearing up physically, so I think we will be able to play well.
NISHITANI Ryosuke(Deucao Kobe)
We are in the last phase of the camp and have only one more week until the AFC Championship. Physical workouts keep pushing us hard, but we keep encouraging and motivating each other. When we work in a real-match setting, we try to understand our game plans even better and keep talking with each other on very detailed stuff to make each other better. From every drill, I can feel that the time is coming. We don't have many days left, but we will maintain the sense of urgency and keep getting ready for the AFC Championship
WATANABE Tomoaki(Nagoya Oceans)
Not many days are left in this camp, and now we are in the phase to finish everything up. In the scrimmages in the afternoon, we worked on both defending from the halfway line and defending from high in the opponents half. Defence is our strength, and we made that sure with that practice. In some occasions, we played good defence to steal the ball. It was a very good practice. The mood is good during the practice, and this team is coming together as one good team. The days left before the AFC Championship opens aren't many, but we keep taking every single day very seriously to do the best preparation work possible.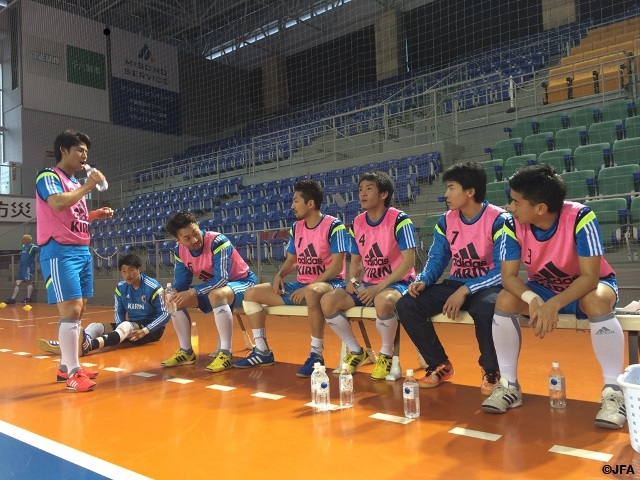 Schedule
| | |
| --- | --- |
| Date | Event |
| 4/16~26 | Training Camp(Nagoya) |
| 4/28~5/11 | AFC Futsal Championship Vietnam 2014(Ho Chi Minh) |