NEWS
The true value of Nadeshiko Japan to be assessed when they face Netherlands at the Round of 16 - FIFA Women's World Cup France 2019
21 June 2019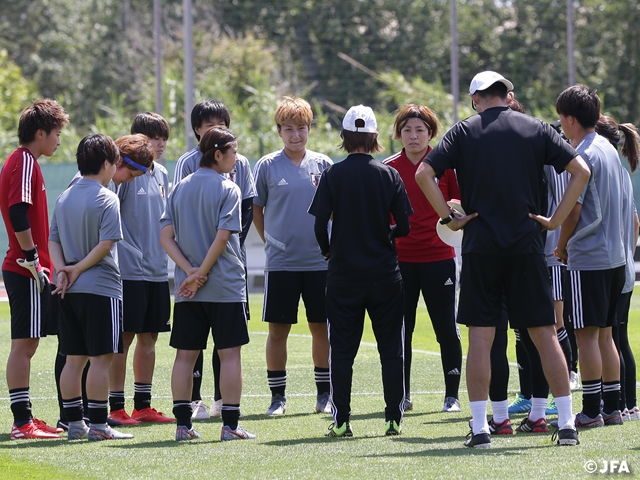 One day after playing their final group stage match of the FIFA Women's World Cup France 2019, the Nadeshiko Japan (Japan Women's National Team) held a training session on Thursday 20 June. The session was mainly held for the reserve players who didn't feature the match against England, while the starting line-up remained at the hotel to recover from the match.
Ahead of the session, coach TAKAKURA Asako started out by mentioning, "It was a disappointing result against England." And continued by telling her players, "We will start from scratch. The true value of Nadeshiko Japan will be assessed from here. Even if your playing time is limited, I want you to be prepared at all times." The players responded to their coach's pep-talk by actively engaging in the training session with a positive vibe.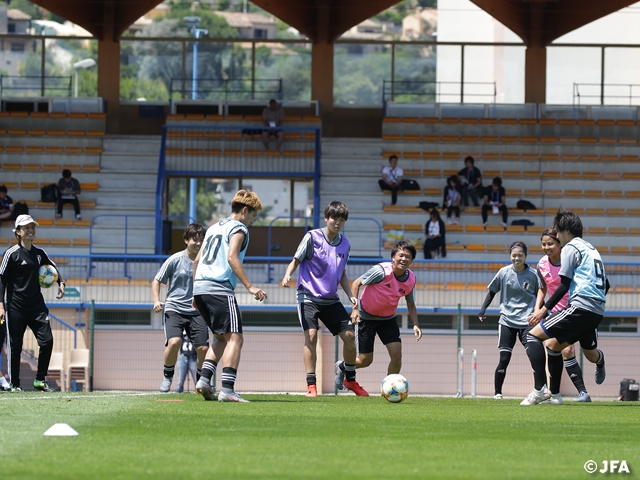 On this day, the final fixtures of the FIFA Women's World Cup France 2019 group stage took place, as the 16 teams advancing to the knockout stage were determined. With the Netherlands winning their match against Canada in Group E, it has been determined that Japan will now face the Netherlands in the round of 16.
The Nadeshiko Japan's match against the Netherlands Women's National Team, who led Group E with three wins, will take place on Tuesday 25 June at 21:00 local time (Wednesday 26 June at 4:00 Japan time).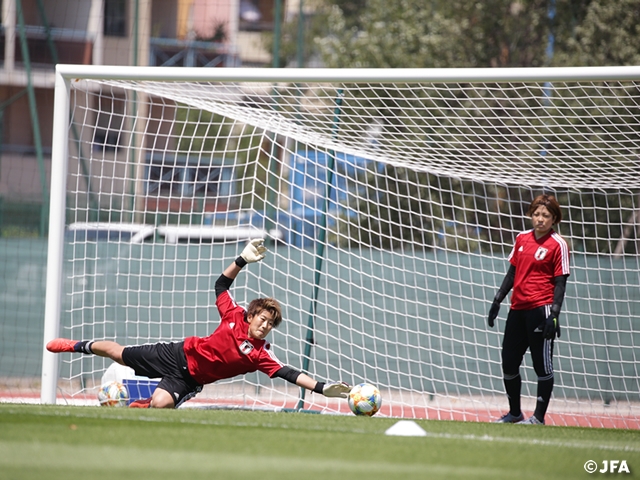 Players' comments
DF #23 MIYAKE Shiori (INAC Kobe Leonessa)
The match against England felt like it was played at another level compared to the other matches. Their ability to capitalise on their opportunities and the way they applied pressure from their ball movements, really gave us a hard time. I don't necessarily think our defence had a flaw, but our opponents showed very high-quality plays at the individual level with fast-paced passes. The match made us realise that we need to address how to defend against them, if we were to face them again. We cannot afford to lose anymore games and the competition will get even tougher from here. As the coach mentioned, every player must contribute for the team, regardless of either we are on the pitch or on the bench. We still have a few more days ahead of the match, so I will do my best to prepare my conditions.
MF #13 MIURA Narumi (Nippon TV Beleza)
It took me a while to get over the England match, but I am finally over it and I was able to enjoy myself playing football in today's team practice. Even though we seemed to have taken control of the ball possession against England, it felt like we were forced to keep possession and we couldn't create any major opportunities from our ball possession. We did manage to create some positive attacks towards the end of the match, either because we kept a good distance between each other, or the way we approached the ball, whatever the reason was, we need to show more plays like that in our next match. I am not necessarily the fastest player, so I must use my agility to penetrate the gap in order to create opportunities for the team.
FW #13 TAKARADA Saori (Cerezo Osaka Sakai Ladies)
In our match against England, I feel like we managed to enter the match with better composure compared to our first match. Although it was a disappointing result, we just have to move on and get our minds set towards the knockout stage. As expected, England showcased great speed and power, but there were some aspects we did well against them, so we must take the positives from the match and build on those qualities to earn a victory in our next match.
Schedule
Nadeshiko Japan (Japan Women's National Team) Squad, Schedule
FIFA Women's World Cup France 2019
Tournament Dates: Fri. 7 June - Sun. 7 July 2019
Knockout Stage Round of 16:
Wed. 26 June 2019 04:00 (Japan Time)
vs Netherlands Women's National Team