NEWS
Nadeshiko Japan shuts out media to prepare ahead of first match of the FIFA Women's World Cup France 2019
09 June 2019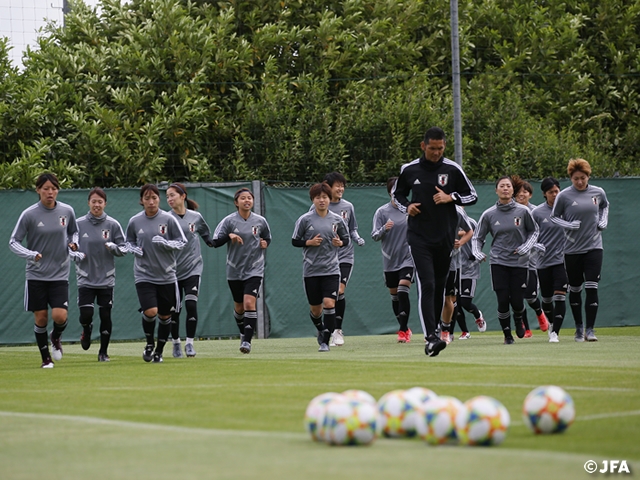 With their first match of the FIFA Women's World Cup France 2019 scheduled in just two days, the Nadeshiko Japan (Japan Women's National Team) continued to hold their training session in Paris on Saturday 8 June.
On this day, ahead of their first group stage match against the Argentina Women's National Team on Monday 10, coach TAKAKURA Asako elected to hold a completely private training session. Normally their training sessions are opened to the media for the first 15 minutes, but during the tournament, each team is allowed to completely shut out the media for one training session per match.
The session lasted for about 90 minutes where the players prepared themselves under complete privacy to focus on their team tactics. As the players described the difficulties of playing the first match of a tournament, "regardless of the tournament or the opponents, it is one of the most difficult matches to play," and "it will have an effect on the momentum of the entire tournament," the players gave their utmost efforts to start off the tournament on the right foot.
Following the dominant performance showcased by the French squad on the opening day, the second day also saw Germany, Spain, and Norway winning their matches, showing the dominance of the European side.
The Nadeshiko Japan will face Argentina at Parc des Princes on Tuesday 10, with a kick-off time of 18:00 local time (25:00 Japan time).
Players' Comments
DF #2 UTSUGI Rumi (Seattle Reign FC)
After watching the opening match played by France, it was evident how much they were looking forward for this tournament. It was interesting to see how Korea Republic was going to play, especially under that kind of atmosphere. It gave us a moment to simulate the situation in case we were in that same position, and I am glad we were able to watch the match as a team. We rarely see that many people watching our football match in Japan, so it made us realise that we need to deepen our mutual understanding even further to play under such situation where we can't even hear our own voice on the pitch. We have been training with great intensity in our training sessions. We will continue to work hard to heighten our teamwork and make improvements within the remaining time ahead of the tournament.
DF #4 KUMAGAI Saki (Olympique Lyonnais)
I watched my club's teammates win their first match and they looked like they were having so much fun on the pitch. After playing France in April, we knew just how strong they were, but even with that consensus, they showcased a very dominating performance. We are starting to feel the magnitude of the tournament, and I am getting more and more excited about our first match. We have been able to conduct our training sessions with a positive atmosphere and prepare ourselves well ahead of the tournament.
FW #9 SUGASAWA Yuika (Urawa Red Diamonds Ladies)
It really feels like our tournament is just about to start. Being able to play under a huge crowd is one of the merits of playing in the World Cup and I have been visualising myself playing under such environment. During the training session held under closed doors, we went through some of our plays to penetrate the space behind the opposing defence line. In our first match against Argentina, if we can showcase a collective approach, we should be able to break down the opposing defence. It will certainly be a difficult match, but we will do our best to win the match and get off to a positive start.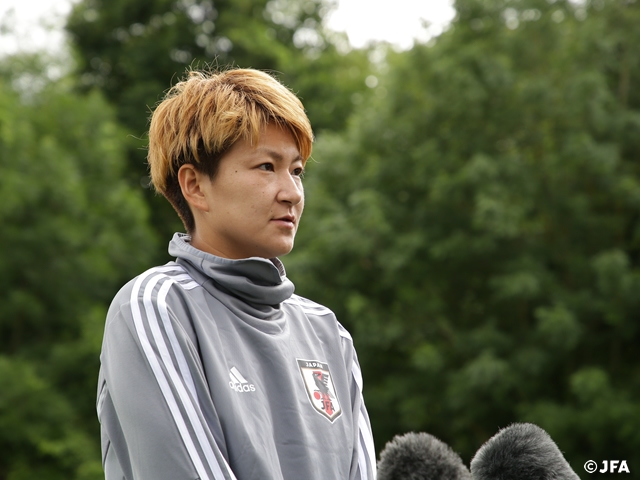 Schedule
Nadeshiko Japan (Japan Women's National Team) Squad, Schedule
FIFA Women's World Cup France 2019
Tournament Dates: Fri. 7 June - Sun. 7 July 2019
Group Stage:
Tue. 11 June 2019 01:00 (Japan time)
vs Argentina Women's National Team
Fri. 14 June 2019 22:00 (Japan time)
vs Scotland Women's National Team
Thu. 20 June 2019 04:00 (Japan time)
vs England Women's National Team