NEWS
Nadeshiko Japan work out twice a day for clash with Kristianstads DFF
24 July 2016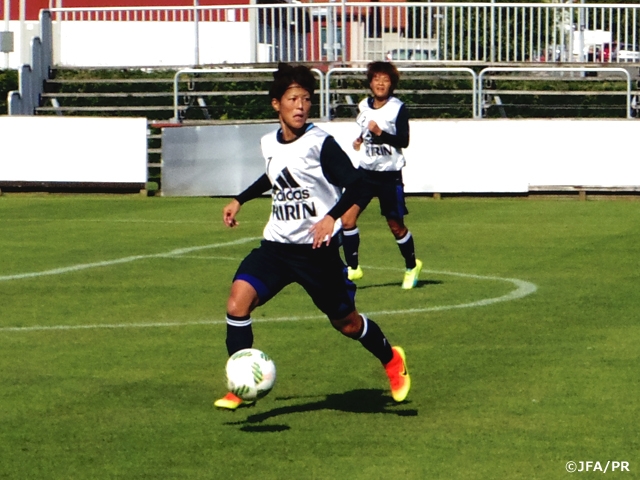 Nadeshiko Japan (Japan Women's National Team) had two-a-day training in the morning and afternoon of Saturday 23 ahead of a practice match against Kristianstads DFF from Sweden Women's League First Division.
On the previous day, the squad moved to Kristianstad, which is located about 200 km away from Kalmar in southern Sweden, the host city of the match against Sweden Women's National Team. Their Saturday morning started with footwork training involving prediction improvement.
And they went through 3-on-3 with two servers, passing and controlling drills and finished with a 7-on-7 game at the end. The afternoon training was held in two groups divided into offence and defence. The offensive players mainly had shooting drills, while the defensive training was centred on defence against cross balls through line controlling and battles in front of goal. The whole squad got together in the end and played an intra-squad scrimmage in preparation for the match on the following day.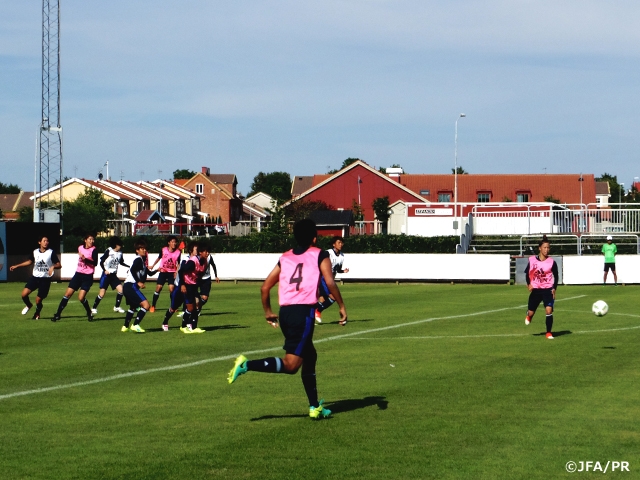 The opponents on Sunday 24 are Kristianstads DFF, a Swedish league first division club established in 1998. The club has players ranging from age 16 to 32, managing women's beach soccer team as well as the women's football team.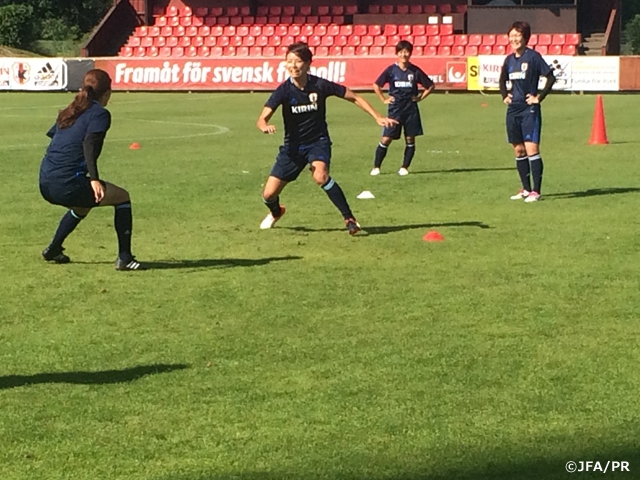 This upcoming training match is the only activity remaining during Nadeshiko Japan's Sweden trip. Japan coach TAKAKURA Asako is expecting her squad to stick to accuracy of each play for the match wrapping up the finale of their trip, saying "small things lead to the style of football we are aiming at."
Players's Comment
MF #14 NAKASATO Yu (NIPPON TV BELEZA)
In the Sweden match, though we wasted those chances, it was a positive takeaway that we were able to create chances by our style of ball movement during the stretches when we had possession. Against the opponents who've got pace, we need to improve quality of counter-attack defence and create shooting opportunities in the next match.
MF #13 MASUYA Rika (INAC KOBE LEONESSA)
In the Sweden match, we could have changed the flow of the match if we had scored in the chances in the first half. So I will go out aggressively to score goals and want to actually get it in the next match. I do not have many occasions to play against overseas players who've got pace and power. So I will try out my technical skills including dribbling and try to increase the number of times to successfully execute my plays.
FW #17 TANAKA Mina (NIPPON TV BELEZA)
Throughout this trip, I became aware of playing accurately like where to place the ball with the first touch and when controlling and kicking the ball. In tomorrow's match, I will try to bring out what I have and to show my strength like getting through space behind defenders and challenging through turn-around moves.
Schedule
Mon. 18 July
AM/PM
Training
Tue. 19 July
AM/PM
Training
Wed. 20 July
AM
PM
Training
Training *Open to the public beginning 15 min.
Thu. 21 July
0-3
International Friendly Match
vs Sweden (Guldfageln Arena)
Fri. 22 July
AM
Training
Sat. 23 July
AM/PM
Training
Sun. 24 July
14:00
Training Match
vs Kristianstads DFF (Vilans IP)
*Local Time
*The schedule is subject to change due to the team condition, the weather, etc.