NEWS
Nadeshiko Japan beat Kristianstads DFF 2-0
25 July 2016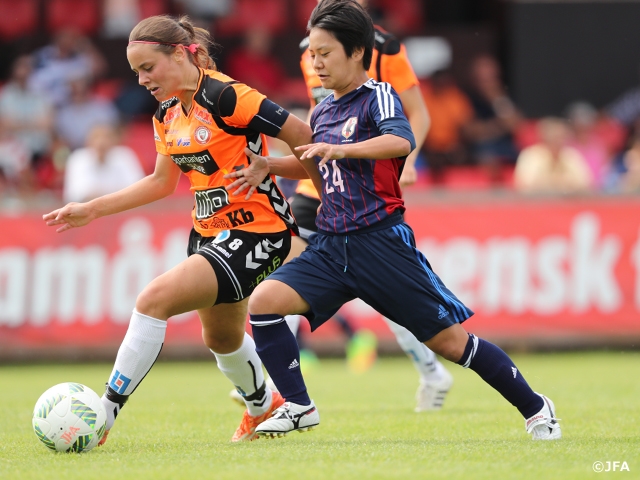 Training Match vs Kristianstads DFF
2016-7-24(Sun) - 14:00(Local time)Playing Time: 90min. (45mins.×2)
Vilans IP (Sweden/Kristianstad)
Kristianstads DFF 0-2 (0-0, 0-2) Japan Women's National Team
Scores
50' NAKASATO Yu (Nadeshiko Japan)
70' CHIBA Sonoko (Nadeshiko Japan)
Line-ups
GK:YAMANE Erina
DF:KUNISAWA Shino, MURAMATSU Tomoko, TAKAGI Hikari, ARIYOSHI Saori
MF:KUMAGAI Saki (C), SASAKI Mayu, SAKAGUCHI Mizuho, TANAKA Mina, NAGASATO Yuki
FW:YOKOYAMA Kumi
Substitutes
GK:YAMASHITA Ayaka, HIRAO Chika
DF:UTSUGI Rumi, KAWAMURA Yuri
MF:CHIBA Sonoko, NAKASATO Yu, KYOKAWA Mai
FW:ARIMACHI Saori, MASUYA Rika
46' TANAKA Mina → MASUYA Rika
46' MURAMATSU Tomoko → NAKASATO Yu
58' NAGASATO Yuki → CHIBA Sonoko
63' YOKOYAMA Kumi → ARIMACHI Saori
78' SASAKI Mayu → KAWAMURA Yuri
78' KUNISAWA Shino → KYOKAWA Mai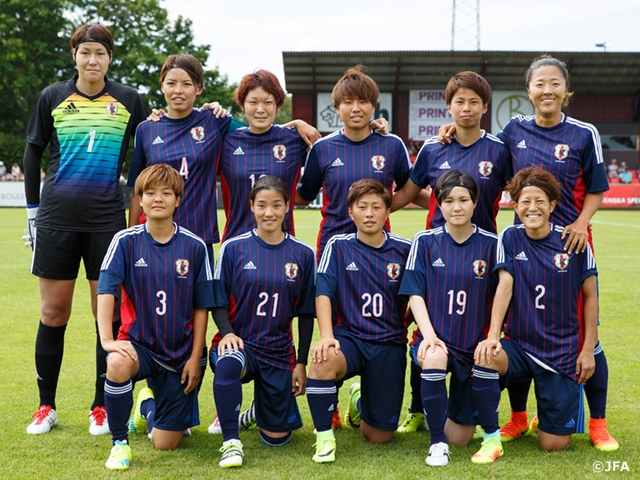 Match Report
Nadeshiko Japan (Japan Women's National Team) beat Kristianstads DFF, who plays for the Sweden Women's League Division 1, 2-0 on Thursday 21 July in a training match.
The match took place in the Kristianstads DFF's training ground on Sunday afternoon and kicked off with supporters including families in an enchanted atmosphere. Nadeshiko Japan played in a 4-2-3-1 formation: goalkeeper YAMANE Erina, defenders (from left to right) KUNISAWA Shino, MURAMATSU Tomoko, TAKAGI Hikari, ARIYOSHI Saori, defensive midfielders KUMAGAI Saki and SASAKI Mayu, offensive midfielders TANAKA Mina (left), NAGASATO Yuki (right), and SAKAGUCHI Mizuho (centre), and forward YOKOYAMA Kumi.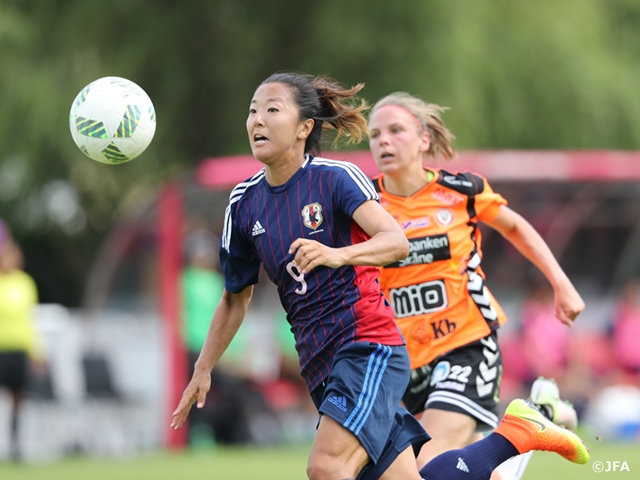 In the beginning, Japan gave the opponents plenty of chances from free-kicks and corners, but their goalkeeper Yamane kept making excellent saves protecting the goal. In the 20th minute, Sasaki made a long pass and Yokoyama jumped out to get it but it was ruled offside. After this Japan gradually gained momentum, thus becoming the receiving end of free-kicks and corners. However, the match ended scoreless in the first half.
In the second half, substituted players came through. In the 50th minute, midfielder NAKASATO Yu received the ball on the left side of the penalty area. Then, she cut inside and scored the opening goal. In the 75th minute, another substitute, forward ARIMACHI Saori, smashed a shot. It hit the goal post, but midfielder CHIBA Sonoko headed it into the net, making the score 2-0 in their favour. They continued to play at their tempo and attack the Kristianstads DFF's goal, but failed to add to the scoreline.
Japan ended the final match in Sweden with a victory. They will leave for Japan with positives and negatives from the trip.
Coach and Players' Comments
TAKAKURA Asako, Coach
In the first half, the players were indecisive when receiving the ball and took time before they could make the subsequent plays. The result was "lack of tempo." In the second half, it got better. We needed to move more swiftly, pressing harder and dispossessing the opponents and making quicker transition to offence.
Although it was good to observe that we improved from the previous trip to the United States, we still have to enhance our accuracy and technique in every one of our plays. The players are required to be perceptive in volatile match situations. They need flexibility and excellent football skills to go up against different opponents. We will select the players who possesses diverse ideas and demonstrate them on the pitch in the future.
MF #14 NAKASATO Yu (NIPPON TV BELEZA)
Today I had a strong will that I would head towards the goal once I had the possession of the ball. Compared to the previous match against Sweden, we were able to move the ball better for longer periods of time, but I couldn't make plays leading to a goal. There are a lot of issues to be sorted out. However, in this trip, I regained my confidence that despite my small physique I can play well against top-level opponents. Increasing my work-rate, I want to pressure the opponents even more and make a difference in a game.
GK #1 YAMANE Erina (JEF UNITED ICHIHARA CHIBA LADIES)
Today we allowed a series of attacks by the opponent such as free-kicks and corners in the beginning of the match. They played with pace and found open spaces utilizing long passes. However, we did not concede a goal via team effort and it helped us build up our subsequent offence. In the second half, we were able to control the line better, thus not giving up scoring opportunities from their long passes.
Overall, I felt the need to communicate more and deepen our understandings about each other. While working on our individual strengths, we also need to collaborate on various tactics and present them effectively on the pitch.
For the next World Cup and the Olympic Games in Tokyo, I will continue my hard work in the club team to protect the goal better.
MF #8 CHIBA Sonoko (AS HARIMA ALBION)
When I couldn't play as well as I wanted, our coach and assistant coach encouraged me by saying "a single goal or a good cross will make you confident." I felt content because I scored today. I was a bit nervous entering the game and tried to get over it by moving constantly on the pitch. I appreciate the senior players for cheering me up and making me comfortable in the game.
Schedule
Mon. 18 July
AM/PM
Training
Tue. 19 July
AM/PM
Training
Wed. 20 July
AM
PM
Training
Training *Open to the public beginning 15 min.
Thu. 21 July
0-3
International Friendly Match
vs Sweden (Guldfageln Arena)
Fri. 22 July
AM
Training
Sat. 23 July
AM/PM
Training
Sun. 24 July
2-0
Training Match
vs Kristianstads DFF (Vilans IP)
*Local Time
*The schedule is subject to change due to the team condition, the weather, etc.