NEWS
Nadeshiko Japan official practice at Sweden game stadium
21 July 2016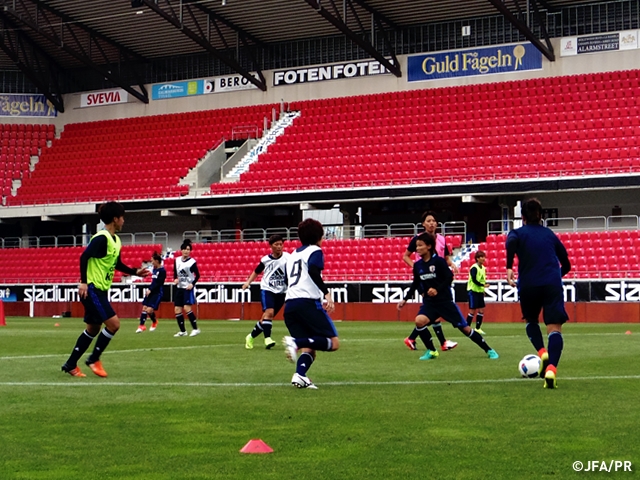 One day before their international friendly match against Sweden, Nadeshiko Japan (Japan Women's National Team) had an official practice at Guldfageln Arena, where the actual game will be held on 20 July.
The team were divided into the offensive and defensive squads in the morning. The offensive team had training concentrating on shooting while the defensive team checked their line controlling and build-ups involving the goalkeepers. In the afternoon, they moved to the stadium. After they played a mini game, they closed their training to the media and practiced getting accustomed to the foreign turf for about an hour.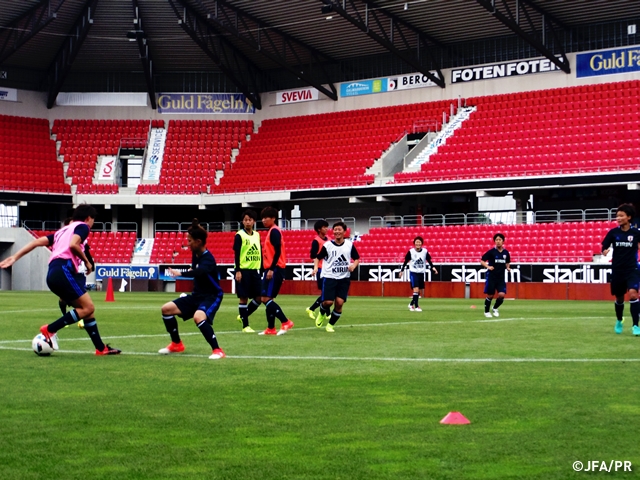 (When asked about the impression on Sweden's squad) Japan coach TAKAKURA Asako said "their strength is utilizing their height advantage and attacking from high-ball crosses. She also expressed her strong determination to win the match by saying "winning is a must. We need to communicate well and collaborate our attacks."
Their international friendly game against Sweden, seeking for Nadeshiko's maiden win under Takakura, will kick off at 16:00 (23:00 Japan time).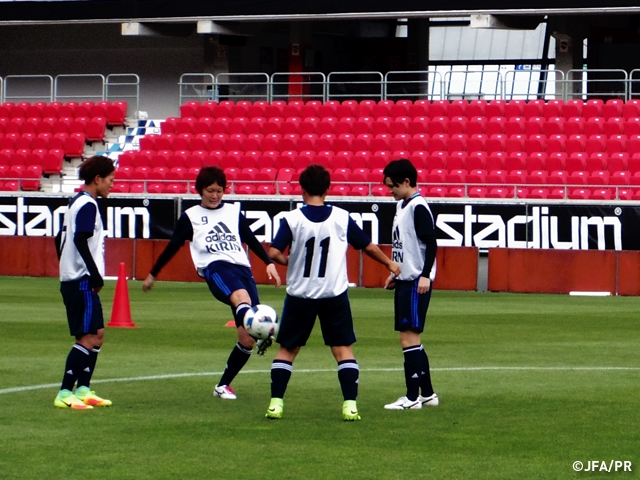 Players' Comments
DF #3 MURAMATSU Tomoko (NIPPON TV BELEZA)
We gave up five goals on our American trip, but we did certain things right like line controlling. At the same time, I felt that we needed to be more physically tough inside the box and aggressive when competing for the ball. We would like to win the Swedish game not allowing any goals.
MF #10 SAKAGUCHI Mizuho (NIPPON TV BELEZA)
We haven't won a game under coach Takakura, so we would like to win tomorrow. Coach told us that "we need to be physically tough. We will put our back line high and play aggressively." In addition to winning the match, we would like to make people think that they want to see us again.
MF #21 KUNISAWA Shino (AC NAGANO PARCEIRO LADIES)
Each one of the national team member plays at a higher level, so I'm working hard to keep up with them. Defensively, I would like to showcase my strengths, toughness in competing for the ball and wide defensive range. (For my supporters in Nagano Prefecture) I always get a lot of support from them. I've been fortunate to be called up to the national team, so I would like to put up my best performance.
JFA-TV (Japanese version only)
Interview - TAKAKURA Asako, Coach

Interview - MURAMATSU Tomoko (NIPPON TV BELEZA)

SAKAGUCHI Mizuho (NIPPON TV BELEZA)
KUNISAWA Shino (AC NAGANO PARCEIRO LADIES)
Schedule
Mon. 18 July
AM/PM
Training
Tue. 19 July
AM/PM
Training
Wed. 20 July
AM
PM
Training
Training *Open to the public beginning 15 min.
Thu. 21 July
16:00
International Friendly Match
vs Sweden (Guldfageln Arena)
Fri. 22 July
AM
Training
Sat. 23 July
AM/PM
Training
Sun. 24 July
14:00
Training Match
vs Kristianstads DFF (Vilans IP)
*Local Time
*The schedule is subject to change due to the team condition, the weather, etc.