NEWS
Nadeshiko Japan's second day of training in Sweden, more team bonding
20 July 2016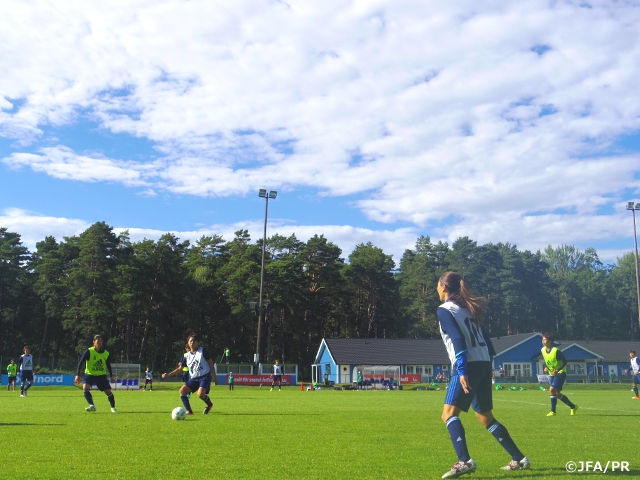 On Tuesday 19 July, Nadeshiko Japan (Japan Women's National Team) held practice sessions in the morning and afternoon on their second day of training.
In the morning, the team focused on defence. They started the practice with the 1-on-1 plus the goalkeeper and, subsequently, increased the number to 2-on-1 plus the goalkeeper. They gradually increased the number of players to 5-on-5 plus the goalkeeper, working on a variety of plays inside the box. They wrapped the session with trunk training. In the afternoon, they played an intra-squad game. The players talked to each other and tried to improve their combination plays ahead of their first game against Sweden.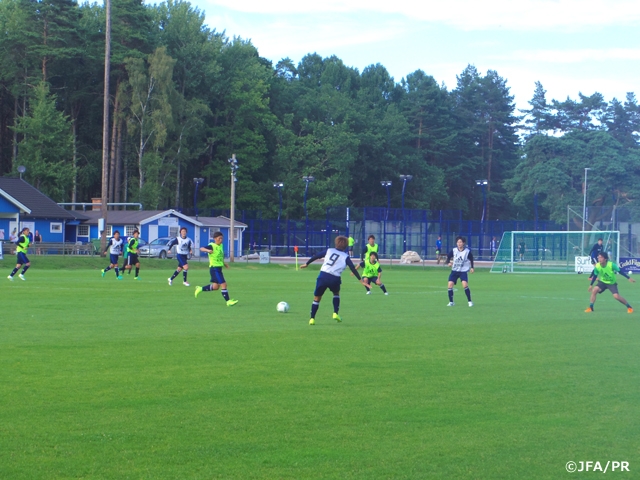 There are other football clubs that are currently visiting Sweden. In Gothenburg, which is the second biggest city in the country, the 2016 Gothia Cup has been taking place since Monday 18 July. In this largest international youth tournament held annually since 1975, a total of 1,675 teams from 81 countries around the world assembled. From Japan, the J. League U-14 selection team and Shimizu S-Pulse Youth participated the tournament.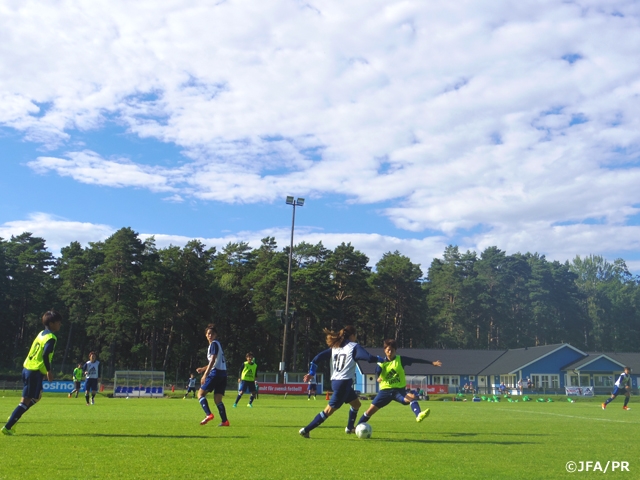 Along with the J.League's young talent, Nadeshiko Japan hope to win matches in Sweden. Their international friendly match will kick off at 16:00. (1:00 Japan time) on Thursday 21.
Players' Comments
DF #5 KUMAGAI Saki (Olympique Lyonnais/France)
Newly-invited players have tried to blend in with the team right away. We've been able to communicate effectively within the team.
(On the game against the United States) In order to avoid giving up goals from crosses, everybody needs to be on the same page. Winning is important, but striving for victory is more important. While aspiring for the first win under our new coach, we will prepare ourselves well for the match.
MF #8 CHIBA Sonoko (AS HARIMA ALBION)
While I was full of nervousness and worries in our last trip to the United States, veteran players alleviated the mood by actively communicating with me. In the friendly match against them, regretfully, not only did I perform poorly, but also could not demonstrate any of my strengths. Against Sweden, I need to stay poised. Sweden were actually the opponents I made my first goal in this year's Under-23 La Manga Tournament. I will take the initiative to play aggressively and try to score goals. I need to keep up my hard work.
MF #21 KYOKAWA Mai (INAC KOBE LEONESSA)
In today's practice, I wasn't able to get behind the defenders sufficiently. I need to improve my decision-making skills. One of my strengths is high work-rate, both offensively and defensively. Against Sweden, I would like to get more involved in plays inside the box and score goals. I sense the importance of playing a member of Nadeshiko, and it is crucial that we play as our coach envisions in the game.
FW #9 NAGASATO Yuki (1. FFC Frankfurt/Germany)
I needed to adjust from being a forward to a midfielder. As a player, I aspire to broaden my skills adjusting to wide-range of plays for the team. Communicating and collaborating with my teammates, I want to inspire and motive the team to play at a higher level.
All the things including this game will lead to the World Cup in three years and the Olympics in four years. Pondering on that fact, we need to know where we currently stand and what we have to do to get to where we eventually want to be. This match will be crutial in helping us formulate those points. In order for us to elucidate our current problems, we need to do our best and try to win this game. Elsewise, this match will be meaningless. While striving for victory, we need to find out the relevant issues to improve ourselves in the future.
JFA-TV (Japanese version only)
Interview - KUMAGAI Saki (Olympique Lyonnais/France)

Interview - CHIBA Sonoko (AS HARIMA ALBION)

Interview - NAGASATO Yuki (1. FFC Frankfurt/Germany)
Schedule
Mon. 18 July
AM/PM
Training
Tue. 19 July
AM/PM
Training
Wed. 20 July
AM
PM
Training
Training *Open to the public beginning 15 min.
Thu. 21 July
16:00
International Friendly Match
vs Sweden (Guldfageln Arena)
Fri. 22 July
AM
Training
Sat. 23 July
AM/PM
Training
Sun. 24 July
14:00
Training Match
vs Kristianstads DFF (Vilans IP)
*Local Time
*The schedule is subject to change due to the team condition, the weather, etc.